If there is any lesson Eliza Kanner took from not making the New England Patriots Cheerleading squad the first two times she tried out, it's that timing is everything.
It may not have been meant to be in 2019 or 2020, but as she addressed the new 2023 team last week, her platform as a third-year veteran isn't lost on her.
By night, she's a cheerleading captain at Gillette Stadium. By day, she works at the Kraft Family Building that is home to Combined Jewish Philanthropies, where the late Myra Kraft served as chair of the board of directors from 2006-2009.
Who better to educate the squad about Patriots chairman and CEO Robert Kraft's "Stand Up to Jewish Hate" campaign than her?
"Things that are meant for you will not pass you by, and over the past three years, we've really seen such an increase in antisemitic activity worldwide," Kanner said.
"This hate has existed for centuries, but there was a 42% increase just here in the state of Massachusetts from 2021-2022. We feel it here within the Jewish community, and I say that not just as a professional or activist, but as a member of the community. The fact that "Stand Up To Jewish Hate" was able to launch this year in coordination with the campaign that CJP is launching, it really feels as if there was a time for me to be part of this organization, this is truly the time that was right for a multitude of reasons."
Perhaps more important than a cheerleader's skill or experience level is how they represent the values of the Patriots organization. Kanner happens to have dedicated her life to some of them.
"It's truly a privilege to be a brand ambassador for an organization that so deeply cares about like my identity, and what I want to do in promoting, this community that I care so deeply about."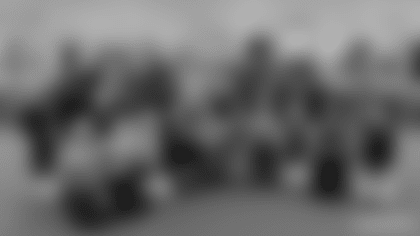 Kanner was raised in Hamden, Connecticut with a lot of pride in her family's Jewish values and traditions.
Still, memories of microaggressions growing up subconsciously shaped how she ultimately ended up taking on leadership roles within UConn's Hillel and carving out a career using education to help combat antisemitism and fundraise for the cause.
There was a school assembly scheduled on a major Jewish holiday that she couldn't attend in elementary school and didn't understand why administrators wouldn't have considered that in the planning. She still regrets not speaking up when a previous coach wouldn't allow her and her fellow Jewish dance teammates to miss practice after fasting all day for Yom Kippur.
Perhaps the most hurtful instance came in high school, hanging out with a group of friends in someone's kitchen at the end of the school year.
"This kid walks over and presents the oven and says, 'Eliza, here's an oven in case you need it.' Of course, a kitchen full of ninth and 10th graders laughed at it, and I didn't say anything," Kanner said.
"Now what, 12 years later? I still think about it and it still hurts me even saying that line because I know I'm not the only one who had to hear something like that. I just sat there. I didn't know what to do. I didn't have the resources necessary, or the strength yet, to stand up for myself."
She channeled those negative lived experiences and decided to do something about it, finding her voice and the words to make a difference beyond her own synagogue.
At UConn, she majored in journalism, envisioning a career as a reporter covering Israel and relations in the middle east. Already involved in Jewish extracurriculars, Kanner wanted to take her message to a national platform, quitting the UConn Dance team to get more involved and pursue a Miss America title.
She was crowned Miss Connecticut in 2017, leveraging independent study credits to graduate the same year, but as things stand, a Jewish woman hasn't held the Miss America title since 1945.
"There hasn't been enough Jewish representation on the national level, but hopefully that changes within my lifetime," Kanner said. Instead, she found a passion for activism and philanthropy work, and meeting Patriots cheerleaders in the pageant process, she found herself a new goal.
"I'm very much a goal chaser. I love having the next goal to work towards. It gives me healthy competition with myself just to be stronger in all capacities, so I decided to go out for the team."
Kanner didn't make it to finals in her first year auditioning. Her next go at it came at the same time as the COVID-19 pandemic that canceled auditions in 2020.
In the meantime, she started her career with non-profits in Boston.
Her first full-time job was with StandWithUs, an international Israel education organization. Kanner felt immediately called to teach individuals about Israel and how they can utilize their resources to educate even more people.
"I really just dove into the work of advocacy and activism," she said. "I definitely have pulled a lot of my journalism skills, too. A big part of our work is storytelling, and being able to shape and share narratives through people's stories – especially now in my developmental role."
All this experience gave her a new mindset entering her third audition for the team.
"Throughout the three years, I really focused on the why. Why do I want to be a Patriots Cheerleader? Why do I want to be a part of the organization?" Kanner said.
"My first year I had nothing on my paperwork about my connections to Judaism. Obviously, my profession was there and some extracurriculars that I participated in were on my resume, but in my second and especially my third year, it was like, I want to be a part of this organization. I want to be a brand ambassador to further promote the work that the Kraft organization is already doing and bring in my skills and experience as an educator in the field. They'll either want me because they see the value in that, or if they don't, I wasn't the right fit and that's okay. But I wanted to come into it fully encompassing all that I am and all that I hope to do with the organization. It's been well received."
Since first trying out in 2019, Kanner got to see the evolution of the team's contributions to the cause.
After winning The Genesis Prize, an award for outstanding expression of Jewish values and service to the Jewish community, Kraft dedicated the $1 million prize to the launch of the Foundation to Combat Antisemitism (FCAS).
FCAS has brought this advocacy mainstream through Stand Up to Jewish Hate, a multi-faced campaign to raise awareness about the recent rise in antisemitism, in March of 2023. After a long history of collaboration with the Kraft family, FCAS and CJP joined forces for another effort, again bringing Kanner's two worlds together.
Healey recently signed a proclamation declaring May as Jewish Heritage Month in the state, and the news conference at the news conference announced the new blue billboard that will greet fans leaving TD Garden after Celtics playoff games with a simple message: "It's time to stop Jewish hate."
"Officially, in the state of Massachusetts, May will be Jewish Heritage Month," Kanner said. "It's really cool to see all these pieces come together. I know that my work will not be done the day I retire as a Patriots cheerleader."
Kanner recognizes the significance of the moment she's living in right now, and hopes to take full advantage of it so that future generations won't have to continue combating antisemitism.
"It's hard to even put into words how fulfilled I am," Kanner said.
"I'm able to go to work every day with my full self and know that the work is actually making an impact -- not just on the Jewish community today, but the ground that we're laying down today for future generations to hopefully not have to do this work."