The 24 member Patriots Cheerleading squad flew into Jamaica on jetBlue Airways, anxious and excited, and left with memories we will never forget. Accompanied by our director, a makeup artist and hair stylist, three photographers, a four member video crew, security team and 8 super fans, our group was more than ready to hit the beaches and get started! We spent nine days and eight nights in the gorgeous Sandals Grande Riviera Beach & Villa Golf Resort. The first night we arrived at Sandals we knew we were not going to want to leave! The first photo shoot began at 9 a.m. the next morning. A veteran captain, Patricia, was first to be photographed. After her shoot our amazing photographers, makeup artist, hair stylist and cheerleading director didn't stop shooting for seven days straight. When we weren't watching our teammates' photo shoots there was an endless amount of activities for us right outside our doors. Between games in the pool and water sports at the beach, we never did the same activity two days in a row. We also never had to eat at the same place twice. With 15 restaurants and options ranging from sushi to Jamaican Jerk chicken we dined as a team or in small groups every night of the week.
Our second day on the island was definitely everyone's favorite. Thanks to the Sandals Foundation Reading Road trip we were able to visit the elementary school our resort sponsored to read with the children and then perform for them. We were welcomed with warm smiles and hugs at the Perry Town Primary School where we read and donated books we brought from home. After some school work we went outside to dance for the entire student body. Nothing brought us more joy than to see the children singing and dancing along with our songs as we performed. We loved talking with the children. Our goodbyes turned into playtime and all of the kids wanted a chance to shake our pom poms. Cheerleaders could be heard talking about the visit all week; Cassie even described it as one of the best days of her life! The fun didn't stop there. Later that day we played volleyball with other guests at the resort. Britni, our former Junior Olympian in volleyball, showed all of us her moves!
The next day, just when we thought this trip couldn't get any better, Island Routes took us our on their Dunn's River Catamaran Cruise. When I say I've never seen the team laugh so hard, I mean it! We were all trying to dance while the Catamaran splashed through waves, soaking us all the way to our destination. First stop was snorkeling. Siobhan was a pro, diving in first and exploring the Jamaican coral reef. Even ladies who had never tried snorkeling before got to try. Erica, Aly and I held on to one of the crewmember's floaties to explore the ocean, because it was our first time. The Catamaran took us to the Dunn's River Falls, one of Jamaica's most magnificent national treasures, where we were met with the biggest challenges we've done as a team so far. By holding hands and climbing up single file, we helped each other to the top despite the slippery rocks! We all felt accomplished looking down at the waterfall we had just climbed as a team. When we got back to Sandals we headed to Kimono's Restaurant for a team Hibachi dinner that turned into a team sing-a-long thanks to the hilarious chefs.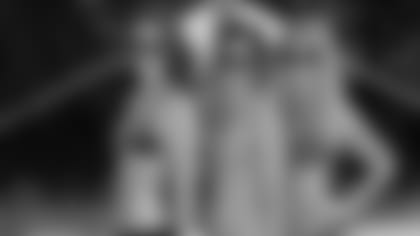 On Saturday night we performed at Sandals' Ampitheatre. We had a blast dancing and pulling guests on stage for some fun and games. After our show we stayed to watch the Silver Birds perform, a steel drum orchestra on the island. The whole team watched in awe at the incredible break dancing and awesome music they played. By Sunday we thought we had done every cool activity there was to do but we were wrong! We spent a day on the ocean taking tours on glass bottom boats, kayaking and trying to pedal the huge water tricycles. LisaMarie even took a few of us out sailing on the Hobie Cat boats. Later that day we were given a tour of the resort's golf course and received a mini golf lesson from a few of the professionals. After exploring the beautiful golf course that had mango, avocado and even a cashew tree, we tried our luck at the driving range. Steph S. surprised us with her awesome swing! As the sun set, the team gathered at Brittney-Lynne's photo shoot and the cover of the 2013 calendar cover girls were announced. Monday was the last day of individual photo shoots followed by a sunset shot for the cover of what is sure to be our best calendar yet!
By Tuesday, the entire team and crew were able to relax together for the last day. We hung out by the beach and reminisced on what was one of the best trips of our lives! We arrived in Jamaica as friends and left as a family. We're eager to unveil our 2013 swimsuit calendar and video to you!
Cheers, and we'll see you on the sidelines!