As the Patriots cheerleaders marched out on the Gillette Stadium field on Sept. 9, the sound of Jay-Z and Rihanna's "Run This Town" blasting over the speakers, the squad rocked a new look – and it wasn't just their glow-in-the-dark uniforms.
For the first time in decades, the Patriots cheerleading team is made up of women and men, joining the growing list of NFL teams to open up their rosters to anyone who is qualified to dance on the sidelines.
For Driss D. and Steven S., every milestone since the conclusion of the audition process has felt surreal. From hearing their numbers called at finals to meeting as a full squad for the first time to going to shoot their annual calendar to the first preseason game, every moment was surely going to be the one that made the feeling of awe fade.
It hasn't gone away quite yet, but the home opener, complete with the Super Bowl LIII banner ceremony, came close.
"The home opener was a different kind of level. It's real," Steven said. "Tom Brady is starting. The lights were all out, and they said, 'The New England Patriots Cheerleaders' for the first time."
"It was definitely a moment that I don't think I'll ever be able to recreate. I'm definitely not going to be able to articulate it properly because it was just an experience that I can't compare to anything else that I've ever done," Driss said.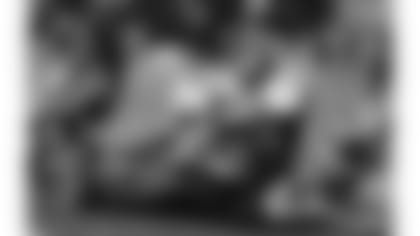 Though it's new for the modern era of Patriots cheerleading, it isn't the first time the Patriots have had male dancers on the squad. In the '70s, men performed on the dance team, and in the '80s, it incorporated male gymnasts and tumblers. In the '90s, the squad transitioned to all-female, but after the 2018 football season, the NFL saw a resurgence in men auditioning for cheerleading teams.
Last year when Rams cheerleaders Quinton and Napoleon made the team, they inspired countless men to try out for their local NFL team's squad – Steven and Driss included. Before going to auditions, both reached out to the Rams for advice and mentorship about the process.
"I never in my head, at least before last year, was thinking this is something I'd ever do because it just wasn't something that men did," Driss said. "Now it is. The Rams boys, I definitely look up to them, but so many choreographers on TV too and dance teachers that I've had just telling me to stick with it. It's the same thing we're telling people now. It's so crazy that I'm telling someone this when I wouldn't be here if other people like that weren't telling me the same thing my whole life."
The chance to set an example is something that neither take for granted. In fact, they are reminded almost constantly of what their presence on the squad means.
"The last game, I was out on the field and I was walking off, and this little boy leaned over the railing and was like, 'I want to be a Patriots cheerleader one day,'" Steven said. "The negative comments suck. They really do, and they kind of make me feel down for a second, but that little boy makes everything worth it. I would rather take 100 slaps in the face about how horrible it is to have a male on the field, but for that little boy to see someone to look up to is rewarding. For him to lean over and say, 'I want to be a Patriots cheerleader,' and his mom say, 'He will be one day,' to not have tears in my eyes was hard."
Alex B., a four-year veteran of the team and a line captain, said almost every game, she sees someone walking to the front of the stands to speak to Driss, who is on her line.
"Every game, whenever we take a water break on the sideline, women will walk down and be like, 'My daughter, my son, they love you,' to Driss," Alex said. "'You're their absolute favorite. They're coming to the next game to watch you.'"
Though both have been dancing for years, Steven said getting used to the spotlight is an adjustment. On any given game day, more than 65,000 fans are watching the Patriots cheerleaders perform, and that's not counting people watching from home or following the squad on social media.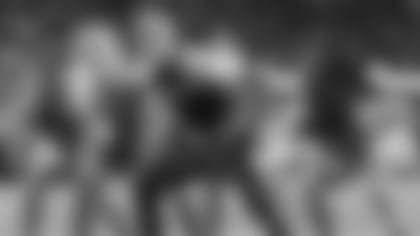 "The reward of being on that field and being an ambassador for those little kids, you can't beat that. I think the thing that's surprised me most is how many people look up to you. I'm just a normal person," he said. "It's kind of crazy because once you're not in uniform, people are like, 'Well, who are you?' But when you're in that uniform or you're wearing something Patriots, you're representing the Patriots and your team."
Aside from needing to find matching uniforms and set up a locker room space, the transition onto the squad has been relatively seamless. In fact, the addition of Driss and Steven has meant the team can switch up choreography from years past.
"The captain's dance that we just choreographed, we had them throwing one of the girls on the team," captain Alyssa C. said. "We would not be able to do that [without them]. She would not get nearly as high. We're really playing up to their strengths, and I think it's nice."
As the season has progressed, from game days to team-building activities, the squad has only grown closer. With 14 rookies joining the team this year, it is very much a unique squad, and given the demands of the season and the sheer number of hours spent together, it is inevitable that people who started the process as strangers become friends.
"It's really nice too because they're the people that understand all the stress and the pressure that you're feeling," Driss said. "People I've been friends with for 20 years, I can't necessarily go to them because they don't understand exactly what I'm feeling, whereas I have all these other people who can relate to exactly what I'm feeling. Especially Steven and I, throughout auditions and the season, we've really had to come together to succeed."
Despite the pressure, Driss and Steven know they have the support of their teammates, and with several games under their belts, anyone who still questions their place on the sidelines can check the tape.
"Like [Patriots cheerleading director] Tracy [Sormanti] has always said, 'They didn't make this team because they are boys,'" Steven said. "'They made this team because they're talented.'"