Some of the faces are different, but 'The Patriot Way" remains the same.
That's making Josh McDaniels' return to New England as smooth as can be expected.
He's back as the Patriots' offensive coordinator and quarterbacks coach, titles he held previously before moving on to become head coach in Denver. That job ended much sooner than McDaniels and the Broncos had hoped. After a year and a half, he was out of Mile High. Last season, McDaniels was in charge of the offense in St. Louis.
Today, he's back on familiar ground and looking forward to the opportunities presenting themselves.
"It's great to be back here, trying to do everything I can to help us win," he said Friday, just before the start of rookie mini-camp.
He acknowledged that he's changed somewhat, having had the benefit of being the top boss on a coaching staff
"I'm older," he noted with a laugh. "I think we learn things about ourselves each year and I've had some experiences that really taught me a lot about me as a person and certainly as a coach. Just different ways to do things. I've been around a lot of different people that had different philosophies. Some I felt were really interesting, and some I learned maybe what I don't want to do. I'm trying to take the best of those experiences and apply them to what I do every day and try to be a better coach."
Like his counterpart on offense, new defensive coordinator Matt Patricia is taking nothing for granted. The title itself may be new to Patricia, but in reality, he's held the responsibilities of a coordinator for the past couple of seasons. Nevertheless, he joked that he just hopes he can continue to do a good enough job that his key-card works every morning when he comes to the office.
"Titles are not really the important thing. All of us as a staff, defensively we all actually work together, we all have a job to do. We all have input and collectively combine to do what we do every week and put a good product on the field. That's really what we do. It doesn't really have to do with titles," Patricia maintained.
"Job titles aside, we all have kind of a job to do on the defense. Everything is always ever changing "We're trying to get everything done we can to facilitate this part of the season. Our jobs and our responsibilities on defense, they are what they are. It's not really anything about titles. It's just everyone trying to do their job."
After last season's dismal performance by the Patriots defense, ranking at or near the bottom of the league in nearly every major category, Patricia is sure to be subjected to intense scrutiny. McDaniels, too, will be under a giant microscope, given that he's been a head coach and is returning to the team where he built his reputation. However, McDaniels isn't interested, he insisted, on becoming a head coach again - at least not for the moment. He said he has nothing to prove, but much still to learn.
"This is a great environment for a young coach to learn, and as old as I might feel, I'm still really young and have so much more to learn and understand. There's not a better teacher than Coach Belichick and Mr. Kraft, the way we do things here, how we adapt each year, gives any coach - young or old - an opportunity to grasp those things and improve. I obviously feel very strongly about the people here, and my relationship with those people hasn't changed."
Evolved, perhaps, is a better term. McDaniels, in his first stint in New England, became particularly close with quarterback Tom Brady. Both, however, have grown since McDaniels left Foxborough following the 2008 season, and it will be interesting to see if the two can rekindle the chemistry that proved so successful in the past.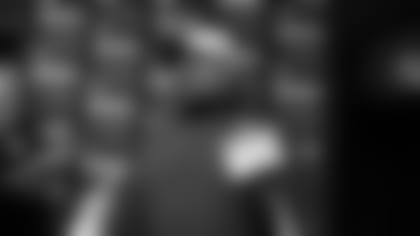 "It's good to reconnect with Tom in a football sense and go back through some of the things that changed," added McDaniels. "I'm not exactly the same coach in terms of the things I might say or believe in the meeting room, and he's not the same player. So, that's a good thing. And really getting a chance to establish a good relationship with [backups] Brian [Hoyer] and Ryan [Mallett] and Mike [Hartline] and just getting a feel for their skill set and where they're at mentally."
Patricia, meanwhile, is eager to get a look at the newest weapons at his disposal on defense - first-round draft picks Chandler Jones and Dont'a Hightower.
"We always try to make sure to get guys that fit into the program of the ideal guys that we're looking for. Hopefully they can get on our program as quick as possible. I think that's what we're trying to do. We'll see how they do.
"Definitely eager to get going and get back to work and just get out on the field," Patricia stressed. "That's why we coach. That's why we love what we do. To be able to get outside with your players is really what you're looking for. Definitely excited to get back to work with these guys."