FOXBOROUGH, Mass. – The sounds of instruments and laughter rang through the air at the Paul McLaughlin Youth Center in Dorchester on Tuesday afternoon. Patriots safety Kanorris Davis and defensive lineman A.J. Francis brought their musical talents to a chorus of children at the center, setting aside their athletic prowess for a few hours.
Francis and Davis visited the center to help celebrate volunteerism in the field of the arts, as well as present an award to the Patriots Difference Maker of the Week, Gary Eichhorn, who made the event possible with his donation of musical instruments and equipment, plus his belief that every young person should have the opportunity to experience the magic of music. The fact that music was the focus of the event resonated with Francis, who has a passion for the musical arts dating back to his days at Maryland, where he used to record his own music. He also knows how music can bring people together.
"I feel like no matter what you do, everybody relates to music in every walk of life," said Francis. "That's one thing that I think bonds everybody."
Bright eyes and timid personalities soon gave way to excitement as the kids realized that this Patriots duo was here to rock and roll. With each strum of a guitar string, shake of a maraca, or beat of a drum there was music in the air and a laughter that could not be drowned out.
"When I was growing up, I was involved in a lot of sports and after-school activities and I always appreciated when people took time to come talk to us," said Francis. "Just to have that experience with somebody that I looked up to as a kid, that was big and it helped mold me. If I could ever be that for a kid, I would jump at the opportunity."
Davis and Francis also spent some time with a group of autistic children at the center, who had some pretty amazing talents.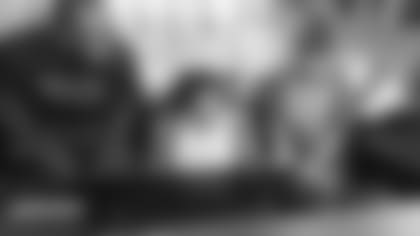 "There was one girl in there who could play the guitar very well, and another girl who could play the piano and was playing a bunch of songs that are out today, like 'Treasure' by Bruno Mars," spoke Francis with admiration in his voice.
The Patriots duo was invigorated by the passion of the children and Davis voiced some passion of his own in the recording studio. The soft strum of guitar chords set the tone for his delivery and though he spoke softly into the microphone, his words carried and resonated into the minds of the children listening. There was no musical skill or background required to join this band; all that was required was an intense passion for music and fun.
Whether they were playing instruments, dancing or just watching from the sidelines, everybody in the center had a smile on their face that spread from ear to ear. The day couldn't be free from a little friendly competition however, as the kids managed to goad Davis and Francis into a game of musical chairs, a game which Francis thought he should have won.
"I got robbed, but I wasn't about to go and tell on them. You would be surprised how much those kids wanted to win" he joked.
From the sound of it, the day was a win for both sides.
Tuesday's visit to the Paul McLaughlin Youth Center in Dorchester was part of the Patriots Charitable Foundation's ongoing Celebrate Volunteerism initiative, which recognizes deserving volunteers and encourages Patriots fans to give back in their communities. For more information about Celebrate Volunteerism and for a complete list of future initiatives, go to www.patriots.com/community.