At the end of a day of training camp, Patriots players finish their cool downs or sign autographs for fans, but on Thursday, Stephen Gostowski ended the day a different way.
Leading a group of his teammates, Stephen charges across the sideline on a bright blue bike meant for a child. His knees bang up against the handlebar, but he is all smiles as he approaches a group of 20 kids.
"You guys want some bikes?" he said, hopping off the bike and handing it to the first kid to raise his hand. No surprise, multiple hands shoot up.
The Patriots Foundation partnered with CarMax and Blue Star Families on Thursday to provide a special surprise for this group of kids and their families, all of whom have an active duty family member. The Patriots Foundation welcomed them as guests for training camp with a front row view of practice, and once it ended, dozens of Patriots players walked out bicycles for them to take home.
Stephen, Rob Gronkowski, Adrian Clayborn, Dwayne Allen, Marcus Cannon, Danny Shelton, Deatrich Wise, Brandon King, Eric Lee, LaAdrian Waddle, Jason King, Joe Cardona, Adam Butler, Derek Rivers, Ryan Izzo, Joe Thuney, Jacob Hollister, Marquis Flowers and Shane Wimann all rolled in to surprise the kids.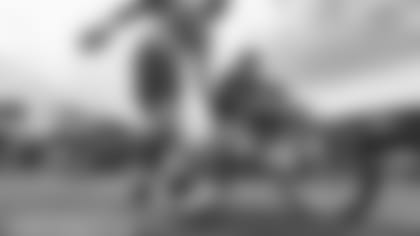 "Being around my kids all summer and every day, it's nice to see some kids. Hanging around kids, it's easy to interact with them. They're so excited to see you. They don't really know who you are," Stephen said. "They say, 'Are you Tom Brady?' It's a lot of fun. To get a nice bike from Patriots players, that's got to be a pretty cool experience."
CarMax employees built the bikes on site, not knowing they would be presenting the bikes to the families that day alongside Patriots players. And the families who came to camp with Blue Star Families had no idea they would be walking away with bikes either.
Matthew Densley, a gunnery sergeant in the Marines, came to Patriots training camp with his daughter Audra. After getting a lesson from Jacob Hollister, she was glued to her seat.
"All she wants to do is play with this thing," her dad said with a laugh. "It was amazing. It was a great opportunity. The Patriots did an awesome job for us, showing the love for the military. It's an amazing opportunity to be a part of something like this."
For more photos, check out the gallery below.
In partnership with CarMax and Blue Star Families, the Patriots donated bikes to more than 20 military kids and their families after training camp at Gillette Stadium on Thursday, July 26, 2018.