On Day Two of the NFL Draft, the Patriots more than made up for their lack of picks on the first day.
New England selected four players, thanks to a trade Thursday with the Vikings. And it seemed like the team addressed positions of need that most observers felt they needed to.
With the first of the picks they acquired from Minnesota, the 52nd overall pick, New England selected outside linebacker Jamie Collins from Southern Mississippi.
They turned around seven picks later and took another player at a position of need: Marshall wide receiver Aaron Dobson.
With Minnesota's third-round pick (83 overall), New England went with the third of the three areas of need: cornerback Logan Ryan from Rutgers. The Patriots ended Friday by taking another Rutgers defensive back, safey Duron Harmon, with their own third-round pick, the 91st overall.
Following the second and third rounds, head coach Bill Belichick told reporters that his team got "good value" from all the picks they made.
"I think there was a lot of depth in the third round," he explained. "There were still a number of interesting prospects that were still on the board. There's plenty of playing quality in that second, third, fourth round."
Collins acknowledged that Bill Belichick went down to Mississippi to work him out during the pre-draft process. The Patriots head coach must've seen something he liked in the former defensive back turned front-seven prospect.
"I'm a football player, no matter what…. I'm just going to play my heart out, man," Collins told reporters via conference call shortly after the Patriots drafted him Friday night.
It was interesting that he brought up the subject, because one of the knocks against him and his winless team last season was the effort and motivation they showed their new head coach in his first season in Hattiesburg.
"I felt like I had to play hard every game, just because we were losing," Collins contented. "I felt like that was going to draw a lot of attention to me, to see how I played, despite the fact that we went 0-12."
Collins said he knows no one on the current Patriots roster, and has never set foot in New England. Nevertheless, "I'm ready for the challenge," of coming to Foxborough and performing in the harsh climate here, he insisted.
Dobson was thrilled to have been chosen by a team whose offense is led by Tom Brady.
"You can't beat that," said Dobson on his post-draft conference call. "He's the best quarterback in the league… It's amazing. Now that I get a chance to go play with him, it's a blessing… not intimidating at all. I'm excited to know him and start catching balls from him just to try to help the [team] out."
Ryan was Patriots co-captain/defensive back Devin McCourty's replacement at Rutgers, and spoke to reporters about the strong connection his school has with the NFL and New England in particular.
"The reason why Rutgers guys have success with the Patriots is because we're built to play football on the field, but live like a professional off the field. That's something we're taught and that I'm going to bring to the Patriots organization and help contribute.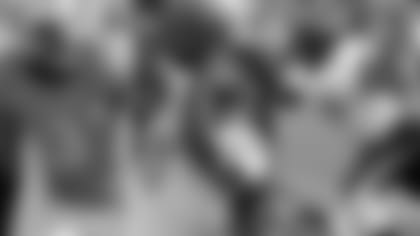 "The relationship that Devin and I have goes beyond words," Ryan added. "He's a guy that helped me make the transition coming from being a talented high school player to becoming a college corner, and now for him to be there for this next step… to have the opportunity to compete alongside him in practice every day and the work ethic that he brings and the great leader that he is – I'm just honored to be able to play alongside him and [be in] the Patriots organization."
Harmon, a relatively unknown commodity, joked with reporters about his mother's reaction to watching TV coverage of his being selected by the Patriots.
"Hold up, baby! Where're your clips?!" he laughed, mimicking his mother's surprise at not seeing any highlights of her son.
But Harmon's new head coach justified the selection.
"Thought it was a good value when we took him," maintained Belichick. "I don't know how the other teams have their board stacked or anything else."
New England currently has four selections remaining, including the fifth pick of the fourth round. The final four rounds of the 2013 Draft begin at noon on Saturday.