The Patriots swapped out their usual blue and red for black and gold on Saturday afternoon. Several Patriots players and coaches made their way to TD Garden to celebrate their Super Bowl LI win and drop the ceremonial puck before the Bruins took on the Vancouver Canucks.
James White, Matthew Slater, David Andrews, Nate Solder, Sebastian Vollmer, Joe Cardona, Geneo Grissom and James Develin represented the Patriots at the Bruins game, and they were joined by Matt Patricia, Steve Belichick, Joe Judge, Moses Cabrera and Jerry Schuplinski on the coaching side. 
It wasn't Gillette Stadium, but the crowd at TD Garden welcomed the Patriots with a standing ovation after highlights from Super Bowl LI played and the players walked out onto the ice. James White was given the honor of dropping the puck.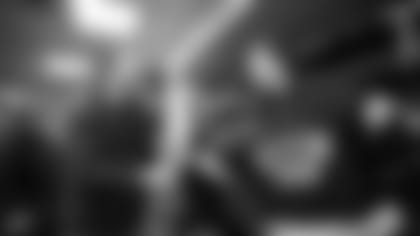 Before the Patriots took the ice, they received customized Bruins jerseys, chatted with Bruins like Tuukka Rask and Zdeno Chara in the locker room and met with both Bruins President Cam Neely and General Manager Don Sweeney. Both commended the Patriots on their historic comeback, and Don said it was an incredible game to watch.
"I was glued to my TV," Don said. 
The team stuck around to see the B's come away with a 4-3 victory over the Canucks. The Patriots and their families were shown on the big screens a number of times throughout the game, and each time, the Bruins faithful showed them their appreciation. 
Check out more photos from the Patriots visit with the Bruins in the gallery below. 
FULL GALLERY
The Boston Bruins honored the Super Bowl Champion New England Patriots prior to their game against the Vancouver Canucks on Saturday, Feb. 11, 2017. Fourteen members of the team were recognized at center ice, including RB James White, who dropped the ceremonial first puck.