When people are in love, they sometimes do unexpected things and go out on a limb. Well, for longtime Patriots season ticket holder Nick Avtges, that is more than a figure of speech.
Avtges's wife of 61 years, Marion, is in a nursing home, and due to the COVID-19 pandemic, he has been unable to visit her. His son, Chris, came up with an idea and with help from a family friend, Avtges pulled off a surprise for the love of his life.
Earlier this month, Avtges stood outside Maristhill Nursing and Rehabilitation and climbed into a bucket truck, getting a lift to see his wife for the first time in weeks. Wearing a homemade mask with Patriots logos and carrying a sign that said, "I love you, sweetheart," Avtges was able to come face-to-face with Marion outside of her third-story window.
"Just by being able to see her, touch fingertips through the screen, it's an emotion that's really difficult to explain. Every time I think about it, I tear up," he said. "I get tears in my eyes. Being together 61 years and then being separated, it's very difficult to accept, but we do the best we can."
For their first wedding anniversary, Marion bought Nick tickets for the Patriots in the team's first year of existence. The family is among the team's original season ticket holders, and they host their own draft to see who will attend which games every season. Nick even wore a homemade Patriots cloth mask when he visited Marion.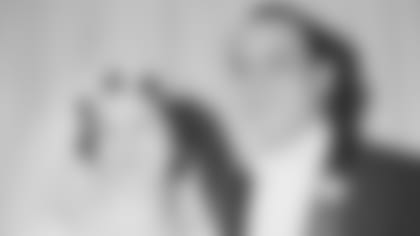 Marion has been in the nursing home for about a year, and before the pandemic, Avtges would spend just about every day there. He would get to the facility around 10 a.m. and wouldn't leave until 6 or 7 p.m.
The couple is able to talk on the phone several times throughout the day, but the visit that Avtges and his family pulled off helped in a difficult time. Since they met more than 60 years ago, Nick and Marion have been inseparable.
"A cousin of mine brought me to a Christmas party," he recalled. "That's where I met her, and we fell in love right away."
Marion, who worked as a nurse for many years, even starting a parish nurse program at their church, has a way of getting people to open up, her husband said.
"Her favorite story is that people would come in to check for their blood pressure," he said. "They'd shut the door and they would talk about everything but blood pressure."
In spite of the difficult time for the Avtges family, this moment provided them all with a much-needed emotional lift. When it came down to it, there is simple reason to go to these lengths to see his wife.
"That's what I tell everyone," Avtges said. "The four-letter word: L-O-V-E."
You can watch a video of Nick and Marion reuniting from the window in the video below.