Last October, when David Parsons, 44, found out that his neighbor Kevin Graessle needed a kidney transplant, he didn't think twice about becoming a donor. The odds of it working out weren't in their favor, but he met the first requirement – having O+ or O- blood – and decided to see if he would ultimately be a match.
"It's the first time I ever crossed the situation in my life where I actually knew someone who needed a kidney transplant," he said of Kevin, 54, a former Marine who was diagnosed with kidney disease when he was 23. "I think a number of people would do it, but it's just that they don't come into contact with someone who needs a kidney."
He added, "To save someone's life, it seemed like something I should be willing to do for a short-term inconvenience, so to speak, of going through the surgery and recovery process."
But before the surgery could ever take place, David had to undergo a number of medical tests to determine if he could be the donor. Those began in late-November 2015, after Kevin was officially approved for a transplant.
The two, who said they were previously just acquaintances in their Marietta, Ga., neighborhood, drove to the hospital together for the initial round of testing.
"It was a Monday morning so we were talking about football, coming off the NFL games on Sunday," David recalled. "Of course, Kevin mentioned that he was a Giants fan, and I said I was a Patriots fan. Due to the Super Bowls over the past few years, he had a few good laughs about that."
A couple weeks after their football loyalties were revealed, there was another discovery; the pair found out that David was in fact a match for the transplant.
"There were quite a few people who responded to my wife's Facebook post [about the need for a kidney donor] and they all wanted to get tested," Kevin said. "But David was the first one to get tested and the first one to come back as a match, which was just amazing in and of itself."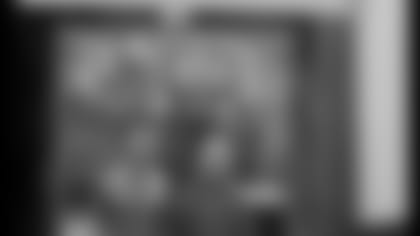 As the February 5 surgery approached, Kevin and David's wives became closer and, together, they came up with an idea to add a little humor to the situation.
"When we found out that David was a match and everything, the wives decided to name the kidney 'The Gronk' after Gronkowski," Kevin recalled with a chuckle. "We were trying to keep it on the lighter side, the whole transplant experience, and it really took off."
They had a stuffed kidney with 'Gronk' written on it and even posed for a photo at the hospital, both wearing Gronkowski jerseys.
David said he was "flattered" that they found inspiration in his favorite football team, but isn't sure how he would have felt if the roles were reversed.
"I don't think I could name somebody else's kidney – if I needed one – Manning," he joked. "I just couldn't do it."
As for Kevin, who said he is feeling "great," he was simply thankful that David came forward.
"There was no hesitation on his part," Kevin explained. "It was just a selfless act."
He added with a laugh, "When a donor steps up and he's a Patriots fan and the kidney is named Gronk, who am I to say no?"