Being a Patriots fan outside of the U.S. can bring on a number of obstacles. International football fans are used to setting alarms at all hours of the night to catch a game or explaining to their friends the intricacies of a foreign game.
But for Kevin Doran, one of the biggest obstacles is shipping.
Doran is a Patriots fan in Ireland with a hobby that adds up when its shipped across the Atlantic Ocean. With about 150 Patriots bobbleheads, Doran boasts an impressive collection and he has no plans on stopping any time soon.
After Super Bowl XLIX, Doran was looking for a way to commemorate the moment.
"I was going to get a hat or a t-shirt. I saw the bobbleheads and they looked so cheesy that I really wanted them because the likenesses are a bit weird," he said with a laugh.
He started off with three for his office desk -- Devin McCourty, Rob Ninkovich and Tom Brady. As someone with a propensity for collecting, it didn't take long for him to be fully committed.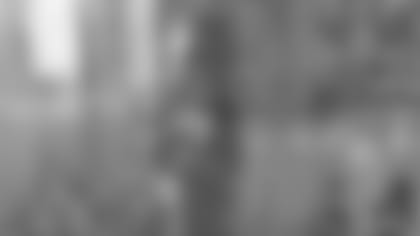 The collection now includes Stephon Gilmore holding his Defensive Player of the Year award, Pat Patriot autographed by Steve Grogan and Ty Law in his gold Hall of Fame jacket.
After sharing a picture of the new setup on Reddit, he felt the love from Patriots fans all over the world. While he said some of them made jabs at some of the players' likenesses, Doran said they being "dodgy" partly why he loves the bobbleheads so much.
"They've gotten so much better at casting the faces to look like them. The newer ones are really good," he said. "The older ones, they're a bit questionable. That's part of why I like them. When you get a really wonky bobblehead, it's pretty cool.
Doran regularly checks websites for new editions, often preordering the latest bobbleheads, but oftentimes, limited edition ones will fly off the virtual shelves. He spent several months looking for the "Community MVP" release, which featured both Devin and Jason McCourty, for example.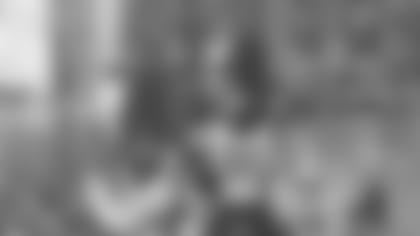 "For most teams, it's just one player on their own but because it's the twins, it's a double bobblehead. They're both flexing their muscles. When it was released it sold out, so I was looking for it for well over a year and I couldn't find it," he said. "Then I found one on eBay and I bought it. It actually went missing in the post for two weeks I was heartbroken but it eventually showed up. I'm really glad to have that."
Doran found the Patriots while in college in Northern Ireland. Since he was considered an international student, he spent his weekends on campus while local students went home, and while he introduced a friend from the U.S. to soccer, the favor was returned just in time for the Patriots undefeated regular season run in 2007.
"It makes me sound like a bandwagon fan but it's just dumb luck more than anything," he said.
Since then, football has grown in popularity, and more and more of his friends tune in to major games. While the collection is now easier to explain to friends and family, it is tucked away in his home office, where it is guaranteed to continue growing.
"I never thought people would be so interested in my bobblehead collection. It kind of justified it in a little way," Doran said. "There's probably a worse hobby I could have."