After five weeks, the Patriots' defense ranks tied for first in the NFL in turnover ratio. Their 14 take-aways (six interceptions, eight fumble recoveries) to just four give-aways (one pick, three lost fumbles) put them at plus-10, equal to that of the Atlanta Falcons.
You might not be surprised by this just looking at the numbers compared to last year, when New England finished third overall with a plus-17 ratio. However, it seems that this year's defense is creating more of those turnover opportunities (e.g., forcing fumbles, making good adjustments to intercept passes) as opposed to just being in the right place at the right time, say, for an errant pass, which seemed to be the case much of last year.
"You could definitely generate them," head coach Bill Belichick agreed. "Certainly, turnovers come in different categories. Some of them are just mistakes by the offense that the defense doesn't really have anything to do with, like fumbled snaps or a pass that goes off a receiver's hand and gets batted up in the air and is an easy interception and the defense doesn't affect it.
"Then there are other plays," he continued, "where the defense does affect the play that they read the quarterback, jump the route, strip the ball from the runner or receiver who is obviously trying to hold on to it but the defender is alert and if they don't put pressure on the ball then they just tackle the guy around the legs instead of trying to get the ball, those aren't going to be fumbles."
Belichick went on to state that there are a number of opportunities in most games for the defense to pry the ball loose from an opponent's grip, but recovering it is another matter.
"It's an awareness of those opportunities and then taking advantage of them when they occur," he added, "which isn't on every play, but they do happen. But then, there are some turnovers that are just unforced and those are just sloppiness by the offensive team, whoever it is just losing the ball. The defense doesn't cause a turnover, it's just bad offensive execution."
Teams always try to create turnovers, as Belichick pointed out, but actually being good at dislodging the football is not easy. The Patriots say they work on making their own luck every day.
"Just practice, man," explained safety Patrick Chung. "Turnovers win games. When you win the turnover ratio, you have a pretty good chance of winning the games, so, we practice it. Whenever the ball's in the air, just try to get it. Ball's on the ground, pick it up, even if it's an incomplete pass, just pick it up, act like it's a fumble because turnovers do win games. Yeah, we do, we work on everything. Not just one thing, we work on every single situation."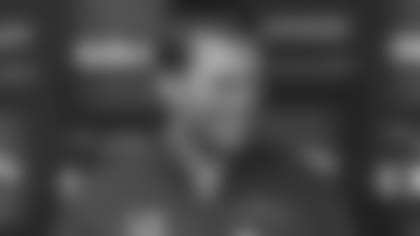 "Turnovers are always a big stat. They really correlate to winning and losing games," echoed QB Tom Brady. "The more you turn it over, the less likely you are to win. I think we've done a great job of getting the ball off the other team. Like last week [against Denver], it's a totally different game if we don't get that fumble there at the end or that strip-sack that Rob [Ninkovich] got. That strip that Sterling [Moore] got on Demaryius Thomas, they're critical."
The flip-side, of course, is that Brady the Patriots' offense has surrendered possession just four times (also tied with Atlanta). Only three teams have lost the ball fewer times – Oakland, Houston, and Pittsburgh each have three give-aways thus far.
So, while defenders are practicing taking the ball away, the offensive players are simultaneously getting used to trying to protect the ball at all costs.
Two of the Patriots' three fumbles lost came against the Bills in Week 4, and both of those came after pass receptions (Rob Gronkowski and Wes Welker were victimized). A week later against Denver, running back Stevan Ridley lost his first fumble of the season, a problem that cropped up late last season for him. Ridley was fortunate not to have lost the ball he fumbled in Buffalo, either.
"You look at it overall and I think he's done a nice job of carrying the ball quite a few times this season," offensive coordinator Josh McDaniels observed. "He's done a good job of that and then there are a couple of instances where the ball got loose a little bit. But you continue to work with every player on those fundamentals and the technical part of their game, which includes ball security and includes catching, blocking, running good routes and all the rest of those things that can contribute to protecting the football.
"So it will be a point of emphasis for us going forward. It always is and it always has been and it will continue to be. I think that he's certainly not the only person that the ball got out on the last so many weeks here."
Defensive coordinator Matt Patricia says he's pleased with his unit's effort in the turnover war after five weeks, but that he's focused on the bigger end result of that production.
"The most important thing, obviously, is that we're successful as a team and that's really what we're focused on. I think we're just trying to go out and take advantage of whatever opportunity presents itself out on the football and make sure we're prepared to do that, whether it's takeaways, situational, down and distance, personnel, whatever it may be. We're just trying to go out and perform well as a team and that's the most important thing."
For details about today's Patriots practice and more locker room tidbits, please visit the PFW blog.