Devin McCourty isn't in the habit of playing quarterback, but on this day, he makes an exception. Jahvon, 13, gets set at the line of scrimmage, runs his route and makes the catch in the end zone for his first touchdown.
But he doesn't linger in the moment. He doesn't celebrate. He just smiles, throws the ball back and gets set for his next route.
"No celebration?" asks David Andrews. "Nah, he's been here before," Matthew Slater says.
Jahvon's day with the Patriots was part of NBC 10 Providence's "Tuesday's Child" segment, hosted by Patrice Wood. The segment follows a local child in foster care, who needs a loving, permanent home, doing something they love. It shines a spotlight on those kids in foster care and the need for foster and adoptive families.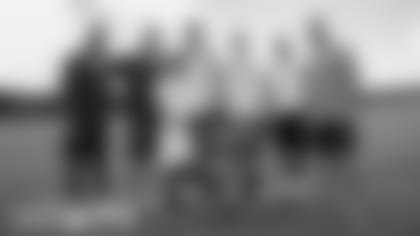 Kyle Van Noy knows this well. With his Van Noy Valor Foundation and his own story of adoption, Kyle has been using his platform in the NFL to bring awareness to these kids and families, so of course he was one of the many Patriots greeting Jahvon during his visit.
Kyle was joined by Devin, David, Matthew, Chris Hogan, Duron Harmon and Derek Rivers. Jahvon also met Robert Kraft, who let him try on a Super Bowl ring, and NFL Hall of Famer Andre Tippett.
Jahvon loves football but has never played on a team. If he did, he would be a running back, he said. So Patriots spent the afternoon showing Jahvon some basics, but as it turns out, he didn't need it.
"I can't wait to hear your name somewhere, and I'll say, 'I met that kid when he was 13,'" Devin said.
They also offered words of advice to Jahvon, who quietly made an impression on all of them.
"He's got that inner strength that he displays, and you can see. Being around him you can just tell," Kyle said. "We're here to support him and whatever he wants to do. I think for him the one advice I'd give to him and other kids is no matter what your situation, control what you can control."
"He's on the right track," Matthew said. "He's going to be a blessing to whoever decides to welcome him into their home."
You can watch Jahvon's entire segment here. If you are interested in learning more about Jahvon, or any of the children in Rhode Island state foster care hoping for a forever family - or would like to know how you can make a difference in the lives if children in care, please contact Adoption Rhode Island at 401-865-6000 or visit AdoptionRI.org.