Picking up right where they left off on Friday night, Bill Belichick and his Patriots got a jump on the final day of the 2017 NFL Draft. Before Round 4's selections began, the Super Bowl champs swung a deal with Kansas City to acquire third-year veteran tight end James O'Shaughnessy and the Chiefs' 216th overall pick in the sixth round. In exchange, New England gave up its only remaining fifth-rounder, the 183rd overall.
O'Shaughnessy was a player in whom the Patriots were particularly interested during the pre-draft process two offseasons ago.
"He was a player we liked that year, and the Chief ended up picking him," acknowledged Patriots director of player personnel Nick Caserio, who spoke to reporters at the conclusion of the draft Saturday evening.
"We'll put him in the mix – obviously, he knows nothing about our system – and see how he does."
Once the draft resumed, the Patriots added to their defensive end depth chart by choosing Arkansas' Deatrich Wise Jr. (6-6, 270), who pronounces the "CH" at the end of his first name.
Wise, during his introductory conference call with the media, admitted he "jumped for joy" upon hearing he'd been drafted by New England. One reason is that he joins fellow former Arkansas teammate Trey Flowers, whom he described as "an older brother-type" and a mentor at the position.
"He taught me how to do certain things. He taught me how to watch film. Taught me how to play certain positions and on top of all that just the mind to play and the mindset you have to have to go into a game, go into a practice, go into life. I have a great relationship with Trey and am looking forward to meeting him up there and work with him."
[wysifield-embeddedaudio|eid="550276"|type="embeddedaudio"|view_mode="full"]
Wise told reporters he had a great pre-draft visit with the Patriots here in New England and agreed that comparisons between him and former Patriots DE Chandler Jones aren't far off.
"Similar body style. Similar play style," he explained. "We have long arms, we're real good with our first step. Great turn around the edge rushing the passer. He's a relentless, aggressive player that I model my game similar to his."
Before even getting to their pick at 216, the Patriots elected to be aggressive again, trading that choice and their final one in Round 7 at 239 to Dallas for the Cowboys' 211th overall spot. There, New England chose another offensive lineman, UCLA tackle Conor McDermott (6-8, 305).
Not unlike current left tackle Nate Solder, McDermott began his college career as what he called "a skinny tight end" weighing around 235 pounds. He revealed to reporters on a conference call that he now hovers around 315 pounds, and, like Solder, was once a stellar schoolboy basketball player.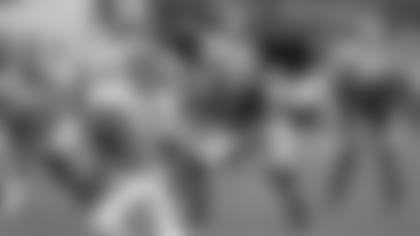 "Growing up, I was more of basketball player," he said. "I definitely thought that would be my future, but I changed to football my senior year in high school and never looked back.
"I feel like there's room to grow," McDermott continued, "and I'm excited to get to New England with the great coaching staff there and just get to work. Whatever they want for me, I'll put my 100-percent effort in."
[wysifield-embeddedaudio|eid="550281"|type="embeddedaudio"|view_mode="full"]
With the smallest Patriots draft class in the Belichick era, New England now has 69 players on its 90-man roster. Most of the remaining 21 job openings could be filled before the end of this weekend by undrafted rookies that sign with the Patriots.
Belichick and his staff are now busy trying to lock up as many of those players as possible. By the end of next week, all the rookies will be in Foxborough for orientation.
"The staff really did an awesome job this weekend," Caserio emphasized, even though the Patriots only selected four players. "It doesn't seem like there's much that goes on, but it's a lot of work for four picks. We're turning the page on this [draft]."
Caserio pointed out that now the attention shifts to what he called "Phase 2" of the offseason program, where the coaching staff gets more of an opportunity to work with the players on the field in May and June.
"Honestly," he added, "our college scouts have been working on the 2018 draft for the past month. So, we're moving forward."
HOME COOK-ING
In a related note, the Patriots reportedly made another move that had been widely anticipated, picking up the fifth-year option on the contract of recently-acquired WR Brandin Cooks.
New England had until May 3 to make this transaction, which has yet to be officially announced by the club. Earlier this offseason, the Patriots shipped their first-round draft choice, 32nd overall, to New Orleans to acquire Cooks, who was scheduled to enter the final year of his original rookie contract this season. By exercising the fifth-year option on Cooks, who was the Saints' first-round pick in 2014, the Patriots have now secured his services at least through the 2018 season.