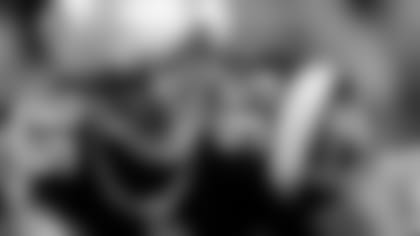 Tully Banta-Cain** has taken on many challenges on his road to the National Football League.
The fourth-year veteran has drawn on childhood experiences and the strength of his parents to persevere through a number of obstacles. Both influences helped him maintain faith in his abilities, and uphold the belief that he was destined to earn an opportunity to play pro football.
Since Banta-Cain was a child, his goal was to reach the highest level of the sport and make it in the NFL.
"It's been my dream to play defense in the NFL," he said. "That's always what I have strived for since I was young."
Along the way, Banta-Cain's greatest influence has come from his parents. Adam Cain and Joya Banta have been a driving force in his success on the football field since Tully first started playing the game.
Their guidance helped him avoid the pitfalls met by others. Growing up in Mountain View, California, Banta-Cain watched many of his young teammates fall victim to poor choices and lose their way.
"A lot of guys who I played Pop Warner with, they were great athletes but they had a lot of off-the-field issues and problems," he said. "There were guys that were more talented than me but they could never make that next step. I always told myself that I wasn't going to be that guy."
Banta-Cain's mother was always present to keep her son in line and on the right path, while his father was a mentor and coach.
"My mom knew that it was my dream to go to the NFL, and she shared it with me," he said. "She really stayed on me and made sure that I did the things that I needed to do. She helped me with my studies and signed me up for a debate class, any little thing that she could do.
"My dad was a great football player when he was young but never had the opportunity to play in college. He's always told me what I needed to do from a football sense. I always wanted to live his dream for him."
His parents helped Banta-Cain develop into one of the best football players that Mountain View has ever produced, a surprise to many.
"People doubted me in high school," he recalled. "They thought that I would be another has-been guy."
But after being named league Defensive Player of the Year, Banta-Cain earned a scholarship to play at the University of California, and that changed a lot of people's perspectives in a hurry.
"I was the first guy from my high school ever to get a full ride to play Division I football," he said. "So that was the first step to my dream." Once he arrived at California, Banta-Cain joined a strong Bears' defense with upperclassmen starters ahead of him. He established himself on special teams initially - just as he would with the Patriots - until he got the opportunity to prove his ability on the field.
"One day we were doing a pass rushing drill against the running backs and none of them could block me," he said, recalling the start of his sophomore season.
"Everyone else was getting blocked and I was beating them clean."
That performance promptly proved to the coaching staff that Banta-Cain could rush the quarterback and they moved him to defensive end. The move turned out to be a great one as Banta-Cain recorded 13 sacks his senior season - one-half sack short of the Bears' single season record - and finished third all-time in school history for career sacks.
Following his standout collegiate career, Banta-Cain hoped to be drafted higher than the seventh round, where he was selected by the Patriots with the 239th overall pick in the 2003 NFL Draft.
"I was upset with my draft status but happy to be with a successful organization like the Patriots," he said.
Although he was excited to be heading to New England, he knew that he was again walking into a very difficult situation, with a great deal of talent and competition for playing time on the Patriots defense. Banta-Cain also had to adjust to playing linebacker in the Patriots' 3-4 defensive system.
Adding to an already uphill battle to make the team, Banta-Cain suffered an injury just prior to the start of his first NFL training camp. The injury landed him on the Physically Unable to Perform list, and limited his reps in practice and in preseason contests.
Despite the injury, Banta-Cain worked hard to earn a roster spot and spent the second half of his rookie season as a contributor on special teams, helping the Patriots collect their second Super Bowl in three years.
Although winning a championship in his first year was a thrill, Banta-Cain was not satisfied with his individual achievements and focused on elevating his play when camp started in 2004.
However, the 6-foot-2, 250-pounder found himself grouped with a number of talented outside linebackers, including Willie McGinest, Mike Vrabel, Rosevelt Colvin, Roman Phifer and Matt Chatham.
"There were some injuries to those guys my rookie season, so that would have been the ideal time for me to step up, but I ended up getting hurt too," he explained.
"By the time I got back for my second season, all of those guys were already back playing."
Still, Banta-Cain never lost a bit of confidence. He kept working hard on special teams, finishing second on the team with 23 special teams tackles, as the Patriots won their second consecutive Super Bowl.
But, once again, things turned sour for Banta-Cain when he suffered another injury to start the 2005 season, and found himself in a familiar situation: playing catch-up.
"Last season was a tough one, but we put it behind us," he said. "I'm focused on doing anything to make sure that the coaches and my teammates know that they can depend on me."
Finally, in the offseason, Banta-Cain saw his luck turn for the better.
He is engaged to be married, and is expecting his first child, both of which are changes that he said have motivated him to succeed even more. Roster moves following the 2005 season have also opened up playing time at outside linebacker and Banta-Cain is working hard to break into the defensive rotation.
"I've always felt like I could do it," he admitted. "I've worked very hard in the offseason.
This year, I've increased my reps at outside linebacker, and will continue to give my all on special teams. I really want to get after it and prove what I can do, but most importantly I want to do whatever it takes to help the team win."
Knowing the challenges that he has already conquered to get to this point, Banta- Cain will continue to do whatever is asked of him as he chases his dream to excel in the NFL.