DEFENSIVE END CHANDLER JONES
(On what's been different in the team preparation for a playoff game)
"To be honest with you, it's not a huge difference. There;s a sense of urgency because of the time of year that we're playing, but you approach every game the same way. You want to win."
(On how it's different for him)
"There's no difference as far as me personally. I feel like every game you go into, you want to execute. You want to be good, you want to be successful and better yet, you want to be victorious."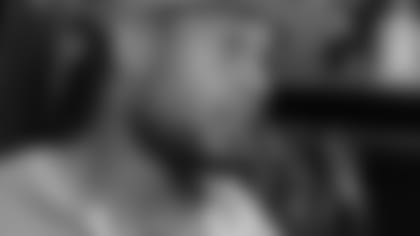 RUNNING BACK STEVAN RIDLEY
(On the fast-approaching playoff game on Sunday…)
"It's closing in. I just got off the field and had a good practice and we have a few more days to prepare. Right now, the team is excited and ready to go, and I think we're ready to play some football."
(On expecting the unexpected against the Texans…)
"Absolutely. Obviously the game didn't go the way they [wanted it] to the first time. They're going to change something up, they're going to do some things different. For us, we have to be assignment sound and know what we have to do."
(On neutralizing J.J. Watt…)
"J.J. Watt is an exceptional player and we have to have some hats on him every down, every play throughout the game because he's a playmaker. So for us … whatever we have to do, we have to get away from him, put two hats on him, make sure he's blocked, because he's the leader of their defense."
(On whether he might have to block J.J. Watt…)
"I might have to. I mean he's going to be causing chaos out there. I have faith in our offensive line. They're going to do a great job but hey if they need the help that's what teams are for."
(On Arian Foster…)
"He's a special player. He runs the ball year in and year out consistently. He's one of the better ones in the league. For me, my hat's off to him. There's nothing that I can say bad about him and I respect him as a player and he does great things. I wish him luck on Sunday but we're going out there to [compete]."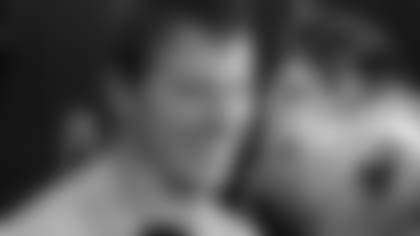 TACKLE NATE SOLDER
(On Sebastian Vollmer's adjustment to the NFL…)
"When I got here, he was a great player. So I don't know exactly what he had to go through to get to that point."
(On the challenge J.J. Watt presents…)
"I think he's a very good player and I think that they have several good pass rushers and guys that play extremely hard. They all play hard. They all know what they're doing, they're well-coached. There's going to be a lot of talent."
(On the confidence factor knowing the Patriots did well against the Texans defensive line in the last meeting…)
"I don't think you can take much from that. We have to go back to square one and prepare as if we had never played them before."
(On the excitement of Sunday's game now being a few days away…)
"It's fantastic, yep. We love playing and we can't wait to get back to it. So that's what I'm looking forward to."