The Patriots held a closed walk-thru Friday morning before boarding buses at Bryant College in the early afternoon to begin their journey to New Jersey for Saturday night's preseason opener against the Giants. The team traveled to New York via train, a practice that began last season for a game against the Jets. While the train is a slightly slower form of travel, it allows for a more spacious and comfortable trip and seems to be rather popular with both players and staff alike.
For one player though, the trip to the Garden State has a slightly different feel than an average NFL preseason game. Offensive guard and former world class wrestler Stephen Neal heads into the game with the Giants with the potential to see more playing time than anyone could have imagined when he first joined the Patriots in training camp last season. Neal came to New England last year regarded as an extremely raw talent with some physical ability, but also as a guy who had not played college football.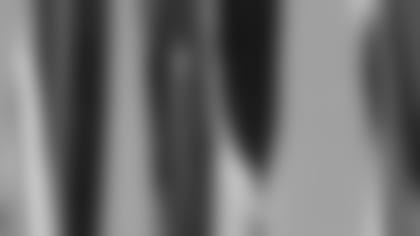 ]()
            In the course of a year consisting of training camp with the Patriots, moving on to the Eagles practice squad and finally as a day of game inactive on the Patriots roster for the final three games of the 2001 season and the playoffs, Neal has improved to the point where he is working with the Patriots injury-riddled first offensive line. Although he is still considered a long shot, Neal's improvements have impressed Head Coach Bill Belichick and everyone who has witnessed the one-year transformation. No longer is Neal a side show for training camp, suddenly he is lining up with a legitimate shot at being an NFL offensive lineman.  

"Steve doesn't even look like the same player that he was last year," Belichick said. "He is easily the most improved player on the team. He makes a lot of mistakes in there, but he's come so far and he's hanging in there. He's done a good job and he'll get plenty of playing time this week. He is going to go up against good people with the Giants, so we'll get a good opportunity to see him. He'll get a good opportunity to show how much he has improved."
For his part, Neal agrees that he has made some serious improvements during his one-year in the NFL, but he also knows he has a long way to go.
"Last year I had never played football, so I was pretty bad," Neal said with a smile. "I am just trying not to make mistakes out there. This year I have kind of relaxed a little bit. I know my assignments. I know what I am supposed to be doing and now I just have to try to get it done."
Neal already accomplished one of his goals by earning a Super Bowl ring thanks to his spot on the Patriots roster last season, but now he wants to play for a Super Bowl ring.
"My goal is really to play football," Neal said. "My goal was to win the Super Bowl, but I need to be playing, in my mind, to be part of the team. I was happy that I was part of the team last year, but I'd like to get in there and maybe it is in a couple of years, maybe it is this year."
Regardless of what happens over the next few weeks, and regardless of whether he earns a spot on the Patriots offensive line, Neal has already made an impression. How many other people can say they are a World Champion wrestler, have a Super Bowl ring and are competing for a job in the NFL without ever having played college football? Stephen Neal can