Foxborough, Mass. - It took Corey Dillon all of 18 rushes to reach 100 yards in Sunday's 42-15 rout of the Cleveland Browns. Sunday's performance marked the seventh 100-yard game of the season for Dillon - setting a new career high - in his inaugural campaign in New England, giving him a total of 1,221 yards this season.
A day after the drubbing, the most interesting of Dillon's total Sunday is clearly the last two yards. Dillon left the game with an undisclosed leg injury in the second quarter after rushing for 98 yards and two touchdowns on 17 carries. He reappeared with just over seven minutes left in the third quarter, with the Patriots holding a 35-7 lead, and rushed once for two yards before retiring to the sideline for the remainder of the game.
Dillon, who referred to the unknown injury as "a situation," claimed he re-entered the game to gauge his condition. Patriots head coach Bill Belichick was forthcoming Monday in his explanation when asked what was behind Dillon's brief second half appearance.
"He came out before the half and we saw him at halftime, he wasn't ready to go back in," Belichick explained. "We got back out there, [and] the third quarter kind of started a little bit oddly, where we had the turnover, they had a three-and-out, then we had a turnover and then we had the ball for a while and Cedric [Cobbs] was in there and we kind of let him run. But while we were in that series, [trainer] Jim [Whalen] came to me and said Corey was ready to go back in. I told [offensive coordinator] Charlie [Weis], and said 'I don't want to put him back in now, we're in the middle of this series, let's wait until this series is over.' So we ended up scoring on that - when [Kevin Faulk scored on a 10-yard run] - and then we put [Dillon] in on the next series, he was in on that personnel group.
"We switched groups, and then we got the clipping penalty, so now it's second-and-[22]. So we had a bunch of different groups in there. We ended up scoring [David Patten's 44-yard catch] and at that point I said, 'That's it, there's no sense in putting him back in.'
"That's what happened, if anybody cares."
For the first time this season, Belichick pulled several of the starters late in the third quarter against Cleveland. He was asked Monday at what point during a game with a large lead he feels comfortable making the personnel changes.
"I think you substitute your players when you feel it's the right thing to do. I can't tell you exactly when that is. Look, I know this: There aren't a lot of leads that are safe in the National Football League. Twenty-one points really isn't very much. There are a lot of games where I would give my right arm for 21 points, [where] we can only score 10. But 21 points really isn't very much. It could happen in four or five minutes.
"To me, it's time, it's not the score. Once there's a point in time where you feel like, 'Okay, they only have so many more possessions.' That's one thing. But until you get to that point, [or] until the time becomes small enough, then I think you have to play to win. That's not doing anything other than trying to win the game."
]()A Triple Dose of Brown** Nearly everywhere you looked against Cleveland, there wasTroy Brown. The Patriots 12-year veteran contributed in every phase of Sunday's game, seeing time on punt returns, as an extra defensive back and on several plays late in the game at wide receiver. Although he didn't catch a pass on offense, Brown finished with three tackles, recorded an interception, and returned two punts for five yards.
"Troy likes to be out on the field," Belichick said. "He's out there on defense, he's out there returning punts, he's out there on offense. He's involved in every aspect of the game, in everything we do. I think he does enjoy the different challenges at different positions in the game."
Defensively, Brown continued recent role as the slot cornerback in passing situations. He matched up with the speedy Dennis Northcutt much of the day, and recorded his second interception of the season - and second of his career- late in the fourth quarter on a deep pass intended for Northcutt. Belichick believes Brown has shown improvement in his defensive role.
"As he's getting more experienced and more reps at it, I think he's improving," Belichick said. "No question. Some of the things, he's seeing a little quicker now then he was seeing two, three or four weeks ago. But it comes pretty naturally and pretty instinctively to him anyway. It's not like he's making a lot of mistakes out there."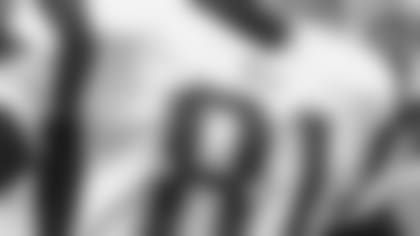 ]()Special Teams Success** Belichick continued to applaudBethel Johnson's 93-yard kickoff return for a touchdown against the Browns, saying Monday that the key play to open the game was as well executed a return as he has seen with the Patriots.
"The return yesterday, of some of the returns we've had here over time, [was] probably as clean as any," said Belichick, who noted the key block by Patrick Pass. "It was well blocked. It kind of worked out the way you draw it up, so to speak. It was well executed all the way around, all 11 guys."
Johnson's return was a first for the Patriots this season. The last such return for a touchdown was a 92-yard kickoff return by Johnson against Indianapolis last season. The Patriots have had four kickoff returns for touchdowns the last three seasons after a four-year drought from 1998-2001.
"It's something we've been working very hard on," Belichick said. "We haven't had one this year. Our return game has been a little bit frustrating, because we felt like we've been close."
Quick Hits
Belichick met with the press Monday but gave players the day off. The Patriots will return to practice Wednesday following their regularly scheduled day off Tuesday. ... Belichick commented on linebacker Willie McGinest's blocking attempt during Randall Gay's 41-yard fumble return for a touchdown. "Willie and Blue kind of improvised that a little bit. Not exactly the way we practiced that one. That wasn't text book, but it worked." ... The Patriots improved to 30-0 Sunday when scoring 25 points or more under Belichick (2000-04). ... The Patriots 225 net rushing yards on Sunday was the highest total in nearly 12 years, dating back to a 257-yard performance against Indianapolis on Dec. 26, 1993. It was just the second time since 1985 the Patriots had gained 225 yards or more on the ground.