Foxborough, Mass. - It's no secret the New England Patriots are tough at Gillette Stadium. They have won an NFL-best 14 consecutive regular and post-season games at home and enter Sunday's game 18-3 (.857) all-time at Gillette. The Patriots were undefeated at home last season for the first time in franchise history, winning all eight regular season games and two playoff contests. They haven't lost at home since a 30-17 loss to the New York Jets - Sunday's opponent - on Dec. 22, 2002.
"It's huge," Ted Johnson said of playing at home. "Home field advantage is called that for a reason, it really is. We feed off the fans, there's an energy in the stadium that you know everybody is behind you. It's a nice feeling. It's a big advantage."
Not only are the Jets the last team to win at Gillette Stadium, but New York has won five of the last six meetings between the two teams in New England. Don't think the home field advantage angle is lost on the players.
"Our fans are always good, but there are occasional times when they seem like they're more loud than normal," Adam Vinatieri said. "Hopefully - and I'm sure they'll be ready to go - this week with the Jets being a divisional game, we'll need our fans to get as loud as they can."
Nevertheless, the Patriots won't be setting the NFL record for most consecutive home games won anytime soon. The Miami Dolphins hold that mark, winning 27 straight home games between 1971-74. Statistics show the odds are simply with the home team. In 2003, road teams had an overall winning percentage of .387 (99-157). In fact, road teams have won more than 45 percent of their games just once (a .452 winning percentage in 2001) and on four occasions have won less than 40 percent of games in the last 10 seasons.
"There is something there," Mike Vrabel said. "There is. You can't dismiss the numbers and what they say. Ask what the odds makers - they're giving you three points for being at home. Those guys aren't in the business of being wrong."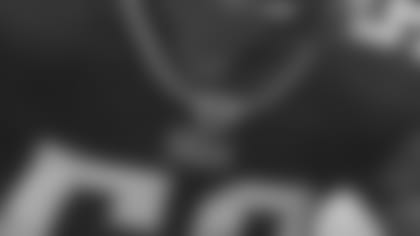 ]()Chatham Is Back** Veteran linebacker and special teams standoutMatt Chatham returned to practice Wednesday after sitting out the entire season - including training camp - with an undisclosed leg injury. Chatham recorded 32 tackles and 1.5 sacks last season, including four starts at outside linebacker, and finished fourth on the team with 19 special teams tackles. The Patriots have 21 days to make a roster move with Chatham.
"I don't really [think] about that," Chatham said. "Whether they make room when I'm ready or not - just however it works out - they take care of that and I just play. There's not a lot of anxiety. Maybe if it was my first or second year. I think you have enough perspective on how long the season is and what the year contains. It's just making sure that you don't lose too much touch with what's going on around here as far as game plans and things like that."
Injury Update
The only change in Thursday's injury report was running back Rabih Abdullah, who was downgraded from probable to questionable with an arm injury. Offensive tackle Tom Ashworth (back), running backPatrick Pass (thigh) and Poole (knee) all missed a portion of team practice Thursday for the second straight day and remain questionable.
The status of Troy Brown (questionable, shoulder) andDeion Branch (doubtful, knee) remains unchanged from last week. Quarterbacks Tom Brady (shoulder) and Jim Miller (shoulder) are also listed as probable.
Quick Hits
The Patriots have not made a transaction to fill the roster spot vacated when P.K. Sam was placed on the injured reserve, and are currently carrying 52 players on the active roster. ... The Patriots are 11-3 against the AFC East since the beginning of the 2002 season. ... The Patriots currently rank 12th overall in the NFL in total offense at 348.8 yards per game, after ranking third in that category after four games. They rank fourth overall in the NFL in scoring at 27.0 points per contest. ... Head coach Bill Belichickhas a high level of respect for Jets center Kevin Mawae, who has started five consecutive Pro Bowls for the AFC. "Being with him for two years, Kevin is a good leader both on and off the field. He is well respected and works hard. He is tough. He is the kind of guy you like to have on your team."