Foxborough, Mass. - Corey Dillon was noticeably absent during the fourth quarter of New England's 24-10 win over Miami Sunday. Also absent is a precise explanation as to why Dillon remained on the sidelines.
Dillon, who rushed for 94 yards on 18 carries through three quarters, was on the field for just one play during the fourth quarter as the Patriots protected a 14-point lead with reserves Patrick Pass and Rabih Abdullah at running back. Leading 17-7 midway through the third quarter, Dillon ripped off a 36-yard run down the left sideline giving the Patriots a first-and-goal from Miami's 4-yard line. Dillon left the game after the run and was replaced by Abdullah, who scored his first NFL touchdown four plays later on a 1-yard plunge.
Neither Dillon nor head coach Bill Belichick would elaborate on the apparent injury suffered on the long run. Dillon, not noticeably limping and in good spirits, spoke with reporters in a hallway outside an empty locker room long after other players had exited.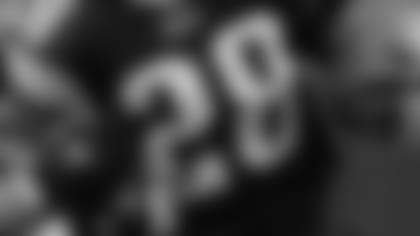 ]()"I don't think I'm inclined on speaking about the injury," Dillon said, thereby acknowledging some type of injury took place. "It was a coaching call. Me, being who I am, I have to follow the rules and that's where we left it. I feel good."
Dillon returned briefly during one play in the fourth quarter and was called for a holding penalty on an incomplete pass by Tom Brady. He stopped just short of saying he would have been able to return later during the game.
"If that was the decision that was made, and if it was up to the coaching staff to put me back in, I would have been able to deal with what they told me to do," Dillon said. "But that's not the situation."
Pass finished with 37 yards on 10 carries, while Abdullah rushed five times for four yards.
"I think he'll be all right," Belichick said. "I thought he ran the ball hard. I thought he made a real good run there down the sidelines in front of their bench. I thought it was a big time run."
Out Of Options
The Patriots played Sunday's game with just four active wide receivers as Troy Brown, Deion Branch and Bethel Johnson were all deactivated against the Dolphins. Brown (shoulder) and Branch (knee) were listed on the injury report during the week leading up to the game, while Johnson was a surprise scratch in what Belichick described as a "coaching decision."
"Yes, concerned," Belichick said when asked about depth at receiver. "You know, we don't have a lot of depth at receiver. And that has been a concern for a while and it is a concern now."
David Givens and David Patten started for the Pats, while newly signed Kevin Kasper served as the third receiver. Givens led the Patriots with four receptions for 33 yards and scored his first touchdown of the season, while Patten finished with one reception for 28 yards. Kasper, who just signed as a free agent on Wednesday, saw plenty of action in three-receiver sets and played ahead of rookie P.K. Sam. Kasper also contributed on special teams, returning two kicks for 40 yards. Sam, who was active for the second straight game, was in during one play featuring a four receiver set in the fourth quarter but did not have the ball thrown his way.
"Well, you just try to find the guys that are open and try to throw it to those guys," Tom Brady said. "You're right. It has been a new group. Today it was David [Givens], David [Patten] and Kevin [Kasper], and they did a nice job."
Faulk Makes Return
Kevin Faulk saw his first action of the season against Miami after missing the first three regular-season games with a knee injury. Faulk handled all of the team's punt returns and saw limited action on offense, running one draw play and catching one pass for 14 yards for a key first down that set up the Patriots second touchdown. Faulk, who said he wasn't limited by the knee despite being listed as questionable on the injury report all week, has endured not only the injury but the passing away of his mother since the start of the preseason.
"Just getting back out there really cleared my mind of everything and just let me focus on football, being out there and having fun with the guys again," Faulk said. "I probably could have used a little more work, but as the games go on and as time goes on I'll get back into better game shape."
Faulk's return was especially valuable on punt returns, where the Patriots other options - Brown, Branch and Tyrone Poole - were all inactive.
"He could have done whatever we needed him to do," Belichick said. "I don't know how long he would have lasted, but I thought he did a good job when he came back. And that first punt return or that second one, whatever it was, he almost broke it and created some good field position for us. We need that."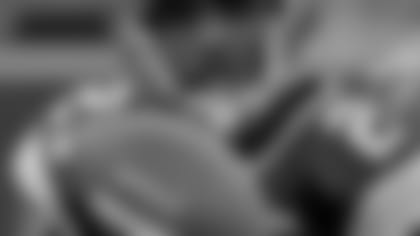 ]()Samuel Starts** CornerbackAsante Saumuelmade his second career start Sunday in place of the injured Poole. Samuel, who made his only start as a rookie last season against Miami, finished with five tackles, a pass defended and a forced fumble. RookiesRandall GayandDexter Reidsaw significant action as extra defensive backs in passing situations in place of Poole. Gay made his first career interception during the first quarter when he stepped in front of aJay Fiedlerpass intended forDerrius Thompson and returned it 10 yards to set up the Patriots first touchdown.
Short Day for Mare
It was a short day for Miami kicker Orlando Mare, who sustained a calf injury during pregame warm-ups and did not return. Mare was carted off the field shortly after the opening kickoff as reserve wide receiver Wes Welker was forced to handle the kickoff duties for Miami. Welker responded admirably, hitting a 29-yard field goal and making his only extra point attempt. Those attempts were his first such attempts in three NFL seasons. In double duty as Miami's main return specialist, Welker also returned five punts for 41 yards and gained 101 yards on five kickoff returns.
Inactive List
The Patriots listed eight players as inactive for Sunday's game: Poole; offensive lineman Gene Mruczkowski; wide receivers Brown, Johnson and Branch; defensive end Marquise Hill and defensive tackle Ethan Kelley. Jim Miller was designated the third quarterback.
Quick HitsSunday's game was the 108th consecutive home sellout for the Patriots. ... Tight end Christian Fauria started in place of Pass for New England. ... Daniel Graham recorded a touchdown reception in his fifth-straight game, tying a team record held by Jim Coclough and Michael Timpson. Graham's touchdown, a one-yard pass from Brady during the first quarter, was his fifth of the season. ... Adam Vinatieri missed his first field goal of the season, a 47-yard attempt during the second quarter. He was good on his only other attempt from 40 yards. ... Rodney Harrison led the Patriots with a game-high 11 tackles, including eight solo stops. Harrison also recorded a sack, a pass defensed and a forced fumble. ... The Patriots have notched at least one interception in each of the last 10 regular-season home games, and have recorded a pick in 17 of their last 18 regular season games overall. ... The Patriots have now won 26 consecutive regular-season and postseason games when leading at halftime.