Kansas City, Mo. - The Patriots have chosen the "Monday Night Football" as the stage for the return of wide receiver Deion Branch.
Branch is active for tonight's game against the Kansas City Chiefs and is expected to play for the first time since Sept. 19 against Arizona. Arguably the Patriots top receiver entering the season, Branch has missed the last seven games with a right knee injury he suffered at the end of the first half against the Cardinals.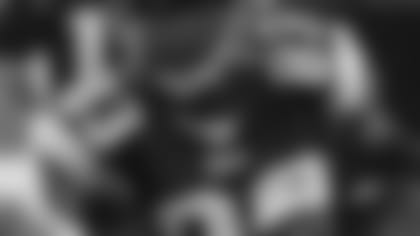 ]()Branch, 25, had seven receptions for 86 yards a touchdown in the Patriots Week 1 win over Indianapolis. The third-year receiver led the Patriots with 57 receptions for 803 yards last season, and added three touchdowns.
The Patriots made one roster move leading up to tonight's game, signing linebacker Justin Kurpeikis from the practice squad and releasing running back Rabih Abdullah. Kurpeikis, 27, was among the Patriots final roster cuts at the end of training camp and was signed to the practice squad Sept. 6. The fourth-year linebacker, who led the team with 21 tackles during the preseason, will be making his regular season debut with the Patriots tonight.
Abdullah, signed by the Patriots on Sept. 11, appeared in seven games for the Patriots as special teams player and in a reserve role at running back.
The Patriots announced eight deactivations prior to the game: wide receiver Kevin Kasper; cornerbacks Ty Law and Tyrone Poole; running back Cedric Cobbs; linebacker Matt Chatham; and defensive linemen Marquise Hill and Ethan Kelley. Jim Miller was designated the third quarterback.
More good news for the Patriots is that cornerback Asante Samuel is expected to return to the starting lineup against the Chiefs. Samuel, who has started four games this season, did not play last week after suffering an arm injury early in the first quarter against the St. Louis Rams on Nov. 7. Samuel, in his second season, will join rookie Randall "Blue" Gay in the lineup in the absence of Law and Poole. Cornerback Earthwind Moreland, who made his first NFL start last week alongside Gay, is expected to serve as the team's nickel back against the Chiefs.
The only lineup news for the Patriots is that Keith Traylor will start at nose tackle in place of rookie Vince Wilfork. Traylor (flu) was upgraded from questionable to probable yesteray on the Patriots injury report.