On the field, James White is a great improviser. He can cut and dodge on the run, but when it comes to making smoothies, he's sticking to the recipe. 
With a paper in hand, James carefully added ice, milk, fruit and chocolate to a blender, and his diligence seemed to pay off. His customers were happy with the final product: a chocolate teddy graham smoothie.
On this day, the smoothie customers were kids at Boston Children's Hospital. James, Kyle Van Noy, Jordan Matthews, Cordarrelle Patterson, Derek Rivers and Harvey Langi were all on hand to blend ingredients and hang out with kids and their families. 
"The first smoothie I don't want to comment on it," James said with a laugh. "It's been good. They've actually been enjoying it. They like the chocolate teddy graham. I think that's a favorite so far. It's very understandable."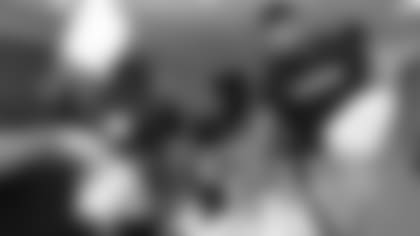 Using similar recipes to what Patriots drink before games, the kids at Boston Children's were able to test out different flavors and prep just like their favorite players. They even helped create the smoothies. 
https://twitter.com/Patriots/status/996768187764142080
"I got help from Parker and Daniel. I felt like they said mine was phenomenal, but I can't take the credit," Kyle said. "They did a majority of the work so it was theirs. We got to cheers together so it was a good time."
While "Celebrating Volunteerism" is nothing new for the Patriots, it was the first time out in the New England community for both Cordarrelle and Jordan. Jordan said it was a great way to build relationships with his teammates and with Patriots fans.
"I always love events like these. The biggest thing we deal with as athletes is our authenticity and people feeling like, 'Okay, they're actually real people.' We're always put on this pedestal," Jordan said. "You think about a team and an organization like the New England Patriots, it's so easy for people to just put us on this pedestal, but to come here and spend some time, I love just building these relationships. This way everybody knows, 'Hey, they're just like us.'"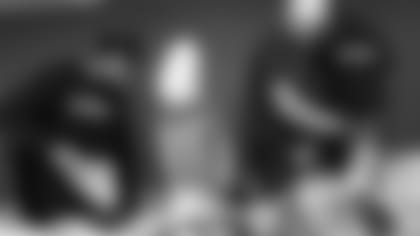 Though the Patriots came in with a goal to brighten the day of those patients and their families, the kids ended up returning the favor, Kyle said.  
"We've all been trying to help out and bring a smile to these kids, but more importantly they've been bringing smiles to us," Kyle said. "The courage they have, the cheerfulness that they bring, it's been awesome to be a part of it."
You can check out more photos from the smoothie day in the gallery below. 
FULL GALLERY
On May 16, Patriots players Harvey Langi, Jordan Matthews, Cordarelle Patterson, Derek Rivers, Kyle Van Noy and James White visited the Patient Entertainment Center at Boston Children's Hospital and helped to make smoothies for children and their families. Afterwards, the players visited patients throughout the hospital to make sure that everybody received a smoothie and a Patriots gift bag.