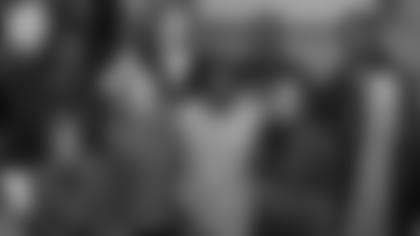 ]()Seven Patriots players made Thanksgiving a little brighter for over 200 local families when they helped distribute Thanksgiving food baskets at Morgan Memorial Goodwill Industries on Nov. 21. Deion Branch, Lonie Paxton, Tom Ashworth, Tim Dwight, Daniel Graham, Benjamin Watson and P.K. Sam were all on hand to assist.
The Patriots players helped distribute 200 holiday baskets filled with all the Thanksgiving trimmings, including turkeys, pies, stuffing and vegetables, to local families in need. Basket recipients were individuals with disabilities or other barriers to work who were enrolled in or have recently graduated from Goodwill's job training programs. Others had children who participate in Goodwill's youth programs.
For several Patriots players, the food basket giveaway has become a yearly tradition. Branch and Watson were both back for the second time, while Graham returned for his third consecutive year.
"This is a great event, because f the basket recipients have made a great effort to get their lives back on track", Branch said. "Everyone deserves to have a happy Thanksgiving, and we are all glad that we were able to help at this time of year."