(On overall performance)
"We played pretty terrible out there. It came down to the wire and the defense made some plays but it was a bad sixty minutes of football. We got out competed, out fought and we're lucky to win."
"We started slow and couldn't do anything offensively, couldn't make any plays. They made plenty of plays and we were lucky to be in it at halftime. We didn't do a thing in the second half, running game or passing game. Just a poor effort overall. We just didn't play well, didn't compete. If you don't compete in the NFL, it's going to be close. Execution was terrible. They didn't give us anything we had to fight for it. It just wasn't a very good performance."
(On the win)
"They (Jaguars) came out and played really well. We came out flat and I think it showed out there. We have to do a better job of coming out there and starting fast, do what we do and take control of the game. "
(On focusing on Miami game)
"We still have another week against Miami who gave us a really tough test about a month ago. We definitely have to come out and play really well. A win is a win. In the NFL, that's hard to come by. We'll take it."
(On coming from behind against Jaguars)
"We just tried to execute the plays the plays that were called and we were able to make some plays. The most important thing is that we were able to get the win. No matter what the score was, the win column was the most important thing. It was a tough game. They played great and we just tried to fight with him."
(On final week of regular season)
"We just need to stay focused and try to have good practice and a good day of game-planning."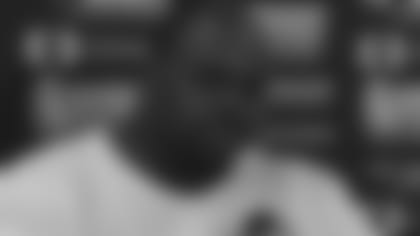 "These guys came in and gave it everything they had to the last second. I'm proud of the way we responded but at the same time at the end of the day it won't be good enough. Throughout the whole game, I was just saying, 'turnover, turnover, turnover' and make the big play. And Patrick (Chung) came up with two big ones for us."
"When we play well together, we're a good football team and a great defense. Today we had the turnovers but at the same time we kept this ball game close for sixty minutes. We're a lot better than what we showed today, we definitely are. We just have to get it moving."
"I just think when we play together and play with a lot of confidence. We're a pretty good football team, that's what I do know."
(On the win)
"It's fun out there. Guys are making plays. We can't control things around the league. We just have to control what we did today."
(On two interceptions)
"I've got to put down the defensive line for the first one. A tipped ball – you have to be able to get those. "
(On Jaguars performance)
"They're a good team and have good athletes. The record doesn't really mean anything. They're going to come out here and play like they're undefeated. They came out fast and gave it to us really quick, so we just had to settle down and play some ball."
(On turning things around in second half)
"You have to keep working and keep pushing. They (Jaguars) came out here and played ball and we really didn't play our best football. It was kind of a sloppy game but we just had to stay in for 60 minutes. I'm thankful we were able to pull it off, but they came out ready to play – bottom line. They jumped out on us and we just stuck together. We had to turn it around and get this 'W' and get out of here. They're a good football team. Anything can happen on any given Sunday. For them, they came out and played well. For us, we have to get off to a better star – especially rolling into the playoffs."