Q: Can you talk about the victory tonight?
JM: Yeah, it was a good victory. We went out there and showed a lot of mental toughness. Guys played hard and we came up with some big turnovers.
Q: What does it say about your defense stepping up when you needed to, especially in the fourth quarter?
JM: I mean, over the years our offense has bailed us out so many times. It's good to get a win like this. We've said it so many times: if the score is 43-42 or 3-0, we'll take it, especially against a division opponent like the Jets.
Q: Can you talk about being 2-0 to start the season and 2-0 in the division?
JM: Yeah, it's huge to jump out to a 2-0 lead in the division, especially against two quality teams. We'll get a 10-day break and hopefully we'll correct some of the things we had trouble with in the past. Coming off that short week it's always hard to prepare for a team that does so much like the Jets. So we'll take it any way we can.
Q: How long until you can turn the page and get over this game and move on to the next?
JM: To be honest with you, I think we go back and look at the Bills game and the Jets game. We haven't really had a chance to correct some of those mistakes. So we'll try to get the Patriots better and then obviously turn the page on to Tampa.
Kyle Arrington, Cornerback
(On his tip leading to Aqib Talib's first interception)
"I was just able to make a play on the ball, but Talib made the play by actually catching the ball. He was huge for us. I can't say enough great things about him."
(On the play of the defense)
"It was one of those games where the offense was stopped and derailed a few times, trying to put some drives together. We play off each other and always try to put together a complete system in the football game; offense, defense, and special teams. I thought we did a good job, especially out there on defense, coming up with some huge turnovers, especially off a short week. But with the fourth quarter and a tight game on the line, it was terrific and we're happy with the outcome."
(On both teams playing without certain players due to injury)
"I felt like it was a level playing field all the way around. Both teams were coming off of a short week. We had some key guys out and they had some key guys out. That's football. Injuries are part of the game and you go out there and you play with the guys you have."
Aaron Dobson, Wide Receiver
(On the wide receiver's chemistry with quarterback Tom Brady)
"I feel like there is definitely things we can improve on. We had a short week this week, so we got that 10 days right now, so we just got to get our timing together this week going into the next game."
(On if the weather affected catching the passes)
"It's tough. The ball's wet, but that's not an excuse, you know. What I do is catch the ball, so I got to make the catches."
(On if tonight's offensive struggles were a result of the Jets' defense or not being in sync)
"It was probably both. They got a good defense. I feel like there were some plays we left out there as well, so I feel we can get better in those areas."
(On if there was a dropped coverage on his touchdown catch)
"Yeah, it definitely was a dropped coverage. I just released – downfield was wide open, so I already knew what it was going to be, so I was just excited to get my first one [touchdown]."
Julian Edelman, Wide Receiver**
(On the performance of the team tonight)
"Any time you can go out and get a divisional win, start out 2-0, and [get] a home opener win it's a good thing."
(On whether he thought he would get a lot of balls thrown his way with Danny Amendola out of the game)
"No, I just prepared like I do every week. I tried to get open every play, and Tom [Brady] found me."
(On whether it was more challenging to handle the ball with the elements)
"It's always a little harder when the rain comes. But we practice that in the spring, a little bit in the summer. We have those days, and you try to take advantage of those opportunities, and I tried to do that tonight."
(On how important it was for the team to pick up first downs in the second half, despite not scoring any points)
"Well, you know, it was obviously very important. We played complementary football. The defense played a hell of a game, came up with some big plays, so hats off to them. We're going to go in, watch some of this film and fix the corrections so we can get better."
(On the chemistry that his 13 catches seemed to display between him and Brady, as opposed to the other receivers having a lot of drops)
"I haven't seen those yet. I'll watch it on film, but as a receiver you just try to get open and catch the ball. That's what I was trying to do. " 
(On whether he thought Tom Brady displayed some frustration tonight)
"No. We're all competitors out there. After a play sometimes; everyone gets a little heated some times. I don't know. But I didn't sense anything. I think he kept us in the game, and he was being our leader."
(On whether it was hard to play complementary football, because it seemed like the offense was giving up and letting the defense take over)
"I'm sure our offense wasn't giving up. We were trying to move the ball. Sometimes you have to tip your hat to the other team. They did some good things. But, our defense made some big plays, and we came out with the win."
(On whether it was a different experience for him being the clear-cut, go-to guy)
"I wasn't even thinking about that. Like I said, you're just thinking about beating your guy, getting open and catching the ball."
(On the importance of getting the divisional win, despite it being an ugly win)
"[It was] very important. It was a short week, [and] we came off a lot of plays in the Buffalo game. We came out here, we battled and we came away with the win. We made plays when we had to, and we're 2-0 in the division."
(On whether he would classify this as an ugly win)
"You know, a win is a win. Everyone is good in the National Football League, everyone gets paid. It is the ultimate team sport. It's not like we can just go out there and beat anyone. It's any given Sunday. They came up here and they played hard, but we made the plays we needed to, and we came out with a win."
(On what type of advice he would give to the rookies who are trying to earn Tom Brady's trust)
"We're all trying that every day. What gets that [trust] is consistency, doing it in practice, executing that in practice and making that a game reality. We're going to try to get better every day."
Chandler Jones, Defensive End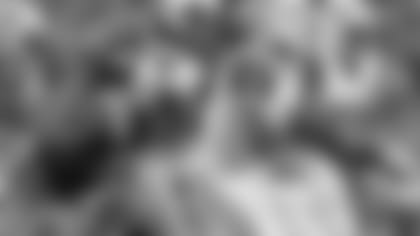 (On the defense sacking quarterback Geno Smith)*
"We got after the quarterback a little bit and hopefully we can do it some more next week."
(On lining up at defensive tackle)
"It was a new position. Coach [Bill] Belichick came up to me and asked me to play [the position] and I'm going to do anything to help this team win. He told me to play [defensive tackle] and that's what I did."
(On the overall performance of the defense Thursday against the Jets)
You can never get complacent. You always got to do better. We played good but we didn't play good enough, we can always do better. We did better when it mattered but we have to out-execute the other team every quarter.
(On the challenge of the defense being forced to make stops late in the game)
"We don't want to deflect that we want to embrace it."
(On the defense's performance against Geno Smith)
"We had a few mistakes and we will have to correct that. We haven't watched the film yet but he did get out of the pocket a few times and that's not really what we want [the quarterback] to do."
(On rising to the challenge when the offense is struggling)
"Our biggest thing is controlling what we can control. The defense is playing on one side of the ball and we just control what we can control."
Tommy Kelly, Defensive Tackle
(On his sack tonight)
"Just happy to get on the board [with a sack], just happy to get on the board. Hopefully mine count, and just go from there."
(On Chandler Jones' two sacks)
"Chandler's been working hard every day in practice, man, so it's good to see him get on the board and then get another one. I know he's ready to go."
(On Geno Smith's play tonight)
"I mean, rookies make mistakes. He made some good throws, but we just tried to keep pressure and keep getting him and keep, you know what I'm saying, just keep somebody in his face. That happened and it ended up being a scrambling situation and hopefully he was going to throw the ball to us and that's what happened in there."
(On how their defense performed against the Jets' run game)
"Oh yeah. You've always got to be ready to stop the run. They were hitting us with the inside plays, but I don't think they really hurt us too much, we didn't give up [any] long runs. We've got to shore that up, but I mean I think we'll build that up."
(On whether film review will be rough)
"It'll probably be rough, but I mean, film review's always rough with Bill [Belichick]. So you just take it, and take your beating and go on about your business.
(On what the offense needs to do going forward)
"*(There were) *penalties, dropped balls, bad running plays…all of the above. It was just a bad night for us. *(We need to) *start executing. Last week *(we had) *turnovers. This week, penalties and mistakes, so we need to get this straightened out or it's going to hurt us."
(On the Jets defense causing problems)
"They're pretty good. I think they did a good job but a lot of it was us too. I think we had some flagged blocks in the running game. I think pass protection was pretty good overall. We didn't make any plays. Someone would get open and they'd drop it, or no one was open, or we didn't block the play well enough."
Devin McCourty, Defensive Back
(On what the defense did differently in the fourth quarter to throw off Jets QB Geno Smith)
"Guys just made plays. I mean, we talked about it all week leading up to the game. Our front seven, front four was in getting some pressure in there, and we just have to make it count and intercept the ball."
(On how Geno Smith played tonight)
"He did a pretty good job throughout the game, but it's tough, you know, when you're seeing some things for the first time. We did some things well and he did some things well too. A close game, we kept them in it and made some plays, but we did a good job just finishing."
(On whether offensive struggles put extra pressure on the defense to step up)
"Not really. I think this team, we really pride ourselves in trying to play off each other. There's probably going to be some games this year where we're not playing as well as we'd hoped, and they'll step up and they'll play better. It's a team game, and we just try to keep getting them the ball back, try to turn the ball over and make plays, and we know if we keep getting the ball back they'll make the plays we need to win the game.
(On his thoughts on the defense's ability to make timely plays)
"Yeah, and that's big. We've made winning plays, and we have to continue to do that. When we went out on the field for that last drive, all we kept saying was, it didn't matter what we had done throughout the whole game, it was all about getting one last stop. Aqib [Talib] made a great play to finish the game off, so we just have to keep stepping up each week."
Rob Ninkovich, Defensive Lineman
(On the defense getting multiple sacks in the second quarter)
"It was a great game for us as a D-line. There were some things that are wrong that we need to tighten up; they ran the ball too much on us. So that's what the tape is for tomorrow. We've got to make sure that we come in, see what we weren't doing as well on the D-line for stopping the run, see the things that we did do well and continue to get better and work. Again, it was just a hard-fought, NFL football game and that's always going to be the case when you're playing the Jets. They're not just going to come in here and not play us hard."
(On whether the short turnaround contributed to sloppy play)
"No, you can't make excuses. We won the game, it's an NFL football game. You're playing other great athletes. Are there things you need to correct? Obviously, yes. But at the end of the day, we won the game. I like it, I'm happy. The defense stepped it up, did what we had to do to win the game. That's the way it has to be sometimes."
Vince Wilfork, Defensive Line
(On if there has been a season where the defense needs to carry the team)
"I'll go with this – it's just stopping our opponents. That's our goal on defense, so two weeks in a row we came up big and it's good for the defense and it's good for the team, especially for once to see the defense go at it and finish a ballgame. It's just a good start for us. We win as a team and we loose as a team, so it was a situation you have to take advantage of and I think we did a lot of that tonight."
(On the team being able to get some sacks)
"One of our goals is to put pressure on the quarterbacks and we knew how important it was for this quarterback to be up in his face and we knew how important it was for us to keep him in the pocket – his ability to scramble; we know we had to contain him. I think we did a pretty good job, but I remember one play he kind of got out on us on the third down, but for the most part I think we rushed him well. I think we executed our game plan very, very well, so that's what's going to take going forward – being able to execute better."
(On if he can provide quarterback Tom Brady with advice for handling a young offensive unit)
"Tom's been around the game for a while, so he know how to handle the situation that he's in. It's one thing I'll make very clear; these guys work their tails off – all the young guys, older guys. When we come here, we work, so it's not a lack of effort. It's just getting the confidence and being able to make those plays and once those guys start developing and start getting more experience playing I think you'll start seeing a different ball club - that's all thirty-two teams in the league; it's the beginning of the season. It's not going to be perfect. It's not going to be how you drew it up at times, so you need to get through it and make corrections and move forward, so we'll see where we're at come next week, but we got time now to actually get some rest. I think guys came on a short week and really buckled down. I think we had two or three really good days of solid, solid work in the classroom and then when we went outside for the walk-through, I think it was very, very solid, so I was very confident going into this game defensively of what we can do in some situations that we can take advantage of and we did that tonight."