Vince Wilfork, Defensive Lineman**
Q: How'd it go out there today?
VW:You can't ask for anything better. I think we played well together as a team – offense, defense, special teams. We had a good week of practice and it showed tonight.
Q: If you take away that score in Buffalo off the Stevan Ridley fumble, you guys have only let up 27 points. How much does that mean to you guys as a defensive unit?
VW:You know, we're always talking about that the biggest stat for us is points allowed. For the past three weeks I think we've done a really good job of just holding our opponents to low scoring games. Obviously that is something we work on. The red area is another big area for us. Third down is a big area us. I think we stepped up big time today with the challenge of [Doug] Martin running the rock and I think we did a really good job with him. We forced them into some situations we knew we could win in. We worked hard all week and like I said, it feels good to go out and execute the way we executed today, because we put a lot of work into it. One of our emphases was red area and today it showed. [As was] third down, and it showed. I mean, we just are getting better each week and that's the only thing you can ask for right now.
Q: Was it good to see the offense get clicking?
VW:It's always good to score points. So, I mean, we know what type of team we have. We know our offense and we know that sooner or later they're going to start clicking, so we're not worried about that. Our goal as a defense is to hold our opponents to less points than us. For three weeks in a row, we've done that. It's a good feeling to be 3-0.
Q: You guys are 3-0, but really how good are you? Do you think you're an elite team?
VW:There's a lot of football left to play. I think we can be as good as we want to be, as long as we continue to get better as a team. I think that's the biggest thing for us right now: individually raise our level of play and just take every day as it comes. If we attack each week like that, then we'll be OK. This week will be another challenge going down to Atlanta. So every week is different, but our goal is going to be the same and that's to get better each week.
Q: How big is it for you guys in the front seven to know that when you're getting double teamed, you have guys that can win one-on-one on the outside?
VW:I mean, you know that's big because that's what it's all about. You can't double everybody. You can't single everyone. I know if I have two, somebody is free. I know if somebody else has two, we have guys on the line of scrimmage that can win one-on-one battles and for three weeks we've been seeing that. It's just good to work with guys that understand that if they have one-on-one battles, they must win. And they work their tails off. A lot of respect goes to these guys. It's juts good to have that feeling going into the locker room or going into the game: knowing one of these guys is going to make a lot of plays. We don't know who it may be, but it's going to be one of them and when it happens you have to take advantage of it. I think we've been doing a really good job of that.
Q: How long will you enjoy the win before you turn the page to Atlanta?
VW:Probably tomorrow – come in, watch film, work out and get the jump on Atlanta and move forward. In this league you can't really spend too much time on a win or a loss. There's a lot of football left to play. We're not where we need to be. I mean, there's a lot of football that needs to be played and there are a lot of areas we need to clean up. Our job is to clean them up and we have to attack each week like that, saying we want to get better. Three weeks in a row we've raised our level of play, and it's going to take next week the same thing: another good week of practice and preparation and then hopefully we can execute on Sunday.
Brandon Bolden, Running Back**
(On how encouraging it felt to be back on the field and to have a productive game)
"Great. To go out there and you work all week and then to see how everything turned out today was awesome, especially being the first game back. It's exciting to get back out there and play with my teammates."
(On if it feels good to get hit and give a hit)
"Strangely, it does, just to get that lick again, but dang I haven't been hit in a while and then to actually hit somebody and be like, 'Ha, I still got it.' It's a great feeling."
(On if he knew what his workload would be or if it's drive-by-drive)
"No, and honestly, we don't even care about that and I can speak for [LeGarrette Blount] and [Stevan] Ridley about this. We don't care about that – they call our name, they call our name. If they don't, they don't. We're going to encourage that guy who does go in and makes the best effort he can and I think today you got the best from all three."
(On how much it helps having three running backs that the team is confident can perform)
"That's three different looks that the defense has to deal with. That's in the running game and, also in the passing game, because all three of us can stay in there on third down and do blitz pickup and all three of us can take it on first and second down, so that kind of gives the defense something else they really have to think about with all three of us."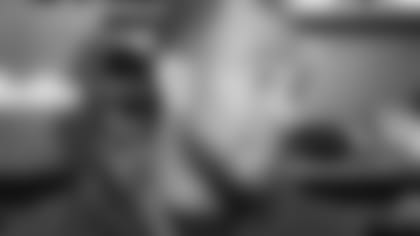 Aaron Dobson, Wide Receiver**
(On how it felt to go out and establish some rhythm)
"It felt good. I feel like the offense had a pretty good day. Like I said last week, I'm just trying to improve every day. I had a good game, and I'm just trying to go out there and produce and improve every day."
(On whether the extra time between games allowed the offense to establish more of a rapport in practice)
"Yeah, definitely. That week of practice definitely helped us. I feel like we definitely got on the same page with each other and it showed on the field."
(On how the receiver group has dealt with the pressure of trying to replace the group of players from last year)
"I just feel like you can't think about it. You just have to go out there and have fun. We've been playing this game since we were little kids, so I just feel like you have to go out there and have fun and not think about it."
(On what he thought about Kenbrell Thompkins' day)
"He definitely had a great day, and I'm proud of him. We started together, so I'm very proud of him."
(On whether it feels like the team is getting better and seeing that improvement on the field)
"Definitely, that's what we're trying to do. We're trying to keep elevating and improving every week. We're not trying to back track. We're trying to keep the level up and move forward."
(On how the receivers reacted to Tom Brady being animated during last week's game)
"You just have to learn from it. It's going to happen. Mistakes are going to happen but you just have to learn from it, learn from the mistakes this week, and then go back out and do it right."
Julian Edelman, Wide Receiver
(On trying to eliminate outside opinions and trusting the development of the wide receivers)
"That's what we're told around here. We're here to do our job and whether that's knowing the running game, in the pass game, in special teams, individually or as a unit, we got to do our job, so that's what we're going to continue to do. Like I said, we got a lot of room for improvement. There's a lot of situations that we didn't get to execute but we definitely executed some things and all we can do is try to get better every week."
(On the victory)
"We went out there and we kind of just put our nose on the ground and grinded away. We put together some good practices and we were able to execute a little more this week in certain situations that we practiced a lot over the week."
Stephen Gostkowski, Kicker
(On if coaches tell kickers to kick the ball in play during the preseason to work on coverage)
"No. It's just something I work on. It's a gradual thing. We kick so much in training camp that sometimes fatigue is a factor. I try to pride myself on hang time and direction. I don't just try to kick it as far as I can. I feel like all the kicks, pretty much all that I've had, if they were to be returned, they were high and they were in the right direction that I was aiming. I try to focus on different things in different games."
(On how far he was able to tell the ball was going to go during pregame warm-ups)
"I usually go back to about a 53-yard, 55-yard field goal. I don't usually test much more than that. I can just see how far it crosses [the crossbar] in and just kind of get a gauge and just talk to the special teams coach and kind of have a gauge and obviously, you have more wiggle room at the end of a half or the game. You're more likely to kick a longer field goal at the end of the half of the game than you were, say, middle of the first quarter when field position is a different thing. It's nice to get those long opportunities and we don't get too many of them around here, but you just got to take advantage of them when you can and while the weather is warm. That kick [53-yard field goal] in December is probably a lot tougher than it was today."
(On if the wind was helping him today)
"I felt like it was behind my back when we kicked the long field goal. I thought the kick in the opener was harder than the long field goal. Truthfully, the wind was blowing pretty well there, but it's nice to have a good game and win. I get to enjoy it with my guys Ryan [Allen] and Danny [Aiken] – it's fun."
(On his team's defensive performance)
"It was good. To be able to finish the game and not let them score a touchdown, that was big. Anytime I think you do that in a game you probably have a pretty good chance of winning, so that was big for us. Especially at the end there, being able to hold them and keep them out of end zone, it was definitely a pretty good thing to have happen."
(On fourth-down defense, keeping the Buccaneers 0-for-4 on fourth down)
"Yeah, that was huge. That's pretty much a turnover, you know? So anytime a team gets the ball on fourth down and they're trying to get a first down, you've got to step up and stop them, and we did that in a big way today."
(On the impact Aqib Talib has when he lines up against Vincent Jackson)
"It's great. Being able to put [Talib] on [Jackson] and know that he's going to be able to handle him pretty good is definitely a big thing and a big addition for our defense."
(On his team weathering a rough patch early on in the game)
"Sometimes things don't always go perfect throughout a game. The key is being able to make adjustments on the sideline, battle through them, and get back on track, and we were able to do that today and put out a pretty good overall performance."
(On how a strong defensive effort can complement the offense)
"Anytime we see those guys rolling and they're kind of in a rhythm, we want to get the ball back to them as fast as we can and keep going and keep putting it on. It was good to see that today, and definitely helps us out keeping us off the field a little bit also."
Chandler Jones, Defensive End
(On the importance of the three fourth-down stops that the defense had)
"It's huge. That was huge. Whenever you can change the possession and get the ball back into our offense's hands, that's always huge. Just getting the ball in our offense's hands is our biggest goal, because we have a higher chance to score when we put the ball in Tom's [Brady] hands, put the ball in the offense's hands. Even getting the ball down there in the [red zone]. It was just a great opportunity for us and we capitalized off those situations."
(On how it feels to be 3-0)
"It feels great. We have to just keep moving. We can't look back, can't look forward, we just have to take it one game at a time."
(On how good this defense is)
"It's as good as we allow it to be. If everyone does their job and everyone executes, we should be fine."
(On why it seems easier for the defense to pressure the quarterback this season)
"We're doing good as a defense overall, not just the [defensive] line. Those sacks, a lot of the stuff that you don't see, a lot of those sacks are coverage sacks. Our secondary is doing an outstanding job of jamming receivers up or just covering guys up, and the quarterback has no one to throw to. Sometimes he pulls the ball down, and there I am. So, a lot of those sacks that I get, I'll speak from a personal level, a lot of those sacks I get, there is a lot of hard work but a lot of them are coverage sacks. A lot of kudos to that secondary."
(On how much pride the defense has in not allowing a touchdown)
"It felt good. It felt really good as a defense, and hopefully we can just keep that going. You know, it was good. We held their offense down to a few points today, and hopefully we can just keep doing that every week."
Tommy Kelly, Defensive Lineman
(On the goals of the defense)
"On defense, you want to get off the field as quickly as possible, with a turnover or a three-and-out. The coaches stressed all week, 'Get off the field, get off the field.'"
(On Tampa Bay Running Back, Doug Martin)
"He's a little shifty guy and a great downhill runner. We just wanted to get many people to the ball and make him stutter his feet a little bit. He mostly wants to run inside and he doesn't want to get outside too much."
(On keeping a level head after going 3-0)
"You really don't want to get ahead of yourself. You take the good with the bad. You never played as good as you thought you did and you never played as bad as you thought you did. I think we just need to have level heads and we're going to be fine."
(On whether he feels like his team is getting into a rhythm and improving each week)
"I think we are improving. Nowhere where we want to be, but we are improving every week, and all you can ask for at this time of year is to get better each week and take it to where you eventually want to be."
(On the success of Stevan Ridley, LeGarrette Blount, and Brandon Bolden in the run game)
"Those guys, they ran great today. That's a tough team to run against. They make reads hard for the backs, and those guys did a great job of finding the gaps there and getting downhill. You can't run sideline to sideline on this team – they're too fast, they'll run you down. [The running backs] found the gaps, and I think the line did a good job of staying on guys, cutting guys down, so a good team effort in the running game."
(On running against a good front when the other team knows you're going to run)
"It's up and down, but I think today went pretty well. Good run defense, and then we did pretty good there in the fourth quarter of that last drive, chewed up a lot of clock running the ball. That's always good and encouraging when you do that."
(On whether he relishes fourth quarters when he knows he will be run blocking)
"It's always nice. It means you're ahead and you're winning. Pass block is not as fun for us as run blocking, so it's always nice to get the run blocks going, grind out the clock, get the game over with and get out of here."
Devin McCourty, Defensive Back
(On the key to getting stops on third and fourth down)
"That's all about attitude. You've got to get off the field. Sometimes the offense is running a play they haven't run all day, it'll be something different and it's just one-on-one matchups across the board and somebody on defense making a play."
(On importance of the defense getting stops to get the ball back in the offense's hands)
"We've got to do that every game. When they're putting points on the board, we can be a pretty good team, and both sides took advantage of different opportunities: us giving them good field position, them capitalizing, and us just going and getting three-and-outs and turnovers."
(On his thoughts on today's "team effort") *
*"It was great. The offense played great, and then with Steve [Gostkowski] kicking that long field goal before the half, that's clutch. To start each drive on the 20 [yard line] defensively is great too, kicking the ball out of the end zone where we don't have to even worry about covering on kickoff. That's how you want to play football. It was a total team effort today, and we've just got to continue to build on it."
(On what it feels like being 3-0)
"It's the best we can be right now. Everyone will continue to pick apart what we do well and what we don't do, but coming into the season if you said after the first three games, 'Where do you want to be,' we would want to be 3-0. We've got to keep building and keep getting better because the games get harder and harder."
(On his interception at the end of the first half to stop the Buccaneers drive)
"Yeah we had a good idea of the concepts they like to run in two-minute [drill] before the end of the half. Matty P [Defensive Coordinator Matt Patricia] called the perfect play for what they like to do and we made the play. "
(On whether knowing some of the Buccaneers concepts had anything to do with the joint pracxtices the teams had in the preseason)
"From the preseason and just tape. They played two games this year. They run basic concepts, so we watched a lot of tape. "
(On whether he knew some of the opposing receivers' tendencies from being with the Bucs last year)
"I was only with the team last year for four weeks, so a lot of what I had a good grasp on came from watching tape this year.
(On his thoughts about how the defense played.)
"I think we played good. We could have tackled a little bit better. I don't know how many rushing yards we gave up, but I think we could have tackled a little better. We got good pressure on [Josh] Freeman though, so we played alright."
(On the two fourth down stops in the first half that led to points for the offense)
"[They were] big, definitely. Both of those stops [were] big. Like you said, they both led to points, and that's huge man. It's just huge. A fourth down stop is just like a turnover."
(On whether he can see an improvement in the defense after they only allowed three points in today's game)
"Well we're working, we come in every day and we'll let you all be the judge [on] the improvements and all that other stuff. We just come to work every day, study this tape, get the game plan and go in."
(On whether the win feels bigger because it came against his former team)
"No man. No, not at all. A win is a win."
Kenbrell Thompkins, Wide Receiver
(On matching up with Tampa Bay Cornerback, Darrelle Revis)
"We all know that Revis is an elite cornerback and it was good for me to just get a feel for him. To go out there and play a full game against him was good."
(On his second touchdown catch)
"That's a play that we work on every day in practice. To go out there, for me to be open, and to have Tom [Brady] trust me to throw me the ball felt good."
(On his overall thoughts on the game)
"I thought we played a good game overall, from the passing game to the running game. We've been preaching all week about [having] no negative plays and I thought we did a good job with positive plays. From watching the film and everything, we knew that it was going to be a split safety team and a zone team so we had been preaching all week in practice to get open and run great routes against great cornerbacks like Darrelle Revis and those guys, and get the timing down with the quarterback. Overall I thought it was a good day for the team. We're going to put this one behind us and get ready for the Falcons."