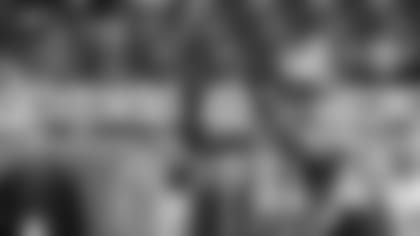 On both sides of the ball this weekend, New England faces some big challenges.
On offense, the Patriots' o-line, which has been playing much better in recent weeks since settling on a starting five, must contend with a formidable Detroit front seven led by tackle Ndamukong Suh.
"He's a great player, definitely a physical player, and very disruptive. It's going to be a really big challenge for us," left guard/co-captain Dan Connolly remarked.
"He's not a guy I'll be going predominantly against," left tackle Nate Solder observed, "but he is physical, strong, a big part of their defense. There are a lot of guys like that on that defense."
Flip it over to the defense and the main concern is the phenomenal receiver Calvin Johnson, a.k.a. Megatron.
What stands out about him?
"What doesn't stand out?" safety/co-captain Devin McCourty chuckled. "He's been one of the top receivers in the league for several years now. He's a guy they use in every way possible. Not just outside, but inside, vertical, running across the field."
"He's Megatron," cornerback Darrelle Revis added with a laugh. "That's what makes him different. He's a man among boys out there. You see it all the time. He's 6-6, 230 pounds, and he runs a 4.3. That's pretty freakish to have. It's like the ultimate receiver that you want. If you can create him on a video game, that's basically what he is. Lot of respect for him, and I do feel like our defense has a lot of respect for him. He has a lot of respect around the league as well."
"You don't line up and act like he's just another guy," continued McCourty. "You definitely want to know where he is at all times, no matter what defense you're in, what the call is."
Johnson, though, has been injured much of this season, and in his stead, the Lions' offense has relied on Golden Tate as its go-to receiver.
"And he's still made plays," McCourty said of Tate. "You put [Johnson] with Golden Tate, it's a lot of weapons. You have two good receivers, you have to make decisions [as a defense]."
After his record-setting four touchdown performance against the Colts, RB Jonas Gray was named AFC Offensive Player of the Week. But wait, there's more!
Gray was credited with 199 rushing yards against Indy, but the stat keepers made an error that has since been corrected. Gray lost two yards on a play on which a penalty flag was thrown, negating his loss. So, the first-year ball carrier now officially has 201 rushing yards for that game.
"Any extra yards they give us, we'll take," said Connolly. "Two hundred yards is great. Jonas did a great job."
"Good for him," added Solder. "It's always a team effort, 11 guys on the field, and he knows that. He's plugged in and done a great job."
Gray said after the Colts game that he knew the running game was going to be a major part of the game plan versus Indy.
"It's nice to have the ball handed to us, so to speak, to take it upon ourselves and get the running game going," Connolly continued. "Best part about it is we got a win."
Does Gray now owe his o-line something special? Dinner on him, perhaps?
"Yeah," smiled Connolly, "I think so. Maybe you should tell him that."
The Patriots conducted a walkthrough inside the Dana-Farber Field House on Wednesday, after returning home in the early hours Monday morning from their road trip to Indianapolis.
IR/designated-to-return DL Sealver Siliga (foot) was spotted on the field, his first appearance at a practice session since late September. He is eligible to return to game action as early as this Sunday versus Detroit.
DE Chandler Jones (hip) remains absent, however, as was rookie o-lineman Cameron Fleming, who injured an ankle late in the Colts game.