FOXBOROUGH, Mass. – The New England Patriots announced today that they have re-signed RB James White as an unrestricted free agent. Terms of the contract were not announced.
In addition, the Patriots announced today that they have signed exclusive rights free agent FB Jakob Johnson.
White, 29, is a veteran of seven seasons with the Patriots (2014-20) after joining the team as a fourth-round draft pick (130th overall) in the 2014 NFL Draft out of Wisconsin. The 5-foot-10, 205-pounder has played in 92 regular season games with 13 starts and has 1,240 rushing yards on 309 attempts with 10 touchdowns and 369 receptions for 3,184 yards and 25 touchdowns. In addition, he has played in 12 postseason contests with three starts and has 146 rushing yards on 36 attempts with five touchdowns and 59 receptions for 506 yards with three touchdowns.  White is a three-time Super Bowl Champion with the Patriots.
White is in eighth place on the club's all-time reception list with 369 and is second among Patriots running backs, behind the 431 receptions by Kevin Faulk. His 3,184 receiving yards are second among the team's running backs, behind the 3,704 yards by Faulk. Since 2015, White leads all NFL running backs with 364 receptions, 3,161 receiving yards and 25 receiving touchdowns. In 2018, he set the team record for a running back with 87 receptions for 751 yards and tied the mark with seven touchdowns.
White set a Super Bowl records with 14 receptions (110 yards) and 20 total points (two rushing touchdowns, one receiving and a 2-point play), including the game-winning touchdown run in overtime, to clinch the 34-28 victory over the Atlanta Falcons in Super Bowl LI.
Johnson, 26, originally joined the Patriots as part of the NFL's International Player Pathway Program on April 8, 2019, out of Tennessee. The 6-foot-3, 255-pounder converted to a fullback after beginning his college career as a linebacker and moving to tight end. He played in 12 games in with the Stuttgart Scorpions in 2018. After beginning the 2019 season on the Patriots practice squad, Johnson was signed to the 53-man roster Sept. 19. Johnson has played in 20 regular season games with 14 starts and has nine receptions for 40 yards and a 1-yard touchdown reception from QB Cam Newton at Seattle on Sept. 20, 2020.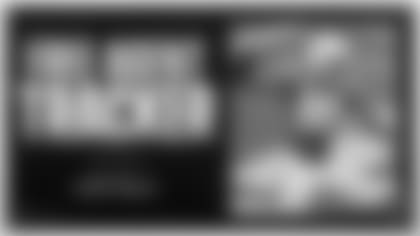 2021 Patriots Free Agent Tracker
Tracking all of the Patriots transactions during the free agent signing period.