The conversations were simple – favorite movies, shows on Netflix, the NBA Finals – but the impact of the chats was much bigger.
"You just made my whole day," a patient at Boston Children's Hospital said as the 2016 class of Patriots rookies left his room, giving high fives and fist bumps on the way.
The rookies paid a visit to Boston Children's Hospital on Tuesday as an introduction to the community involvement that is crucial to the Patriot Way. The players talked with patients and their families, handed out goodie bags, signed autographs and even got to craft a gift that would be presented at the patients' luau event.
Though many of the rookies paid visits to local hospitals while in high school or college, they found out just how important giving back is to the organization by learning about community engagement initiatives and the team's relationship with facilities like Boston Children's.
Joe Thuney said he had an idea when he came to Foxoborough how pivotal the team's role was in the community, but didn't realize how strong the connection runs.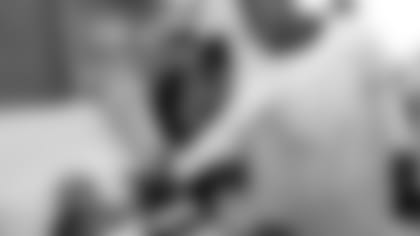 "I always knew the Patriots were a stand-up, great organization, really top notch, but I didn't know in full detail how deep it went in the community," Joe said. "I feel lucky to be a part of it, and I can't wait to do more."
Boston Children's has 400 beds, and more often than not, all of them are filled. Patients' stays can range from a few hours to months at a time, and these visits are bright spots for those getting treatment.
"You realize you can do so much for the community," Joe said. "It meant a lot. It's always great seeing kids' faces light up when you walk into a room. Just anything we can do to help them get through their day or bring a smile to their face. It's the least we could do."
While the players enjoyed their time with the patients, Associate Director of Donor and Media Relations Katie Devine said their visits truly do impact the kids who are staying at Boston Children's.
"They add so much when they come here. They can change not only a day but an entire stay for patients," Katie said. "They bring joy, smiles, everything that's important to being a kid … You see these kids just being kids again. They're not a patient for a few minutes, and that's so important to helping them heal. The groups that we had on these floors were so wonderful, and the joy that they brought to everyone that they met, it was evident."
As groups of the players went from room to room in nearly the entire hospital, the children lit up. Even a patient from outside of New England and who roots for a different team was excited to meet and take pictures with them.
"I want you to send that to your New York friends," Malcolm Mitchell said after taking a photo.
The kid just smiled and laughed.
For more pictures from the visit, check out the gallery below.
FULL GALLERY
The Patriots' rookie class visited Boston Children's Hospital on Tuesday, June 21, 2016. The players spent time with the young patients, signed footballs for them and helped design a mural for the kids' upcoming luau.