The Patriots made several transactions Friday, following the placement of G Stephen Nealon IR late Thursday. To fill Neal's spot on the active roster, the team re-signed RB Thomas Clayton… yes, the same Thomas Clayton who's been on and off the team several [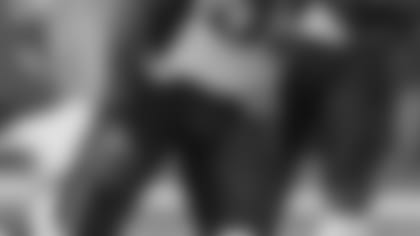 ]()other times already this season. He was available after having recently been released by the Cleveland Browns.
A short time later, New England parted ways again with LB Pierre Woodsand filled his spot by signing DL Eric Moore(6-4, 268), a five-year NFL veteran who most recently played in the UFL. There have been so many transactions this year that the Patriots have used up all of their 72 permanent wooden lockers, so they've brought in some temporary blue metal lockers – the kind they use in training camp – to give Moore and Clayton a place to hang their hats.
Clayton, who was with Cleveland when they lost a heartbreaker in overtime to the Jets a few weeks ago, spoke about that experience with New England reporters on Friday.
"Maybe I can even offer some information to the Patriots," Clayton said. "More than anything, it was a disappointing loss for the Browns. Cleveland had several opportunities in that game. Obviously, New York is a good team, but I felt like it was up to the Browns to win or lose that game."
Clayton said he was surprised to have been released by Cleveland the last time, but that he's excited to be back in New England.
Moore, meantime, is an interesting case. His status as a United Football League player making the transition back to the NFL means the UFL must be compensated. Earlier this week, the UFL insisted that any of their players that sign with NFL clubs must warrant a $150,000 transfer fee. They've since reduced that to $25,000, which, according to UFL Commissioner Michael Huyghue, can be paid either by the player or his new NFL club.
Moore was asked who was paying his transfer fee. The player gave an embarrassed smile and said he didn't know, that his agent was handling those details.
WR Brandon Tate, who doubles as New England's primary kickoff return specialist, had a torrid start to the season, with a touchdown in the preseason and two others in the first month of the regular season.
Since then, however, he's cooled off. What's been the difference?
"They try to take me to the sidelines … the last game [against Detroit] they did," he explained.
The Lions routinely kickoff off to a spot near the end zone pylon, forcing Tate to begin his return just a few feet from the sideline. Other teams, he noted, have tried to kick away from him.
One matchup that we could see Monday night is Patriots rookie cornerback Devin McCourtyagainst Jets wide receiver Santonio Holmes, the MVP of Super Bowl XLIII.
Holmes was asked by New York reporters this week if a rookie could cover him.
"Negative," said Holmes, who has 32 catches for 491 yards with four touchdowns in seven games. "That was proven Super Bowl Sunday two years ago, when they had a rookie [Arizona's Dominique Rodgers-Cromartie] following me around the whole game."
McCourty spoke to New England reporters also this week, but before Holmes' comments came to light. The rookie was asked to look back on his Week 2 performance against the Jets, who were without the then-suspended Holmes.
"I was kind of young and learning on the job," said McCourty. "Watching the film, I felt like it was moving real fast, just wasn't real settled and calm out there. I'm expecting to help the defense any way I can."
Even if it means covering a former Super Bowl MVP.
Fri 12/3 Practice Notebook