Jason Scheinbart is used to putting miles on his car in honor of the Patriots. As a season ticket member, he has been making the 550-mile roundtrip trek to Gillette Stadium for years, but he doesn't just draw the line at home games.
Every season, Scheinbart hits the road for Patriots games all across the country, and just a few weeks ago, he completed his farthest trip yet when he drove to Los Angeles to see his team take on the Chargers. Scheinbart drove down to Boston and took a good look at the Atlantic Ocean before heading West to set a personal record for himself as a Pats fan.
Armed with his favorite radio stations, Scheinbart set off to see the Pacific Ocean.
Though Scheinbart said he loves to drive by himself, this was pushing the limits even for him. In Nebraska, he hit a stretch of heavy rain that slowed him down, so in the last two days of his journey, Scheinbart drove 742 miles and 845 miles respectively to make up time. Despite the delays, nothing could damper his enthusiasm.
"I actually drove straight to the Pacific Coast Highway," he said. "I proved that I was on the West Coast. Ocean to ocean."
While Scheinbart is no stranger to Patriots road trips (including driving to four Super Bowls), Patriots fans are certainly no stranger to Scheinbart either. As a season ticket holder and with his signature "PATSWIN" license plate, he has been a fixture in Patriots game day crowds since 1986.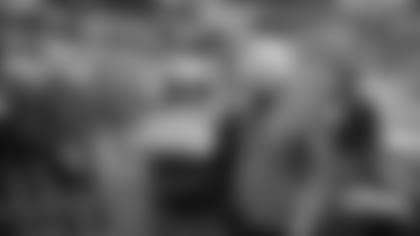 Scheinbart said this trip was to prove his dedication to the team and raise the bar for Patriots fans everywhere.
"I consider myself a Patriots super fan, and I wanted to do something that I don't think other fans would do," he said. "I wanted to raise the game. I don't think anybody is crazy enough to drive by themselves from Foxborough to L.A."
While Scheinbart loves to drive and finds peace in it, he makes it clear he's not afraid to take a plane if necessary. In fact, he intended to drive from Los Angeles to Charlotte for the Patriots game against the Panthers, but when a friend called with a ticket to a special car show, he couldn't say no. Scheinbart drove to Las Vegas for the show, left it there and took a flight to Charlotte.
As of the Patriots Thursday Night Football game against the Falcons, Scheinbart was in Arizona on his trek back East.
With his Patriots swag and license plate, one might think Scheinbart would face smack talk in parts of the country that are less friendly to Patriots fans, but no matter where he is on his journey, Patriots fans always seem to find him. It's something that he relishes.
"I just think of it as expanding the love of the Patriots," he said. "As I'm driving, believe it or not, if I'm way out in Nebraska, I'm getting thumbs up all the time. Everybody loves the Patriots. They love it."