New England won despite playing another turnover-filled game. The Patriots had three but unlike last week when they suffered five to Chicago's four, this time the Lions were on the short end with five of their own.
Penalties also plagued the Patriots -- 10 for 72 yards -- and forced them to overcome a 21-13 deficit with 15 fourth quarter points.
Tom Brady managed 305 passing yards (27 of 38) but was held without a touchdown along with one interception. Reche Caldwell was his leading man with 8 catches for 112 yards. Kevin Faulk had several crunch time catches, finishing with 8 for 59 yards.
For the Lions, Jon Kitna was throwing the ball all over the field for 314 yards on 22 of 38 passing and a touchdown. His team could not get by his three interceptions, however. His main target was Mike Furrey who had 9 catches for 123 yards and a score.
It took quite a while for this one to have the same feeling of intensity as last week's slugfest with the Bears, but by the end, plenty of fans left knowing that their team was fortunate to come away with the win.
After a three plays and out effort on the Patriots first drive of the game, New England came up with three points on its second series. Caldwell continued to be Brady's main target, coming up with his team's first three catches of the day for 21, 18 and 19 yards to get down to the Lions 22. Patrick Pass got his first carry of the 2006 season for 4 yards and then Caldwell caught yet another pass for 5 yards to the 13. A holding call on Nick Kaczur stalled the drive somewhat and despite a 9-yard catch by Daniel Graham to the 12-yard line, New England ultimately settled for a 25-yard Stephen Gotskowski field goal to open the scoring.
During the drive, Laurence Maroney left the game and the sideline with an undisclosed injury and did not return.
As the first quarter ended the Lions were poised to answer. Kitna hit Mike Furrey for 31 yards and followed that play with a 21 yard completion to Roy Williams to the Patriots 36. Furrey was good for another 9 yard catch but it looked like the Patriots might keep the Lions at least out of the end zone when Richard Seymour batted down a pass and then flushed Kitna out of the pocket on the next play to force a third and 10 from the 24 at the start of the second quarter. That's when Kitna found Kevin Jones uncovered in the right flat and the Lions halfback took the pass 17 yards. Two plays later Kitna connected with Furrey from 5 yards out for the touchdown.
Detroit got the ball back after a 12-yard sack of Brady by Cory Redding forced another three and out for New England. Mixing Kevin Jones runs with a timely third and 2 completion to Corey Bradford for 12 yards, the Lions looked to extend their lead. But on first and goal at the four, Artrell Hawkins separated Jones from the ball and Mike Vrabel recovered at the 2-yard line.
The turnover could have been a big play in the game but was rendered somewhat meaningless when Pass returned the fumble favor three plays later. He was stripped from behind and Dre Bly picked up the loose ball giving the Lions first and 10 from the Patriots 14. Detroit didn't find the end zone as a result but did tack on three points on a 29-yard field goal to make the score 10-3.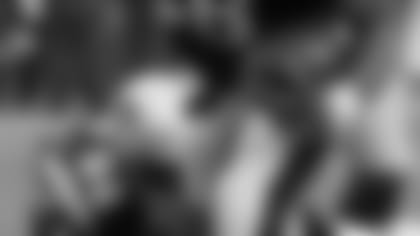 At the first half's two minute warning, the Patriots offense was finally getting on track. Troy Brown ran 16 yards on a reverse to open up the drive. After Brady came up short to a wide open Caldwell downfield, he hit Jabar Gaffney for 28 yards to the Lions 29. He then found Ben Watson down the middle for 23 more. On first and goal from the 6 it was Corey Dillon behind left tackle for the score with 1:15 left to play in the half.
In an effort to get down the field quickly, Kitna wound up throwing an interception to Asante Samuel, Samuel's seventh pick of the season. That gave Brady the ball back with 47 seconds and two timeouts.
Brady went into hurry-up mode and found Caldwell on a second down pass for 28 yards with 32 seconds left. After getting nailed and barely getting rid of the ball, Brady dumped one off to Faulk who scampered 22 yards down the left sideline and out of bounds with 19 seconds left.
Doug Gabriel's 12-yard catch moved the chains to the 9 but that was as far as New England would go, settling for a 27-yard field goal and a 13-10 lead at the half.
New England's defense looked like a tired bunch as the second half opened with Jones continuing to run well, mostly right up the middle, and Detroit's offensive coordinator, Mike Martz, calling a wide variety of formations and plays. He even called back-up quarterback Josh McNown's number for an 8-yard pass that Kitna completed. That play set up a third and 2 at the New England 20. Tedy Bruschi and Tully Banta-Cain teamed up to stuff Jones on the Lions third down try and Detroit tied the score with a 38-yard field goal.
New England's offense didn't give its defense much of a breather when Brady threw Caldwell's way three plays later and Bly stepped in front for the pick.
Two penalties for Detroit hurt its subsequent series. After Blaine Saipaia was flagged for holding, Bruschi sacked Kitna for a 1-yard loss to set up a third and 21. Kitna got 17 yards back on a pass to Furrey and Jason Hanson nailed a 49-yard field goal to pull Detroit ahead 16-13.
Things got a lot worse. Corey Mays was called for holding on the Lions kickoff and Brady started from his own 10. After Dillon lost a yard on first down, Kenoy Kennedy came around from his left side and hit Brady's arm prior to it going forward. The ball rolled into the end zone where Heath Evans recovered and was tackled for a Lions safety to make the score 18-13.
Detroit got the ball back on the free kick and despite a 10-yard Ty Warren sack and a series of Lions penalties that should have been drive killers -- at one time it was first and 30 from midfield -- the Lions could not be stopped. Furrey continued his career day and Jones, doing it both on the ground and in the passing game, were terrorizing the Patriots defense. Still, the drive stopped short of a touchdown with Detroit once again only getting three points on a 26-yarder to give Detroit an 8-point edge with 13:07 to play in the game.
That edge was quickly erased as Brady and Faulk worked their way downfield. Faulk had four catches for 33 yards en route to a 2-yard Dillon touchdown. Brady hit Brown on the two-point conversion try to tie the score at 21. On the drive Pass chipped in with a 16-yard catch along with a 2-yard run to convert a third and 1 from the Lions 9-yard line.
Kitna seemed unfazed. After getting the ball back he immediately hit Dan Campbell for 21 yards to midfield but then got sloppy. He looked Campbell's way again but didn't see Vrabel dropped back in the left flat. Vrabel made the pick and things were finally going New England's way.
That trend suffered a temporary hiccup when Watson coughed up the ball after making a catch down the middle. The Lions took over and Kitna hit Jones for 18 yards but on his second play, Rosevelt Colvin broke into the backfield and jarred the ball loose from the Detroit quarterback. Mike Wright pounced on it and New England was fortunate to get the ball right back.
This time the Patriots took better care of things starting at the Lions 32. Seven plays later, Dillon ran it in from 4 yards out and his third touchdown of the day -- his best scoring output as a Patriot.
Down by a touchdown, Detroit took over with 2:33 left to play. On third and 4 from the Lions 31, Kitna was flushed from the pocket and took off to his right. Just as he was hit he inexplicably threw the ball up for grabs in bounds rather than just throwing it away. Vrabel caught the ball for the game-ending interception as Brady ended things with a series of knees. On the play, Vrabel was helped off the field.
The tougher than expected win moves New England to 9-3 on the season, in control of the AFC East but with a tough road game in Miami coming up.