PATRIOTS RB STEVAN RIDLEY
(On if he's where he wants to be mentally and physically)
"I wouldn't say that, not at all; it's too early. Coach is still coaching us, [I'm] still getting tired, still getting winded. I would say mentally and physically I've got a long ways to go. I have to keep working and put the pedal to the floor."
(On how the first four days have gone)
"It's been work. I'm just trying to come in here and be as close to perfect as I can be – that's the way this offense is run. I know what Tom [Brady] expects out of the offense when it's out there: he wants perfection. We're still getting coached up when we come in there. On film there are still things that we have to correct. I have a long way to go. I just have to go out there and do the best, do whatever the coaches tell me to do, make those adjustments the following day and try not to repeat the same mistakes.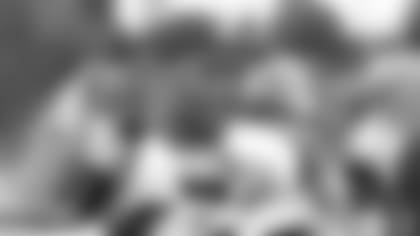 (On if the screen passing game fits into his game)
"I think it just fits into the offense. We've got to be able to do multiple things as an offense and we've got to be able to do them well. In order to do it well you've got to practice it."
(On what makes a screen pass effective)
"[It's] effective because it puts defenses on their heels, but it also just opens another chapter of our offense."
(On if he likes screen passes)
"I enjoy anytime the coaches can get the ball in my hands and anything I can do for the team."
(On what he hopes to accomplish in training camp)
"I'm hoping to get better. There are a lot of areas where I need to improve personally and there are a lot of areas that I'd like to get better at. That's what I'm trying to do this camp."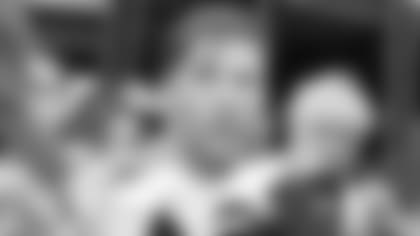 (On having several roles)
"It's typical of training camp. You're just going out there and trying to work on your fundamentals – doing what the coach asks you to do, going out there playing whatever they ask you to do and trying to do it to the best of your abilities. It's good to get out here and get out with your teammates and polish up what you've been working on in the offseason. It's exciting."
(On how he's worked to improve field awareness)
"Watching film with Coach [Scott] O'Brien, just getting experience – this will be my fourth year. Not that I've played in a lot of games and not that I'm where I want to be and I have a long way to go, but anytime you get a lot of reps at something, you're naturally going to feel a little more comfortable with it. We're going in the direction we want to, we have a long way to go and we want to work on that aspect of the game."
(On Scott O'Brien's comments that kickoff returning is like catching a ball and running through a door without knowing what's on the other side)
"You can study the scheme of how we're going to block the defenders and the kickoff team and what you can expect and trust your teammates are going to make their blocks. Football is football. There is always going to be a guy there; there is always going to be something there. It's like NASCAR: you see smoke, put the pedal to the metal, you find the lane and go. That's how that is."
(On if it's easy to get territorial with so many people vying for the kick return spot)
"No. I'm just going to go out there and do what I have to do to get myself better to try to help this team win ballgames. I'm sure there are other guys doing the same thing. Competition makes you better. Competition is big in any aspect of life. You guys are competing, we're competing. We just so happen to have ours on TV and newspapers and stuff. If you're afraid to compete, you're in the wrong field."
(On the feeling that guys want to be here with each other at camp)
"It's good to struggle together and go through the ups and downs in camp. That's the way teams get gelling. We hope to come together at the point when the season starts."
(On if he expects to do a lot of fake punting)
"Whatever the coaches tell me, I'll be very eager to do."
(On if he's watching the Olympics)
"I'll watch it at lunch time a little bit and a little bit at night on the tape replays. It's pretty cool to watch everything."