PATRIOTS DL VINCE WILFORK
(On helping Patrick Graham adjust to his new position)
"You know, Patrick is pretty smart. I think with Pep [Pepper Johnson] and Matty P [Matt Patricia] and Bill Belichick, when we're in meetings if you have a question, you can always get an answer. And it's been working well for us. I don't think it's anything negative towards anybody in there, from his point or from my point. But you have changes and you have to adapt to those changes. I think we've done a great job in the defensive line room because we all talk the same way; the same things Pep taught us, [Patrick is] teaching us. And like I said, if we have questions, we ask. It's been fun. I mean, it's been exciting and at the same time, to see these guys come in ready to play, it's a lot easier than I thought it was going to be. Guys are focused and guys are ready to practice and get better, and that's what we need."
(On how hard it is to adapt to new players on the line each year)
"You get attached to some people. Coming in, I had Richard Seymour, Jarvis Green, Ty Warren next to me, and [Mike] Vrabel, Willie McGinest. And over the years, things change. I'm at a point now where, you know, people come in and out. I've been around a long enough time to understand how this thing goes. If they need my help, I'm always here. But it's tough because you get attached to people and you get a chance to know people off the field – not just on the field – their families and stuff like that. So for people to move on, it can be heartbreaking at times, but at the same time, things always happen at this level. You have to get used to it real quick."
(On adjusting on the field to new players on the line)
"I can play with anybody. That's just the trust I have in those guys to learn what they have to learn. And like I said, if they have questions, they can always ask, because I've been around this for a little bit. I'm not saying I know everything, but I've been around for a while and kind of know what to expect. So I think we all do a really good job of helping one another."
(On if the fans can help in a practice the way they can during a game)
"I don't know. This is training camp, so I don't think anything can help us but a day off from training camp. But it's always fun to come out and have a crowd and see the crowd, even when it's not in the stadium, to have the fans come out and support us and see us practice. They actually grow with us as the season goes on, because they see us from training camp all the way through the season, so they get a chance to see everything. I think that's very exciting, from a player standpoint. To have these people be a part of us, that's big for this team. But some people like this [the crowds]. It's almost like a game, the amount of people we get out here. So some people like it. Me, I don't care either way, but it just shows the respect and the love that they have for the New England Patriots and you have to respect that."
(On how Dont'a Hightower looks)
"It's too early. Everybody is working hard, that's one thing I can say. We won't know until the first game of the season. Our goal is to get better each day and at this time it's tough, because you're getting back in the swing of things, you're putting in new stuff with new people, you have to learn how to play with one another and trust one another. So right now it's just a learning curve for all of us and hopefully once the season kicks off, everybody will be clicking on the same level. And that's what we need to be successful as a defense. I know we're pretty excited to get going and start the season off right. I know we're doing everything in our willpower out here in practice to start the season off right, so I'm excited. I'm excited to see where it's going to take us, and hopefully it will take us to playing some pretty good defense."
(On how close the season feels)
"I learned a long time ago, when it's camp time, you just put your head down and go. Don't worry about what's going on outside of everything, just look at your playbook, go to meetings, learn in your meetings, study, and come on the field and perform. Over the years I've been doing that and I won't stop doing it now because you can always get ahead of yourself and you don't want to do that, especially because this is a critical, critical point in all the teams' seasons – training camp. You just have to keep your head down and keep pushing forward. I think the guys have been doing a great job with that. Whenever the first game comes, it comes, but right now our head is to the ground and we're just moving forward."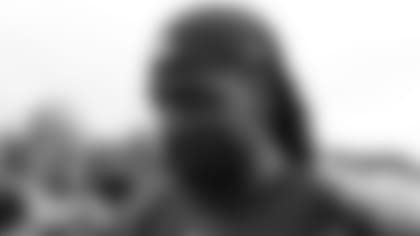 PATRIOTS WR DONTE' STALLWORTH
(On if practicing in Gillette Stadium in front of the season ticket holders and Foxborough residents feels different than practicing on the normal practice field)
"Well there are a lot of fans on the other field as well. There are a lot of fans and it's always good to have the fans out, for them to be able to see what we're trying to put together here. You know it's a practice obviously, not a game, so they get to see the kind of behind the scenes of what we do here at our practice field and hopefully we can have another good day, put it together and stamp one up and have a good one tomorrow as well."
(On the daily progress from practice to practice)
"It's been good so far. It's a long camp, a long ways on the field before we actually put a product out there, but right now we're just trying to build. The Saints will be here next week and by the time they get here they will have already played a game. So right now we're just trying to get each other better and get each other collectively better as a unit, so that we can put something good out there."
(On when the team starts to build a plan for the first preseason game)
"I think our plan is being put in place now. Obviously we're not necessarily focusing on the Saints now; we're still focusing on ourselves, trying to get ourselves better by running the routes repetitively in practice, running different plays and different schemes and trying to put something together. I would think that with us practicing here when the Saints come, with us practicing with them for a couple days, we'll be ready by the time they get here."
(On if the Saints preparation—being that they will have already played in the Hall of Fame game—will benefit the joint practice sessions)
"They will have already played a game and that's huge, but that's what the preseason is for and that's what training camp is for. Right now we're just working and today should be a good day for us. It's good weather, the fans are out and we're just looking forward to having a good day."
(On the impressive amount of fans that have been coming to watch training camp)
"Yeah it's special. You know it's a great fan base here and it's always been that way for as long as I can remember. [There's] a great reason [for that]. It's a great area, Mr. Kraft is a great owner—one of the best owners in all of sports—and Coach Belichick has had a lot of success here. So the fans cherish that and we try to put out a good product on the field."