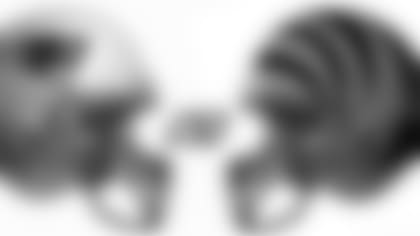 NEW ENGLAND PATRIOTS(2-1) atCINCINNATI BENGALS** (3-0)
Sunday, October 1, 2006
Paul Brown Stadium (65,378)
4:15 p.m. EDT
The New England Patriots travel to Cincinnati this week for a tough test against the undefeated Bengals. New England has not lost back-to-back games in more than three full seasons and will aim to bounce back from last week's loss to Denver with a strong showing in the Queen City.
The Patriots have not lost back-to-back games since December 2002, and their streak of 52 consecutive regular season games without back-to-back losses is tied for the third longest streak since the 1970 AFL-NFL merger. New England's streak is more than twice that of the next longest active streaks. The last time the Patriots had a losing streak was when they dropped a game at Tennessee (24-7, 12/16/02), and followed that with a home loss to the N.Y. Jets (30-17, 12/22/02). Since then, New England has recorded a 10-0 record in games following a loss.
TELEVISION: This week's game will be broadcast by CBS. The game can be seen in Boston on WBZ-TV Channel 4. The network's number one crew will cover the game, marking the third time in four games that the Patriots have drawn the televising network's top team. Jim Nantz will handle play-by-play and Phil Simms will provide analysis.
RADIO: *WBCN *104.1 FM is the flagship station for the Patriots Rock Radio Network. A complete listing of the network's stations can be found here. Play-by-play broadcaster Gil Santos is in his 30th season as the voice of the Patriots and will call the action along with Patriots Hall of Famer Gino Cappelletti for the 23rd season.
NATIONAL RADIO: This week's game will be broadcast to a national audience by Sports USA Radio. Larry Kahn and Doug Plank will call the game and Troy West will report from the sidelines.
The Patriots and Bengals will meet for the 20th time in a series that dates back to 1968. The teams will renew acquaintances in the regular season for the first time since 2004, when New England clinched the AFC East title with a 35-28 win over Cincinnati at Gillette Stadium. New England has won four of the last five regular season meetings between the clubs dating back to 1993. The Patriots will play at Paul Brown Stadium for the second time in regular-season play, with their last trip there coming in the 2001 regular-season opener, a 23-17 Cincinnati victory. In addition to their regular-season clashes, the teams have also met twice recently in preseason play, with the Patriots traveling to the Queen City in both the 2004 and 2005 preseasons. The clubs split those matchups, with the Bengals taking a 31-3 win in the 2004 preseason and the Patriots claiming a 23-13 triumph in the 2005 preseason.
This week's game is the Patriots' only 2006 regular-season matchup against a team from the AFC North. New England is 9-2 against the AFC North since 2001 (including playoffs). Last season, New England also played just one game against AFC North opposition and defeated Pittsburgh, 23-20. In 2004, the Patriots played all four AFC North teams and compiled a 4-1 record in those games, including a win over Pittsburgh in the AFC Championship Game.
The Patriots are 1-0 against the Bengals in games that Tom Brady has started. Brady is 9-1 in his career against AFC North teams, including a 2-0 record in the playoffs. Brady is 3-0 against Cleveland, 4-1 against Pittsburgh, 1-0 against Cincinnati, and 1-0 against Baltimore. The Bengals' Carson Palmer is 0-1 against the Patriots in his career.
Patriots running back Corey Dillon spent the first seven years of his career playing for the Bengals and in that time came to own or share 18 different Bengals franchise records.
Bengals defensive tackle Sam Adams is the son of former Patriots offensive lineman Sam Adams, who played in 119 games with 90 starts for New England from 1972-80.
Patriots offensive tackle Matt Light was born and raised in Greenville, Ohio, about 90 miles north of Cincinnati.
Patriots linebacker Mike Vrabel was born in Akron, Ohio and attended Ohio State.
Patriots running back Heath Evans and Bengals running back Rudi Johnson were teammates at Auburn University in 2000. Evans served as a lead blocker as Johnson earned SEC player of the year honors that season.
Bengals cornerback Deltha O'Neal and Patriots linebacker Tully Banta-Cain played on the same defensive unit at the University of California.
Patriots defensive lineman Johnathan Sullivan and Bengals defensive lineman Robert Geathers were teammates at the University of Georgia for two seasons from 2001-02.
Patriots wide receiver Reche Caldwell and Bengals cornerback Keiwan Ratliff were teammates at the University of Florida from 2000-01.
Patriots running back Kevin Faulk and Bengals cornerback Tory James were teammates at Louisiana State in 1995.
Patriots offensive tackle Matt Light and Bengals linebacker Landon Johnson were teammates at Purdue in 2000.
Patriots defensive lineman Mike Wright was born in Cincinnati, Ohio and attended the University of Cincinnati.
Patriots quarterback Matt Casselserved as the backup to Bengals quarterback Carson Palmer at Southern Cal.
Cincinnati defensive coordinator Chuck Bresnahan was originally hired by Bill Belichick as a quality control coach for the Cleveland Browns in 1994.
While head coach of the Cleveland Browns, Bill Belichick hired Darrin Simmons as a coaching intern. Simmons is currently the special teams coach for the Cincinnati Bengals and was also a college teammate of Patriots linebacker Don Davis at the University of Kansas from 1993-94.
Patriots asst. head coach/offensive line Dante Scarnecchia and Bengals running backs coach Jim Anderson were college teammates at Cal Western from 1968-69. The pair were also assistant coaches on the Cal Western staff in 1970 and 1971. Additionally, Anderson was Corey Dillon's position coach during his seven seasons in Cincinnati.
Bengals asst. offensive line coach Bob Surace was an assistant coach at Rensselaer Polytechnic Institute in 1995 when Patriots linebackers coach Matt Patricia played center and guard for the Engineers.
Patriots quarterbacks coach Josh McDaniels was born and raised in Canton, Ohio.
Patriots defensive line coach Pepper Johnson attended Ohio State and was named to the Buckeyes all-century team.
Patriots director of college scouting Thomas Dimitroff was born in Barberton, Ohio.
Patriots defensive coordinator Dean Pees is a native of Dunkirk, Ohio and is a graduate of Bowling Green State University. He has also been a defensive coordinator at Miami (Ohio) and the University of Toledo.
Bengals quarterbacks coach Ken Zampese is the son of Ernie Zampese, who was the Patriots' offensive coordinator from 1998-99.
Bengals defensive backs coach Kevin Coyle was a collegiate defensive back at the University of Massachusetts from 1974-75. He was also an assistant coach at Holy Cross in Worcester, Mass. from 1982-90.
17
The number of points the Patriots have allowed in each of their first three games of the season.
169
The number of rushing yards that both Corey Dillon and Laurence Maroney have gained through three games this season.
7
The number of quarterback hits Richard Seymour has tallied through three games this season, leading the team.
30
The number of tackles Ty Warren has recorded this season, pacing the squad.
5
The number of special teams tackles for rookie Willie Andrews through three games, leading the club.
18
The number of tackles recorded by safety Rodney Harrison, leading all Patriots defensive backs just 12 months after suffering a season-ending knee injury.
9-1
Tom Brady's career record as a starter against teams from the AFC North.
16-1Brady's record as a starter in games played on artificial surfaces. This week's game in Cincinnati will be played on a synthetic surface.
32-14
Brady's career record in games played away from Foxborough, including games played on the road and at neutral sites.
23-3
Brady's record in games decided by six points or less.
6,092
The number of career receiving yards for Troy Brown, making him the second player in franchise history to reach the 6,000-yard mark (Stanley Morgan, 10,352).
11
The number of receptions Brown needs to pass Stanley Morgan (534 career receptions) to become the Patriots' all-time leader.
14
The number of seasons in which Brown has donned a Patriots uniform, tying Bruce Armstrong and Steve Nelson for the second longest Patriots tenure, trailing only Steve Grogan (16 seasons).
2
The number of current NFL players who have been with their respective teams for more than the 14 seasons Brown has been a Patriot (Brett Favre, GB, and Jason Hanson, DET;15 seasons).
32
The number of years Bill Belichick has been an NFL coach, making him the longest tenured coach among the NFL's 32 head coaches.
7
The number of head coaches in the NFL or college who were assistant coaches under Belichick (Romeo Crennel, Eric Mangini, Nick Saban, Charlie Weis, Kirk Ferentz, Pat Hill and Al Groh).
37-2Belichick's record in New England when the Patriots score 25 points or more.
58-5
Belichick's record in New England when the Patriots score 21 points or more.
52
The number of consecutive games the Patriots have played since they last lost back-to-back games, dating back to December 2002. The streak is tied for the third longest in NFL history. The San Francisco 49ers set the NFL record by going 60 games without losing two in a row from 1995-99.
5
The number of consecutive 9 win seasons for the Patriots, the longest current streak in the NFL.
8
The number of consecutive Patriots overtime victories, the longest current streak in the NFL.
8
The number of career receptions by Patriots linebacker Mike Vrabel (including playoffs). All eight receptions have been for touchdowns.
92
The number of consecutive games, including playoffs, that Tom Brady has started at quarterback.
130
The number of consecutive home games that the Patriots have sold out. The streak includes preseason, regular-season and playoff games and dates back to the 1994 regular-season opener.
10,598
Corey Dillon's career rushing yardage total, the highest total among any player on a current 53-man active roster.
46
The number of yards Dillon needs to pass Ricky Watters and claim 15th place on the NFL's all-time rushing list.
25-5
The Patriots' record in games in which Dillon has played since joining the Patriots prior to the 2004 season.
1-4
The Patriots record in games Dillon has missed during his Patriots tenure.
4.3
Corey Dillon's average yards per carry since joining the Patriots (2,537 yards on 595 rushes).
4
The number of times the Patriots have appeared in the Super Bowl since Robert Kraft bought the team in 1994. No other team has made more than two Super Bowl appearances in that span.
13The number of playoff victories for the Patriots since 1994, more than any other team in the NFL during that span.
132-81The Patriots' overall record since Robert Kraft purchased the team in 1994 (including postseason), a .620 winning percentage.
75-31
The Patriots' record at home since 1994, including regular-season and postseason games, a winning percentage of .706.
31-7
The Patriots' record at Gillette Stadium, including regular-season and postseason games (.816 win pct).
8-0
The Patriots' home playoff record since Robert Kraft purchased the team in 1994. In the franchise's first 34 seasons, the team was 0-1 at home in the playoffs.