New England Patriots center Ryan Wendell is the latest in a long line of Patriots offensive linemen who have worked their way into starting roles from practice squad obscurity. Originally signed as a rookie free agent out of Fresno State in 2008, Wendell bounced back-and-forth between the practice squad and active roster the first few years of his career before he took over the starting center's job this year and has been a stable presence there all season.
What is your earliest football memory?
My mom was a football fan, so I remember her watching it when I was real little. I grew up outside of L.A., so, we didn't have a pro team most of my life. We weren't die-hard fans of anybody. I was a USC fan, that's about it.
What was it like putting pads on for the first time?
My freshman year in high school when I started playing football. I remember just looking at the other guys who'd played football all their life and trying to figure out where the pads go. I played soccer and wrestled before that, so I didn't know what I was doing.
What position did they make you play?
Offensive tackle and defensive tackle. It was easy. I didn't move too far [laughs].
Did you ever make a big play?
Oh, yeah, I made a lot of big plays [chuckles]. I had to long snap for a while in high school, and I ran down and tackled the returner for no gain. I was impressed with myself after that one.
Where are some places you would like to travel?
Oh, everywhere. I love traveling, the idea of traveling. I want to go all through Europe and I really want to go to Mount Everest. That'd be cool. And Nepal. China. There's nowhere I don't want to go, really.
Are you a pet person?
Yeah, I love dogs. I don't have one, but I always grew up with one. When I was young, we had a black Lab. After he died, we got a mutt that was like a lab, golden retriever, probably something else mixed.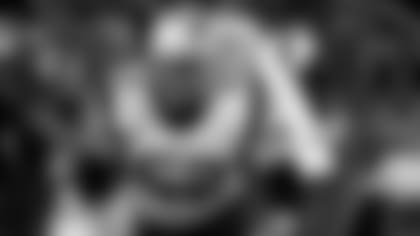 When we make the Ryan Wendell life story movie, whom would you want cast as you?**
Probably Kevin James.
Does he share your sense of humor?
Oh, we share… a waistline (laughs). 
If you could be in any band or musical group…?
I would go with Metallica.
If you could meet anyone in the world, any point in time, who would it be?
I'd probably go with the President. That's the most powerful person in the world and probably the hardest person to get to meet. I don't even know what I'd say to him. I know he's a sports fan, so we'd probably talk about sports. 
Do you have any guilty pleasures?
Well, people get on my case because I used to love shows that shouldn't be for guys like me. I used to love "The O.C.," Great show. "Glee," excellent show. I don't watch them anymore. I just didn't like the way the story lines were going.
Last book, other than your playbook, that you read and enjoyed?
The Path Between the Seas by David McCullough. It's a story about the building of the Panama Canal.
If I could give you any skill or talent you do not have, what would you want?
Singing. I can't sing a lick, but it would be cool to be able to.