Why not Robby Anderson? While all the talk is about A.J. Green being a good fit as a receiving option, I was thinking Anderson could be a good, reliable option that probably won't be quite as pricy as well and is also well known to our coaching staff, while playing against him twice a year for some time now.
Anderson is a talented receiver but he's also been very inconsistent, both on and off the field. The first part of that is somewhat understandable given the Jets have had a tough time finding consistency themselves, particularly at the quarterback position. Obviously even the most talented wideouts are reliant on quarterback play, and Sam Darnold is just now entering the stage of his career where he might be able to best take advantage of the weapons around him. But Anderson has also has some problems staying out of trouble. Anderson has been arrested a couple of times in recent years and has been in and out of favor with Jets coaches as a result. Those off-field problems are the only reason he might be signed for less than A.J. Green, but he's also not nearly as talented a player as Green – and given his problems staying out of trouble he might not be worth any potential savings. Anderson can play, but he also disappears for long stretches and the Patriots would be wise to look elsewhere.
Not much is mentioned of talking Rob Gronkowski out of retirement and returning to the Pats. That certainly would solve a lot of issues that the Pats are facing.
Gronkowski has barely left the news cycle since he retired almost a year ago, and that hasn't really changed as he enters his second season out of the game. There have been plenty of reports indicating that he would come back to play with Brady is the quarterback winds up playing elsewhere in 2020. Of course that assumes the Patriots would be willing to trade his rights to another team. As for returning to New England, I don't see that happening. Gronk didn't seem to enjoy playing in Foxborough much during his final season or two, and unless he has a change of heart my assumption would be that he remains in retirement and continues to enjoy himself immensely.
Personally I thought the Pats made a huge mistake in their deal with Marcus Cannon and now it's come back to haunt us on the salary cap. Quite frankly he's not that good and it reminds me how Brian Holloway went to the Pro Bowl so often when he was next to John Hannah, but in fact regularly got pushed around by defensive ends once Hannah was gone. And with Cannon flanked by Shaq Mason and Gronk lots of the time, he was able to parlay that into a great contract before he was fully exposed (and also he can't stay healthy). Why not try to trade him and use Marshall Newhouse as there would be no drop in performance and perhaps an increase, then draft a developmental player.
Cannon has been inconsistent throughout his Patriots career. When he's healthy and focused, he's been a solid performer at right tackle. When he's been at less than 100 percent physically, that seems to affect him mentally as well and he struggles. I thought he struggled for most of 2019, and I would agree that his contract seemed a bit high at the time. He's a definite candidate for a restructure of some sort, and perhaps it's even time to move on depending on what other moves the team is able to make at this point. But Cannon is not a product of those around him, and he's certainly a more talented option at tackle than Newhouse. He may not be an elite right tackle, but he's more than serviceable when healthy and overall has done a good job up front during his time with the Patriots.
Greetings from Germany, love your show. I heard rumors that the Patriots are interested in Taysom Hill. I like his versatility but I think the price tag could be too big and looking for a similar talent in the draft, I like Kentucky's Lynn Bowden would be the better option. Do you agree or think Hill's veteran status is worth the money?
I don't like the idea of Hill as a full-time quarterback, especially given the fact that he will be 30 by the time the 2020 season gets underway. Hill has proven to be a valuable player given his versatility to contribute in a number of ways. But he's also attempted 15 passes in his entire NFL career. That's not enough for me to turn things over to Hill as the next quarterback. Plus he's a restricted free agent and New Orleans will likely retain his rights and continue to plug him in when needed. My lack of interest has nothing to do with his potential price tag. I just don't think he has the ability to be a full-time quarterback.
Hello from Mexico from a loyal Patriots fan. With the WR position one of the biggest needs of the team, what are your thoughts on picking Texas' Collin Johnson and USC's Michael Pittman Jr.?
Julio Cesar Hernandez Velasco
Johnson has great size at 6-5, 220 but he hasn't really had great production at Texas. Honestly I haven't watched a ton of tape on him or any of the draft prospects at this point but he doesn't have great speed or ability to separate. Pittman is similar in size – a little smaller at 6-4 – but he was much more productive during his college days. He had 101 receptions and 11 touchdowns as a senior and shows more run-after-catch ability than Johnson. Both could be options late in Day 2 or perhaps even Day 3 depending how the draft progresses. However, I'd like to see the Patriots target some speedier options at the position – although admittedly I haven't really jumped into this process as of yet so maybe I'm selling these guys a bit short at this stage.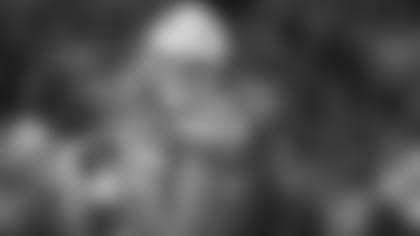 I saw in SI that the Rams would like a first and a third from NE for WR Cooper Kupp. Is that a possibility? Also, I've been hearing a lot of rumors of TE Hunter Henry or Austin Hooper but could the Pats call Tampa again and try to get O.J. Howard again.
I could see why the Patriots might be interested in acquiring a player like Kupp, who would be a great addition to Julian Edelman as an option in the slot. He's been productive when healthy and is still young and affordable, which would make him even more attractive to New England. But those factors also make him attractive to the Rams, and would be reason to hang on to him. Trading a first and a third would be fair value, but Los Angeles has a lot of high-priced talent and believes it's in a situation where they're expected to win now. Trading a young and talented player in such a scenario would be odd – but stranger things have happened. Sign me up for this move for sure. As for the tight ends, I'd be interested in any of the three, particularly Henry, who I believe has the best combination of blocking and pass catching ability of the trio.
Who are your top five wide receivers and tight ends in free agency you would love to see in a Patriots uniform next year? Some of mine: A.J Green, Demarcus Robinson, Breshad Perriman, Eric Ebron, Austin Hooper and Darren Fells.
I like most of the guys you list here and think any of them would represent an improvement. For tight ends I'd add Tyler Eifert, Nick Vannett and a restricted option in Dallas' Blake Jarwin. I think Jarwin has a chance to improve greatly in the coming years. As for wideouts, I like the idea of Robinson as perhaps an undervalued option given his place among the Chiefs many weapons. Of course it's also possible that his production comes as a result of being the oft-forgotten option as well. Chester Rogers and Tajae Sharpe are a couple of off-the-radar types I could see generating interest. It's unlikely the Patriots would invest big money in the free agent wide receiver market, so some like Sharpe might make sense. The draft should also factor into both positions for the Patriots.
My understanding of current negotiations in Foxborough is that Belichick/Brady/Kraft are trying to find a way to package the best team possible to win a seventh ring with Brady but at the same time prepare for the future. And that's super difficult. Is Gronk coming back? Is Brady signing? They should draft a first-round WR, retain some of the free agents (McCourty, Thuney, Slater) and cut some others like Mohamed Sanu, Rex Burkhead and Matt LaCosse. Well that's my wish. That they are all smart to do it.
Obviously this is the key factor for the Patriots moving forward. How can the sides balance the desire to compete for another championship (Brady returning) while keeping an eye on the future. It won't be an easy task and that's how Belichick, Kraft and Brady are looking at things as we speak. It will be difficult to add many more pieces to the puzzle if Brady returns from a financial perspective. But it will be difficult for the team to contend for a title in 2020 if he leaves. Gronk is not likely coming back. I still don't believe Brady will be returning for a 21st season either, although I'm less certain of that as many things could change in that regard over the next month. Retaining the free agents you'd like to keep would be tough if Brady returns because all three, especially McCourty and Thuney, would require significant dollars, as would Brady. So there's a legitimate chance that if Brady returns players like Thuney and McCourty will leave. And if Brady leaves, it would also make sense to let the others go as well in an effort to get younger. These are all tough decisions but either way the possibility for a very different looking Patriots team exists for 2020.
All this Brady talk is interesting but l have a couple of things that get lost in the soup when talking about him and his potential return. First, no question the guy is the GOAT. That said he if wants the team to break the bank for him then he needs to understand that the pickins will be slim relative to stockpiling veteran wideouts and he may have to work with a group not quite up to his standards. So I have a few things to say to Tom. Tom, sign your deal let the team make its decisions on supporting talent and do something you haven't done in a few years and that's get to OTAs. Work with these young guys, and all receiving talent and give them a shot to better themselves. Also, during the season knock off the pouting like you did down the stretch when it didn't go your way and be a leader in every situation. You're the greatest, man, now act like it! Tough love for the GOAT.
What is your definition of breaking the bank? My guess is Brady isn't interested in becoming the highest paid player in the league, but he's probably not all that interested in playing for $10 million either. My feeling is Brady would like a commitment from the team that will keep him here beyond 2020. At least a two-year deal and maybe even three. I don't feel he's looking to break the bank at all but that doesn't mean he'll be back. Brady has stated many times that he wishes to play until he is 45. If the Patriots agree with that, then I think he'll likely return. If not, then anything could happen because I feel the commitment is something that Brady is very much interested in. And yes, if Brady does return he should be expected to get back to OTAs and working with his younger teammates like he did before the last two years.
I really want Patriots to keep Brady. I want him to retire a Patriot. It can be done if Robert Kraft wants it. He is a highly successful businessman. They can offer Brady a multi-year contract to cover him to age 45. Three-year deal with an out after each year if his performance falls off drastically. And they could structure the contract to do so. They need offensive weapons and a high-octane offense to keep up with KC. The defense has a number of free agents and for cap sake we won't be able to retain them. So the D will take a hit or drop off anyway. But we know the offense has to score points and that's more important. We have the best defensive player in league with Stephon Gilmore. We can use him as a bargaining chip. Trade him for a top receiver or two good offensive players which could be two good receivers or a receiver and offensive lineman or a good RB that can catch passes. We need Brady and offensive weapons more than we need Gilmore. He doesn't score points per game for us. Why doesn't BB and Robert try this?
Since Brady isn't under contract, Stephon Gilmore is our most valued trade chip, which may need to be played. We do need the resources.
A couple of let's trade Gilmore posts back to back. Not sure I agree, but I'm also not willing to complete dismiss the possibility. Gilmore is the Patriots best defensive player and I feel he is the key to everything the Patriots do on that side of the ball. But he also represents a huge chip and would surely warrant significant resources in return should the Patriots opt to trade him. I don't like the idea because I feel the secondary is a strength of the team, and even though there is some depth on the back end I don't believe it looks nearly as talented without Gilmore. He takes away the opponent's top threat nearly every week. It's hard to quantify how much better the rest of the cover guys are as a result of his work. Losing him significantly weakens the defense, and the offense is already in need of a potentially significant overhaul. I would let Gilmore go at this point. He's just too valuable.
Do you think for one minute Bill Belichick cares if Tom Brady walks? He wants to prove to the world that he can win a Super Bowl without Brady. Trust me.
OK, thanks. Now I can sleep tonight understanding all the dynamics at work. Special thanks to Williams everybody. Just the same I'll refrain from trying to state emphatically how Bill Belichick does and doesn't feel about various aspects of his team.