If sorting through the enormous amounts of pre-draft rhetoric has become too time-consuming for you, then this is the place for you. Patriots Unfiltered's draft analysis may not rival Dane Brugler's Draft "Beast" in terms of volume, but we'll give you some quick-hitters that should help you follow along this weekend.
Based on some pre-draft hype, the Patriots are expected to trade up for a quarterback, sit tight at 15 and wait for a quarterback to drop or trade back and stockpile picks. In other words, no one knows what's going on.
So, please enjoy our capsule look at some of the burning questions surrounding the draft, the Patriots and everything in between.
What do you consider to be the Patriots biggest need heading into the 2021 NFL draft?
It's got to be quarterback and then everything else. No question there are long-term needs at a number of spots like cornerback, running back and offensive tackle, but none is as critical as finding a long-term answer under center. – Mike Dussault
This one is pretty obvious: quarterback. Everything else pales in comparison. But since grabbing one of the top prospects at 15 is unlikely, I'd also list wide receiver, cornerback, tackle and linebacker high on the list. – Paul Perillo
You mean aside from the obvious at quarterback? Because after a surprisingly ambitious foray into free agency last month, New England still needs to address this elephant in the room sooner or later. Apart from that, though, a true, top-flight wide receiver would fully balance this revamped offense. – Erik Scalavino
Besides the obvious, quarterback, it's WR1. Someone who can stretch the field and has a match-up advantage against most defenders. – Fred Kirsch
Will the Patriots trade up, down or sit tight at 15 in the first round?
I think staying at 15 is the most likely scenario because the run on QBs and WRs should push some top-10 talent down the board. I could see them going up a few slots, maybe as high as 10 in a trade with Dallas, where they can get an immediate impact player but it's unlikely that a QB would be there. Therefore, they sit tight. – MD
Based on all the pre-draft speculation this should be all of the above. Everyone has the Patriots doing something, so I'm going to say they will stay at 15 and grab a really good football player – a receiver that drops or one of the top corners. – PP
My guess is they'd love to move up but will ultimately sit tight because what it might cost to travel up the first-round ladder could be too expensive for New England's liking. – ES
There will be some surprises ahead of the Patriots in the first round and because of that, the Patriots will sit tight and have someone they truly value fall to them. – FK
Will the Patriots choose a quarterback in the draft? If so, when and which one?
Yes, I think they have to, but I'm not holding out hope for one of the top five guys. I think Friday, in Rounds 2 and 3, is the spot where the favorites to consider would have to be Kellen Mond or Davis Mills, though Kyle Trask is a name that is popping up increasingly in recent days as another to consider, though I'm not that high on him. Choosing between them all I think Mills is my pick right now. He's had a lot of injuries and showed plenty of inconsistency, but there are flashes to make you think that if he can stay healthy and gain some experience, his ceiling might exceed his draft slot. – MD
I would think Bill Belichick would like to add a prospect to work with and will likely do so at some point in Day 2. Kellen Mond has the most experience and played at a high level in the SEC, but I like the idea of grabbing Jamie Newman and hoping he develops with some seasoning. – PP
Yes, they almost have to, even if it's not in the first round, just to beef up the number of arms on the roster. If, as I predict, they can't get up high enough in Round 1 to take one of the handful of blue-chippers, they'll "hook" a developmental player in the late rounds, like Sam Ehlinger from Texas. – ES
Kyle Trask in the second round. The Florida thrower was on the other end of all those fine-looking passes to Kyle Pitts. – FK
Assuming they stay at 15, who will the Patriots select?
I've got to go with Jaycee Horn. He'll be drafted somewhere around 15 and is just the kind of physical man cornerback who could step right into a starting role in the Patriots defense. If the team were to consider moving on from Stephon Gilmore or J.C. Jackson, Horn is the kind of pick who could make it feasible because there isn't much proven depth behind the two starters. – MD
I'm with my boy Deuce here – Horn is my pick. I like his size and ability to play press man coverage. Corner doesn't appear to be a major need at the moment, but you have to assume pending free agents will leave and a starter will likely need to be replaced next year. If that's the case, I'd like to have a candidate with some experience. – PP
Hate to go with a safe stud, rather than a flashy skill position pick, but I'm psychologically preparing myself for this eventuality. Northwestern offensive tackle Rashawn Slater might not seem like an immediate need in 2021, but come next season, his position very well could be. And he might be one of the best overall players available by the time pick 15 rolls around. – ES
DeVonta Smith, the Alabama wide receiver, slides a bit and the Patriots snatch him up. – FK
Will the Patriots execute a trade involving players this weekend?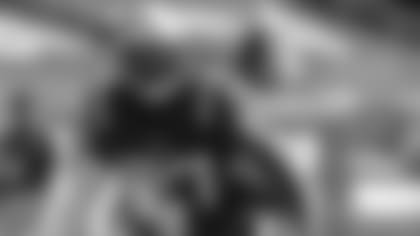 I've gone back and forth on this because there are only a couple players on the Patriots roster that made sense, including Gilmore, Jackson and disappointing draft picks like N'Keal Harry and Joejuan Williams. But with Jimmy Garoppolo out there hanging on the vine in San Francisco it seems harder and harder to see him back with the 49ers next year. There's just too much uncertainty with Garoppolo and Gilmore's futures, so at this point I'm going to say yes, the Patriots are going to make some sort of player trade over the next three days. – MD
I love the way Belichick is always looking to make moves and I believe a player will be moved at some point this weekend. The Patriots currently have 76 players on the roster and with 10 draft picks there won't be room for much more. Moving a piece or two would create some more flexibility on the roster. – PP
Yes. Maybe even more than one such trade. – ES
No. That will likely come later in the offseason. – FK
Regardless of round, which player will be a Patriot at the end of the weekend?
Running back Michael Carter from UNC is a well-balanced back who should be available on Day 2 and he makes too much sense for the Patriots given their long-term needs at the position. While he can catch, he also has a finisher's attitude when carrying the ball and could be a perfect balanced back in the mold of Rex Burkhead. Carter would be a slam dunk at a position of need, while also shifting the dynamics of the room a bit away from early-down backs Sony Michel and Damien Harris, and third-down backs James White and J.J. Taylor. – MD
I love the idea of adding a receiver at some point in Day 2, and for the third straight year the crops of pass catchers is deep and talented. Ole Miss' Elijah Moore has been rising up the boards lately but if he's available in the second round his quickness, hands and route-running ability would seem to make him a fit for the Patriots. – PP
You know you're getting old like me and Paul Perillo when Patriots players we once covered together in the pages of the old PFW now have kids who are draft eligible. One of them was so good during his years in Foxborough that Bill Belichick might be too tempted not to take his offspring. So, I'll say Asante Samuel Jr. gets his name called by New England, just as his dad did many moons ago. – ES
He'll be a late-round pick but Kene Nwangwu, a running back out of Iowa State, will wind up in New England. His 4.3 40 speed will have him contending for kick returns and other special teams duties. – FK
In three years, who will be considered the best player to come from the 2021 draft?
Hard to get past Kyle Pitts, who is an absolute monster and should be well-positioned in the draft to join a team with a pretty good quarterback. His unique size and speed will make him a matchup nightmare at the next level, one who can dictate matchups and make an offense go. – MD
Sometimes it's not worth it to overthink things. Trevor Lawrence has been considered the best quarterback prospect since Andrew Luck, and he's been entrenched as the top overall pick for more than two years. Lawrence has the ability and pedigree to get it done – although doing so in Jacksonville won't be easy. – PP
This is actually a tough call for me, between Florida TE Kyle Pitts and Penn State LB Micah Parsons. I'll flip a coin and go with the latter. – ES
Kyle Pitts. In 10 years he'll be a lock for the Hall of Fame. – FK
In three years, who will be considered the biggest bust in the 2021 draft?
It's going to be boom or bust for the Jets and Zach Wilson and I'm in the camp that believes he'll be a bust for them. I think in retrospect the Jets will regret their decision to take the late riser. Wilson's aggressive play, especially pushing the ball downfield is going to be feast or famine, and with the assumption he'll step right into the lineup, he'll be thrust immediately into the flames. Can New York and their fans deal with early mistakes or will they break him? He has some swagger to make you think he can do what Baker Mayfield did with the Browns, but it seems even more impossible because we're talking about the Jets. – MD
With five quarterbacks projected to go early, odds are there will be some busts among that group. But I'll go with Miami edge rusher Jaelan Phillips. Phillips has battled injuries throughout his collegiate career and, although talented, could be a risky first-round pick. – PP
QB Mac Jones. I never bought into his meteoric rise and will believe it only when I see it materialize at the highest level. – ES
My annual answer to this question is whichever unfortunate soul the Jets choose in the first round. But the odds are that if five quarterbacks go in the first round, only a couple of them will live up to their expectations. I'll shoot for the moon and say Zach Wilson, although I want to make it clear that I don't wish this on anyone … unless he's on the Jets. – FK
Name a sleeper pick you love and why?
Alaric Jackson is an ascending tackle from Iowa who made some great strides playing at left tackle in 2020. Given the Hawkeyes-Patriots connections, Jackson seems like the ideal developmental offensive lineman, who could play both guard and tackle. His footwork is something he'll need to continue to improve, but with a redshirt 2021 season working behind the scenes, he could develop into a valuable piece, helping at two positions of need. He's a leader and a hard worker and would make a good value pick on Saturday. – MD
There will be plenty of hidden gems taken in Day 3 and I'm going with Memphis running back Kenneth Gainwell. At 5-8 and just 200 pounds, Gainwell won't make his living moving the pile, but he can catch the ball and some team will find a James White-type on Saturday and be thrilled. – PP
Illinois WR Josh Imatorbhebhe, simply because his surname looks like "immature baby" and I can't wait for Fred Kirsch to attempt pronouncing it on air. – ES
Does Trask count? If not, I have two: Simi Fehoko, the 6-4 receiver out of Stanford will go higher than his third- or fourth-round projection, and then some team will be as intrigued with the athletic potential of Arkansas QB Feleipe Franks as I am and will take him earlier than his late-round projection. At 6-6, 234, he runs a 4.6 40 with an elite arm. Oh, and he was drafted by the Red Sox in 2019. – FK