HOUSTON – Panthers coach John Fox was asked about Tom Brady early during his Monday press conference at the George R. Brown Convention Center and explained that the Patriots ask a lot of their quarterback. Never will that be more evident than at Sunday's Super Bowl between New England and Carolina.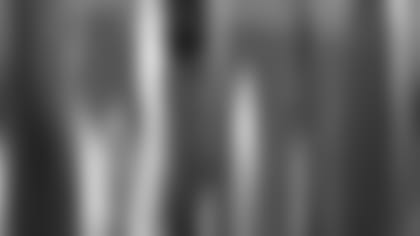 ]()
            Carolina lives and dies with its defense, and the defensive line in particular. Julius Peppers and Mike Rucker apply the pressure from the outside while Kris Jenkins and Brentson Buckner clog the lanes in the middle. Together those four put more than their fair share of heat on opposing quarterbacks.  

But Fox understands that Brady isn't the typical NFL passer. He combines several qualities that allow him to make plays under heat. His quick release, accurate arm and generally rock-solid decision-making put him in a rare class among NFL quarterbacks.
"He's an extremely smart quarterback," Fox said. "They ask an awful lot of him at the line of scrimmage. He does a fantastic job with his decision-making process. For a player of his youth, he does a fantastic job."
Several Panthers defenders agreed with their coach when the topic of Brady and the Patriots offense came up. Veteran safety Mike Minter knows how lethal New England's spread attack can be when its operating on all cylinders.
"That spread offense is quick," Minter said. "When you talk about dumping the ball off 3 or 4 yards at a time, you really don't get set up as a defense. That causes a lot of problems. The one thing you have to do is hit Tom Brady to get him out of that. You have to get him back to the conventional stuff. That is the key right there – get to Tom Brady. The teams that did that, they got out of it quick."
]()
            But getting pressure against the Patriots can be easier said than done. The main reason for that is the scheme offensive coordinator Charlie Weis employs that calls for Brady to get rid of the ball quickly. That makes applying pressure extremely difficult – even for formidable fronts like Carolina's.  

"On the field, Tom has made tremendous improvements over the last three years," Head Coach Bill Belichick said. "We've put a lot more responsibility on Tom in terms of making decisions at the line of scrimmage."
What Weis likes to do, regardless of opponent, is spread defenses out in an effort to dictate the matchups. Belichick added that approach prevents the defense from identifying the trouble areas the Patriots might present.
"One of the advantages we get by spreading the defense out is we can recognize where they are, whether they're overloaded on one side or trying to recognize where blitzes are coming from," Belichick said. "If they're further away it takes them longer to get to where they need to go.
"It takes a good quarterback to be able to see the field and recognize the situations and take advantage of where the defense might be weak. Tom's done an excellent job of that, and our receivers as well. It's a different passing game than the conventional, two-receiver, play action type of thing. I think Charlie's done a nice job of implementing it, coaching it and calling it, and the players have done a nice job of executing it. It's been a productive set for us."
From listening to the Panthers, it would seem they plan on trying to jam the Patriots receivers. Teams that normally generate a good deal of pressure on the quarterback are accustomed to having the luxury of playing tight knowing the opposing receivers won't likely get a lot of time to beat them deep.
"When they catch the ball, the safeties have to be there to hit them," Minter said. "We have to let them know that when you do catch it, it will be a long day. That right there, the physical part of the game, will get you second-guessing about coming across the middle."
Troy Brown is the Patriots most experienced receiver and he's seen teams attack him in all sorts of ways. Press coverage won't affect the veteran as he prepares for his third Super Bowl as a member of the Patriots.
"We just have to try to execute the best way we know how no matter what the play is or how the defense is playing," Brown said. "You see a little bit of everything in this league. Every team approaches it differently."
Brady understands the Panthers defense might present some challenges he and the offense haven't seen thus far in 2003.
"I would think so," Brady said when asked if the Panthers defense will be the toughest they've faced this season. "Mike Minter is probably one of the best strong safeties in the league and Deon Grant is a big guy who can really hit people. It's a tough secondary, and they really make a lot of plays and make the quarterback pay when the ball is not thrown at the right time and in the right direction."
Considering the amount of heat Brady will likely be under Sunday night, those decisions and throws will likely result in the difference between winning and losing for the Patriots.