The Patriots travel to Buffalo to take on the Bills in Ralph Wilson stadium this weekend. The Pats are coming off a bye week and Head Coach Bill Belichick said the Patriots devoted much of their extra time to preparing for the upcoming Bills game.
"I think it was good that we got a little bit of a head start on Buffalo on Monday, and even a little bit last week," said Belichick in his Wednesday press conference. "They have quite a few things to get ready for. That goes out without saying. We had a lot of trouble with them the first time we played them."
When the teams last met in the season opener at Gillette Stadium, the Bills came out strong. Linebacker Takeo Spikes flew in untouched in the game's first play, sacking Brady, who fumbled the ball. Bills linebacker London Fletcher-Baker picked up the ball and carried it into the end zone. One offensive play into the season and the Patriots were losing by a touchdown.
Quarterback Tom Brady spoke about the play in his Wednesday press conference, saying, "I remember right after it happened I ran off the field and I said, 'That's a [heck] of a way to start the season.' We were even watching it today. I'm sick of seeing that play. I've seen it probably 30 times in the last six weeks. I'm trying to put that one out of my mind."
"They matched our intensity," said linebacker Rosevelt Colvin on Wednesday. "They matched the crowd's intensity and they came and played at a high level. That's what we have to do when we go down there and hopefully we can create some situations like that."
The Bills carried momentum into the third quarter and were leading 17-7 when linebacker Don Davis stopped running back Willis McGahee on a fourth-and-one play at the Patriots 7-yard line.
Belichick explained the play on Wednesday, saying, "The defensive line, Vince [Wilfork] and Mike Wright did a good job of penetrating and tying up the offensive linemen and Don was able to scrape unblocked and make the tackle."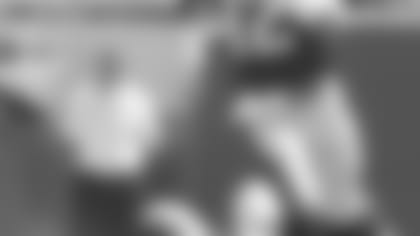 Linebacker Tedy Bruschi also spoke about the stop and stressed the fact that the Patriots need to get out to a better start in the upcoming game.
"For that game at that moment, and if you look back at it now, it was the biggest play of the game. It was huge for us to get that ball, because that's what a fourth-down stop is. It's like a turnover. So we got a turnover there and our offense went down and scored," said Bruschi on Wednesday. "They had a lead on us, so we have to come out and play good from the start."
"You don't want it to come down to things like that, but it happened and we'll take it," said Colvin. "But we've got to be a little bit better prepared and a little more on top of our keys and our reads this week coming up."
One player who was on top of his reads in that game was cornerback Ellis Hobbs. Hobbs was matched up with the Bills go-to receiver, Lee Evans, for much of the game. Evans only caught two passes for 25 yards in the season opener. He said the Patriots defense played well as a whole.
"[The Patriots] defense is obviously a very credible defense," said Evans on Wednesday. "They've played together in big games. They do a good job of trying to put their hands on you and re-route you and throw the timing off in your system. Their linebackers do a good job of zoning up the field and safeties do a good job playing deep. [Hobbs] did a good job of doing what he had to do, but the whole defense just played very well together."
Defensive end Ty Warren essentially scored the winning points in Game 1 when he sacked quarterback J.P. Losman in the end zone for the Patriots first safety since the 2003 season.
"[Warren] has taken over more of a role as a leader," said safety Rodney Harrison on Wednesday. "I think he's really maturing as a man, as a person and I think that really carries over to football. I think he's putting in more time in the weight room and in film study. I mean he's one of the first guys here at six o'clock in the morning and he's one of the last guys to leave. I think that really shows where he wants to be as a football player. I think he really realizes that he has the ability to be one of the upper echelon defensive linemen in the league. The only way that happens is when you put in the work. The only place where success comes before work is in the dictionary. So you have to put in the work and you have to be able to focus in and do what you have to do on a consistent basis and that's what he's doing right now."
Warren said he spent much of the Pats bye-week vacation at Gillette Stadium trying to improve his game.
The Bills enter this game with a record of 2-4. They're coming off a hard loss to the previously winless Lions. Their rush defense finished last in the league in 2005, and isn't looking like it's seen much improvement this season. Buffalo's coaching staff was also restructured under new Head Coach Dick Jauron in the offseason. However, the Patriots aren't underestimating them.
"I think we're playing a pretty good football team," said Brady. "Offensively, we have to go up there and it's a division game and it's a very good defense that we're facing. More so than anything, this is a team that always has confidence when they play us. They played very well against us the first game. They have very good players; good speed, good quickness. They are smart players. They're tough. London Fletcher is one of their leaders. If they play like him, they're always going to be in the game. So we have a tough game ahead."
Notes:
The Patriots held practice outside today and were in full pads for the first time in recent memory. Offensive lineman Russ Hochstein was the only player not present during the portion of practice available to the media. He was listed as 'Questionable' with a knee injury on this week's injury report. Also added to the injury report was cornerback Antwain Spann, listed as 'Probable' with a shoulder injury. Practice squad offensive lineman Billy Yates wore the black jersey indicating that he was the practice player of the week last week. Defensive lineman Ty Warren wore a red non-contact jersey. In the locker room, cornerback Ellis Hobbs was seen wearing a Detroit Tigers hat. "It's just a hat to me," he said after he was accused of being a fair-weather fan. "I'm wearing brown today, so I wore this." Tedy Bruschi was wearing a Pac-10 hat while he spoke to the media. Bruschi attended Arizona and was a unanimous All-Pac-10 and All-American selection his senior year. The Patriots sole PUP player, Patrick Pass has a new tattoo on his left upper arm. The ink displays the serenity prayer, which Pass said he reads every night.