After starting the season with four straight undefeated opponents (five, if you count Week 1 versus Buffalo), the Patriots this week will host the Tennessee Titans/Houston Oilers, who are at the opposite end of the spectrum at 0-5.
But ask any player in the New England locker room and they'll tell you they're not buying that Tennessee is as bad as their record might indicate. This, you'll recall, is virtually the same Titans team that started the 2008 season with 10 straight wins.
"Yeah, it is surprising," guard Logan Mankinsacknowledged. "The same team's back. They're playing good football. They've just had a few things not go right for them. That's why they've lost games. A few key plays in the game is what swung them to 0-5."
"We just look at them as the Tennessee Titans," said LB Adalius Thomas. "Their record doesn't mean anything. When you step on the field, the only thing that matters is those 60 minutes. They're an explosive team, got a good running game, experienced quarterback, big receivers. So, we have a task cut out for us."
"They're a good team. I know they probably have things to work on, like everybody else," added LB Gary Guyton.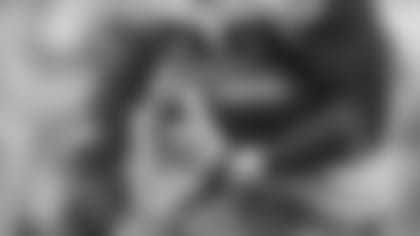 ]()One reason Tennessee is a legitimate threat is running back Chris Johnson, who's been perhaps the lone bright spot on the Tennessee offense this season. He and fellow ball carrier LenDale Whiteprovide a potent 1-2 punch in the running game and the passing game.
"Chris Johnson's a very fast guy," Thomas continued. "He takes the edge, makes guys miss. LenDale runs hard. Both guys can score, can catch passes out of the backfield."
"Chris is fast. LenDale's a good runner, too," Guyton added. "So, those are two good backs over there. They're very dangerous."
On the other side of the ball, the Titans miss their monstrous defensive tackle, Albert Haynesworth, who's now with the Washington Redskins. But Tony Brown, with a pair of sacks and two forced fumbles to his credit, has been a productive replacement for Haynesworth thus far.
"He's a good player and he's playing very well right now," said Mankins. "They didn't lose much when Haynesworth left and Tony slides over to that spot now. He's doing a lot of good things."
Those reasons are good enough for the Patriots not to take the Titans lightly this weekend.
"The only thing we care about is our opponent," Thomas maintained. "We don't look at their record. It doesn't matter. That's why you play. If you just look at the records, you'd think, 'OK, this team's going to win … don't even play the games.' It's not like that. You have to go out and play the game the way it's supposed to be played – play good offense, good defense, good special teams. Because if you don't, you'll be 3-3 and they'll be 1-5."
Mankins' mae culpa for miscue
In the second quarter of the Denver game last week, Mankins was flagged for unnecessary roughness after he shoved a Broncos defender who was on top of a pile at the end of a play.
Friday, Mankins expressed disappointment in himself for committing the penalty.
"We've been doing it long enough to know where the line is, and when you cross it, you realize as soon as you did it that you shouldn't have gone that far," he conceded.
"The guy was going down, I should have let up. The league is looking for that. They want to protect guys who are standing around the pile. You just have to know what you can do and what you can't. I've done it before and not gotten flagged for it, this time I got flagged for it."
Friday locker room/practice notes
With rain and slushy snow falling throughout the day today, and the weather looking nasty again this weekend, the Patriots practiced on the FieldTurf of their game field at Gillette Stadium. The team was dressed in shells and sweatpants.
For the second straight day, RB Fred Taylor(ankle) and LT Matt Light(knee) were the only players who didn't take part.