Mac Jones and the Patriots wrapped up their second joint practice with the Panthers on Wednesday, as the new-look offense continues to make strides. In recent days there's been a new level of comfort within the offensive operation. As Bill Belichick would say, there's still a long way to go, but after two weeks of clunky inconsistency, it looks like Mac and his crew are finding their stride.
"I think we've done some good things, made some adjustments and we're moving in the right direction," said Mac following another testy session against Carolina. "And that's all you can ask for is just for me to be able to step up in the pocket and make the throws, that's all it is for me... I think we have guys that can make plays all over the field. So regardless of how we call the play or do it, it doesn't matter. The guys are open and if they're not I just got to be smart and throw it away but they've been open a lot and those 50/50 balls have been really good for us."
On Wednesday, the offense wasn't clicking quite as they had on Tuesday but still made a fair share of impressive plays, including a highlight catch by Nelson Agholor in between three defenders in the end zone off a perfect throw from Jones. During competitive 11-on-11 periods toward the end of practice, the offense had some trouble getting going before Mac found DeVante Parker as he posted up in a vacant zone for a touchdown score. The offense would follow that up with Mac hitting Ty Montgomery on a sprint out for what appeared to be a successful two-point conversion.
The chemistry with some of the new faces is continuing to grow and they're pushing the potential of the offense.
"All of our guys have worked really hard, we put in a lot of work together in the offseason, all the throwing sessions," said Jones. "That's what we're trying to grow from. It's like, 'Remember that one time we were throwing and I told you to do this? Let's try it on the next play,' and we've all done that together as a group."
There have been some consistent elements showing up in the Patriots passing game, from Jonnu Smith's heavy involvement in a number of roles, to Parker's contested catch ability, to the rejuvenated playmaking of Agholor and the consistency of Jakobi Meyers in the middle of the field. Sprinkle in Kendrick Bourne's run-after-catch ability, Tyquan Thornton's growing contributions and Hunter Henry's red zone reliability and the offense is showing the potential to really cook this season no matter who they choose to roll out.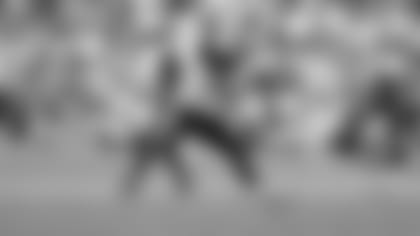 "Our skill players have done a great job attacking the football, [Parker's] a really good vertical threat," said Jones. "But all those guys, they all bring a different trait to the receiver room. So we have a good mix of size, speed, shiftiness, route runners, YAC guys [who] run after catch, so I've been really pleased. That's why my job is just to distribute the ball to the guy who's open and they've done a great job doing that."
Training camp is starting to wind down now. After Friday night's contest against the Panthers, the Patriots will travel to Las Vegas for two more joint practices with the Raiders before taking them on in the preseason finale. With the regular season opener in Miami fast approaching, things are trending in the right direction, but there's still a lot of work to be done and progress to be made.