Earlier this week Patriots Head Coach Bill Belichick said his team would treat the time leading up to the third preseason game like a normal regular season game preparation week. Taking that notion one step further, Belichick said in his Wednesday morning press conference at Gillette Stadium that he's told his players that if they dress for Friday night's game in Green Bay they should be prepared to play the entire contest.
"We're wrapping up our preparations for the week on Green Bay," Belichick said in his opening remarks. "As far as the playing situation goes, what I've told the team and what the situation actually is is exactly this, every player that dresses for the game, I've told them to be ready to go for 60 minutes just like it's a regular season game. They can't control any of the decisions on playing time or playing situations, so don't even try to. Just get ready to go for 60 minutes and then whoever we put in, we'll put in, because that's really the way it is. You can't tell a guy he's going to go to the game and [say], 'We'll put you in in the second quarter or third quarter.' It just doesn't work like that in the NFL. A guy could get hurt on the first play. A guy might not play the whole game and come in on the last play and it be the critical play of the game. That's what they have to be ready for. Whenever we sub them, we'll sub them.
"It's not something that I think any player should be concerned about. He should be ready to go for the full 60 minutes. As a coaching staff we'll try to manage the game as we think is best given all of the things that we're trying to get done in this game. That's the way we're going to handle it. Everybody that is dressed, I expect to be ready to go. Whenever we put them in, we put them in."
Generally that means the first unit players should get an extended look against the Packers. With less than two weeks to play before the season opener with Oakland and the first round of cuts coming next Tuesday, the action on Lambeau Field will be an even larger step toward the final 53-man roster.
"This is our best opportunity to pull everything together in terms of substitution, communication, execution, playing on the road, playing in a hostile environment, all of those kinds of things," Belichick said. "It's an opportunity for us to pull all of that together against a good team, a proficient team, offensively, a record-setting type of team, and defensively, with the scheme and a system that the Packers are running this year. It's one that we are very familiar with and have certainly been challenged by it on a regular basis playing against the Dolphins. All of those planets are kind of colliding here.
"I think that this is a good opportunity for a football team to make progress and move ahead in a number of those different areas. Regardless of what happens Friday night, we're still going to have a lot of work to do and we still have further to go. We're not going to get everything done in one game, or in one half, or whatever it is, whatever it ends up being. I'm not saying that by any means. Whatever we come out of it with, hopefully it will be a higher point than what we went into it with and we'll take the next week and try to build on that. Rome wasn't built in one day and we're not going to build it in one night either, but we can use that opportunity to improve our team and move ahead and then when we have another chance we need to do the same thing."
And as the days run out on the month of August the opportunities for guys to win starting jobs and roster spots become fewer and fewer. That means the group that will make up 2005 Patriots is coming closer and closer to the finished product.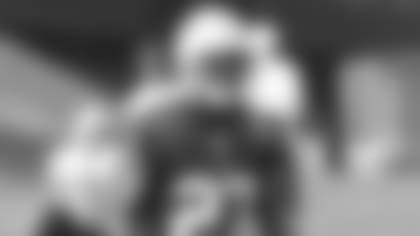 ]()While both the player and his head coach were clearly unhappy with the results during the third quarter against the Saints when Patriots rookie cornerback Ellis Hobbs went for as possible pick, missed the interception and watched a Devery Henderson trot into the end zone for a 34-yard score, their views looking down the road toward a similar play in the future differ greatly.
"How do you coach it," Belichick responded quickly when asked how Hobbs would be coached on the play. "You coach it that if you can get two hands on the ball then you intercept the pass. If you can't get two hands on the ball then you try to knock the ball down with one hand and secure the tackle with the other hand. I mean you can't go out there and [snap your fingers and say] 'I missed an interception and gave up a touchdown.' You can't go out like that. It's not worth it. How many are you going in intercept and run back for a touchdown? If you have a good year, maybe one. Until we see that play happen, we are already on the minus side of the ledger on that one. 'Oh, I tried. I almost had it but I didn't.' Until we intercept one and run one back, we are way below water level there. Once we do intercept one and run it back for touchdown then we are neutral. You just can't give up plays like that in the secondary."
Conversely, the confident Hobbs says that while he could clean up some of his fundamentals on a similar play in the future, he won't let the experience change his playmaking, aggressive style.
"I wouldn't have done anything differently," Hobbs said this week. "The only thing that I can do and what I did was go back into the film room and like I said retrace my steps and see what type of angle I took. I took a bad angle on it. I think if I had taken a better angle I would have had the pick. But like I said, my mentality was to try to make a big play. It wasn't anything that was selfish or anything out of stupidity or anything like that. It was just a play that I didn't make. I tapped the ball, but the receiver concentrated and made the catch. It was just a matter of him making a bigger play than I did. Next time I go out there I will know better. Maybe I will go for it, maybe I won't, but you can only know that during the moment. When you go for something like that you have to understand that.
"To sit here and tell you I wouldn't do something like that again? That's not in my nature. That's not in any cornerback's nature, any good cornerback's nature that wants to play the game and wants to make big plays. You have to go out there and take those types risks."
Bruschi's '05 role still developing
When asked about linebacker Tedy Bruschi's current role with team, Belichick said on Wednesday that his specific contributions to the team would be decided at a later date.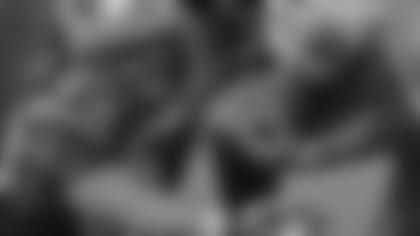 ]()"He's been here regularly and is continuing to work in basically his offseason program," Belichick said of Bruschi's status. "We've talked about [his role moving forward] and we said that we would talk about it again prior to the season. So, we haven't gotten to that point yet. We will at some point. I don't think in the last three or four weeks was really the time to do it. As we get into the regular season then we'll start to evaluate what that might or might not be, where he is, where we are and what the different options are and what everybody feels like needs to be done and what's the best way to do it."
With Bruschi currently residing on the physically unable to perform list he will collect his entire salary for the upcoming season.
So while Belichick wouldn't classify Bruschi's current role as instructional in nature by any means, the linebacker's daily presence makes him available to any player who might be looking to tap into the Pro Bowlers knowledge base.
"He's here on a daily basis," Belichick said. "Certainly any player that would want to go up to Tedy and say, 'Hey what about this? What about that? How did you read this play? How would you play this coverage?' Tedy would, I'm sure, help him in any way that he possibly could. As far as just having the responsibility or the accountability to take a certain group, coach them and do anything specific with them, we haven't done that and I don't think we're at that point now. Again, I would say in the future, the situation may change. He's been doing what he's been doing. Really everybody else has been pretty busy doing what they're doing. We feel like at this point that is the best thing for everybody involved. That may change later on during the season. I'm not saying it will. I'm not saying it won't. But it could."
Players and coaches alike have admitted that the ambiance that comes in playing in place with as much history as Lambeau Field, a place New England hasn't visited since the 1997 preseason, is real.
Linebacker Chad Brown, who played in Green Bay most recently as a member of the Seahawks, says the Lambeau legend lives up to all the hype.
"It truly [does], having played there in the playoff and having played their in the preseason," Brown said. "Obviously the intensity is a little different, but it's still a special place to play regardless of what time of year you play there."
Belichick also acknowledged the field's place in history, though pointed out that for the Patriots it is still a business trip.
"It's a great football atmosphere," Belichick said. "It's awesome. I've been there before. I think whether you go to Soldier Field or Lambeau, or even going to Illinois a couple of years ago, those are historical places. There are a lot of football ghosts that have been in those stadiums and achieved great things. In the immediate picture, we're not on a sightseeing tour here. We have a job to do. We all have something that we want to try to accomplish. That's really what we're going there for. Understanding what the setting is and what the stadium is and all of that, yes we are all aware of that."
NotesSafety Antuan Edwards was in the locker room Wednesday morning wearing a cast on right wrist/thumb. … While Brown has yet to play a single down of regular season football behind New England's starting defensive line that consists of former first-round picks Richard Seymour, Ty Warren and Vince Wilfork, he knows the group will eventually make his life easier on the field. "Typically in a 3-4 defense the guys that get the publicity are the linebackers because they make the more splashy plays," Brown said. "But the linebackers can't make a play without the guys up front handling their business. Obviously by the amount of success around here in the linebacker group, those guys do their job really well."