]()BROOKLINE, MASS. -- The unveiling of the Patriots world championship banner will mark the final piece of last year's Super Bowl celebration, but if that occurs opening night, the players will be in the locker room preparing to face the Oakland Raiders as 68,000 fans cheer their accomplishment. So Sunday night's ring ceremony at team owner Robert Kraft's Brookline, Mass., home was the symbolic finish to the team's third championship season.
"We certainly deserve this moment. There's no question about it," linebacker Ted Johnson said. "We'll reflect and move on."
That's exactly what the Patriots intend to do. In fact, they've already done that, having completed the offseason program, the passing camps and the lone mandatory mini-camp. Sunday night's event was just one last chance to relive the glory of the club's Super Bowl XXXIX win over the Philadelphia Eagles.
"We're right in the middle of it," linebacker Mike Vrabel said of the team's championship run. "But the way that Bill talks to us and the coaches talk to us, we're in attack mode. We're ready to go out and try to fight for another one. There is no let up here. You look at the first part of our schedule and we're very aware of where we have to go to play the teams we have to play.
"I think it's a fair assessment [to say that this is the end of 2004]. [We] recognize the accomplishment, but we just had mini-camp and we're getting ready for training camp."
More than 20 Patriots received their third ring at the Sunday night ceremony, and much of that group remains on the roster. So preparing to play in a post-championship season is nothing new to many current Patriots.
"With a mature team, it has to be [the end of 2004]," linebacker Rosevelt Colvin. "But it gives us the opportunity to celebrate and look back on what we accomplished."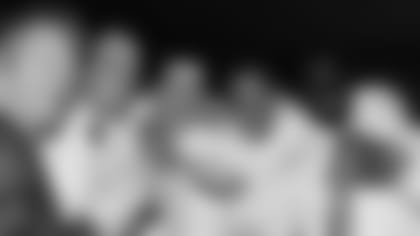 ]()"This is the last big event to close out 2004," wideout Troy Brown added. "Everything from here on out is focused on 2005. But it's good to come out and see the guys that have moved on to other places and have retired and see them one more time."
"It's definitely a closure of last year," quarterback Tom Brady opined. "[This year is] going to be a challenging year. Everybody is gunning for us, but that's how it should be.
"Each year is different and presents new challenges. It's about what the 2005 team is all about. It's about coming together to see what we can do."
The Patriots will try to become the first team to ever win three straight Super Bowl championships and an unprecedented four in five years.
"We're really fortunate here in New England," Kraft said. "I learned early on that the only way you get a chance to win is if everybody's on the same page. Ownership, personnel, head coach, right down to the guy who cuts the grass. Fortunately we have an organization, at this point, that's in that mode. That gives us a chance to win and then it's good preparation by the coaches and players after that. Then it's making sure we provide enough cash to get everyone signed we need to get signed."