The 2016 NFL Scouting Combine opened up Wednesday morning at the Faegre Baker Daniels Club inside Lucas Oil Stadium and the Patriots Football Weeky/Patriots.com team is on the ground to bring all the news, notes and quotes from the annual pre-draft extravaganza.
The event has 332 college prospects, more than 1,000 credentialed media members and virtually every member of football operations from each of the NFL's 32 teams.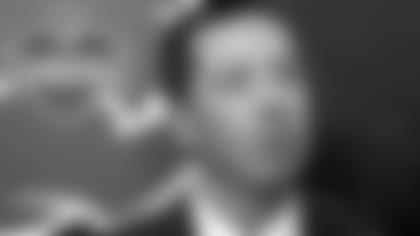 The first day of action will include, from a prospect perspective, the running backs, offensive line and specialists meeting with the gathered media.
There will also be press conferences from team coaches and general managers – every NFL team is scheduled to have a speaker at the podium this week except for the Patriots and Saints.
PFW/Patriots.com will have plenty blogs, stories and video reports throughout the day and the rest of the week through Saturday.
Today's schedule of NFL personnel members scheduled to speak at the podium is below.
Wednesday, February 24
* 9:30 AM *      Kevin Colbert, Pittsburgh Steelers General Manager
* 9:45 AM   *    Jack Del Rio, Oakland Raiders Head Coach
10:00 AM        Dirk Koetter, Tampa Bay Buccaneers Head Coach
10:15 AM       Gary Kubiak, Denver Broncos Head Coach
*10:45 AM *      Trent Baalke, San Francisco 49ers General Manager
*11:00 AM *      John Fox, Chicago Bears Head Coach
*11:15 AM *      Jason Licht, Tampa Bay Buccaneers General Manager
11:30 AM       Steve Keim, Arizona Cardinals General Manager
11:45 AM        Hue Jackson, Cleveland Browns Head Coach
     * Noon*       Jon Robinson, Tennessee Titans General Manager
12:15 PM        Mike Mularkey, Tennessee Titans Head Coach
12:30 PM        Rick Spielman, Minnesota Vikings General Manager
*12:45 PM *      Jeff Fisher, Los Angeles Rams Head Coach
* 1:00 PM *      Jay Gruden, Washington Redskins Head Coach
* 1:15 PM*        Dave Gettleman, Carolina Panthers General Manager
* 1:30 PM*        Bob Quinn, Detroit Lions Executive Vice President & General Manager
* 1:45 PM*       Dan Quinn, Atlanta Falcons Head Coach
* 2:00 PM   *    Ben McAdoo, New York Giants Head Coach
* 2:15 PM*       Rex Ryan, Buffalo Bills Head Coach
 2:30 PM        Bruce Arians, Arizona Cardinals Head Coach
  2:45 PM        Todd Bowles, New York Jets Head Coach
 *3:00 PM *      Mike Maccagnan, New York Jets General Manager
 3:15 PM       John Schneider, Seattle Seahawks Executive Vice President/General Manager
  3:45 PM        Adam Gase, Miami Dolphins Head Coach
  4:15 PM        Doug Pederson, Philadelphia Eagles Head Coach
  4:30 PM        Howie Roseman, Philadelphia Eagles Executive VP of Football Operations
 *4:45 PM *      Jason Garrett, Dallas Cowboys Head Coach
  5:00 PM        Ozzie Newsome, Baltimore Ravens General Manager & Executive Vice President