Losing Tyrone Poole and Ty Law to what turned out to be season-ending injuries before the halfway point in 2004 was cause for major concern all over New England. But there was at least one person who never lost a moment's sleep over his teammates' misfortune.
Despite entering just his second season, Asante Samuel was already sure he had what it took to be a starting cornerback in the National Football League.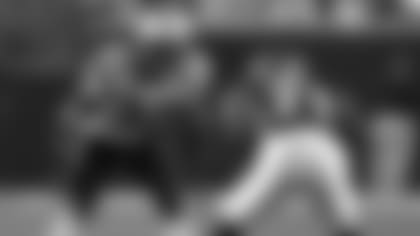 ]()"From the beginning of the year I felt I should be a starter in this league and I think I've proven that," Samuel said following a recent workout at Gillette Stadium. "Once I got in and went from nickel back to being a starter it was an opportunity to show that I belong in the starting lineup and that's what I went out there and did."
Samuel took advantage of his chance while starting eight of the Patriots final 13 regular season games, plus all three in the playoffs. A shoulder injury kept him out of action in three other games, thus preventing Samuel from receiving even more playing time.
When he was on the field, Samuel performed well with his physical, aggressive style. At 5-10, 185 pounds, Samuel is slightly smaller than the 5-11, 200-pound Law. But that doesn't stop him from employing a similar, in-your-face style that the Patriots former All-Pro made a living with in New England for the past 10 years.
He finished with 34 tackles, 12 passes defensed, two forced fumbles and one interception, which he returned 34 yards for a touchdown in a shootout win over Cincinnati on Dec. 12. Samuel added 11 tackles in the postseason to go along with four passes defensed.
Still, the Patriots sought some help in the secondary after deciding Law's cap number had finally grown too high to deal with and let the veteran go. Since Law's February release, the Patriots have acquired corners Duane Starks (via trade), Chad Scott (free agent), Ike Charlton (free agent) and re-signed Hank Poteat. Also, they took another (Ellis Hobbs) in the third round in April's draft. While those moves did not go unnoticed, Samuel didn't take them as a bad sign.
"No. 1, I'm the NFL's biggest fan. I follow everything that goes on in the NFL," Samuel said. "I look at it as they're coming in here so it's time to compete. That's the only way you can look at it. I don't look at it as a sign that I didn't do my job because I know I did my job and I played very well. I just look at it as this is the NFL and every year there's going to be people coming in at your position — that makes competition. Plus, you need depth."
Much of Samuel's offseason has been spent in Foxborough, where he's already spent more than nine weeks working out and preparing to remain a starter. He reports no ill effects from the injury that landed him on the inactive list for a pair of games (Baltimore, Cleveland) and kept him on the sidelines for a third (Buffalo).
As for the differences between full-time duty and his previous work as a nickel back, Samuel says it's more mental than anything else.
"It's about not being lackadaisical and not falling asleep," he said. "You can't say, 'OK, it's first down, they're in a pro set, it's going to be a run so I can take it easy and get my breath back.' You just have to be focused every down and not take anything for granted."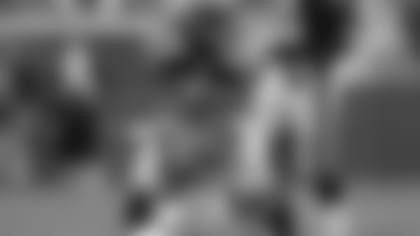 ]()Despite the loss of defensive coordinator Romeo Crennel, Samuel doesn't expect many changes with secondary coach Eric Mangini taking the reins. He also expects to remain in the running for a starting job, knowing that with a healthy Poole, veterans Scott and Starks and fellow replacement starter Randall Gay on board he'll have a battle on his hands.
Gay and Samuel have developed somewhat of a bond after a season in which their names seemed to be synonymous. Anytime one of the young corners was mentioned, inevitably the other's name would soon follow. The pair has worked out together for much of the offseason and still enjoys joking about their plight as key members of "the patchwork secondary" that received so much attention in 2004.
One of Samuel's goals for 2005 is to work past the stage where he's thought of as a fill-in as opposed to a regular. The versatility he showed last year when he worked in the slot and outside with similar success should give him a lift in his efforts.
"I feel more comfortable outside. That's where you make your money," Samuel said. "Being on the corner it's just you and that person and let the best man win. But I feel I can do inside or outside, whatever they need me to do.
"The differences are inside you have quicker, faster guys and they do a lot of shaking. It's basically to get the first down or run across the middle and catch the ball on the run. Most likely they're smaller and quicker in there and it's very competitive. Outside they mostly run deeper routes."
Whether it's inside or outside, starting or coming off the bench, Samuel is happy just to be playing in New England.
"It's awesome. I'm playing under one of the greatest defensive minds in the game. Just learning from Coach Belichick and learning different schemes and how Mangini's been teaching me and been on me to make sure I'm the best I possibly can be has been great."