It's a really interesting week in Foxborough as the Patriots prepare for the season opener against the NFC finalist Cardinals.
On the field they are getting ready to fly to Arizona on Friday to take on a supremely talented football team in a tough environment on Sunday Night Football.
Off the field Bill Belichick and his players are dealing with the strange reality that Tom Brady is suspended and isn't allowed to be around the Patriots for the next four weeks.
That unique dynamic has led to plenty of mincing of Jimmy Garoppolo's words, debating the appropriateness of a Brady banner at Gillette Stadium as well as the support and criticism that outsiders have sent to New England this week.
Those topics continued to be tossed around on Thursday as Patriots head coach Bill Belichick held his final press conference of the week. Belichick offered up his initial scouting report a couple new Patriots players while also being asked for his thoughts on a variety of other topics.
Here are a few of the highlights from Belichick's last press conference prior to Sunday night's 2016 opener in Arizona.
[wysifield-embeddedaudio|eid="467811"|type="embeddedaudio"|view_mode="full"]1. Carson Palmer's "suffer the consequences" comments:Cardinals veteran quarterback Carson Palmer did the traditional conference call with the New England media on Wednesday. He put forth a very informative, entertaining 15-minute session with reporters as he helped them to preview the opener from the Arizona perspective.
But the veteran Pro Bowl quarterback was also asked for his thoughts on how the league has treated Brady through the Deflategate saga leading to the current four-game suspension.
"I tried not to follow it just because it was everywhere for so long. But I go back and you follow what the rulebook says and you go about your business and your work. If they tell you not to do it and you get busted and what happens, happens, then you suffer the consequences," Palmer said. "I'm sure you guys look at it a lot differently, but I know a lot of players around the league just looking at it. I don't know if you can feel too strongly one way or the other."
A follow-up question asked if Palmer's perception was that Brady must have done something wrong.
"I don't know. To be honest, I felt like supposedly the balls went somewhere when they weren't supposed to go there. There was humidity, or not enough humidity, or altitude or whatever it was. I don't know. I didn't follow the story. As soon as it came on, I just turned it off because I was just so sick of hearing about it. Whatever the league comes down upon and whatever ruling they make is what they make. You don't have much of a decision after that. You can fight it for a little bit, but after a while, you've just got to abide by what they say."
Not surprisingly, Belichick was asked about Palmer's comments Thursday morning, a local TV news reporter attempting to lead the coach into the topic by tying the quarterback to the idea that the Patriots "got what they deserved."
Belichick didn't take the bait in any fashion.
"I didn't see it," Belichick said of the comments. "But I have a lot of respect for Carson Palmer. I've known Carson through the years. Had him out at the Pro Bowl. Really have a lot of respect for Carson and what he's done in his career with three different organizations. I think he's an outstanding person and an outstanding quarterback. A great competitor. He's had a tremendous career."
2. Versatile Rowe getting to work:New England added Eagles former second-round draft pick Eric Rowe via trade on Wednesday and the young defensive back has apparently hit the ground running in Foxborough. Belichick was asked what he liked about the versatile defender, who played in 16 games with five starts last year in Philly.
"Eric played safety and corner in college, so he has some versatility. He's been mainly a corner in this league. But has some length. We'll see how it goes. But I think he has some positional versatility, smart kid, has some length and has some speed," Belichick described. "I think athletically he has a good skillset. That gives him the versatility, at least in college, to play those two positions. I'm not saying he's going to do that for us or not do it. We'll see how it goes. I don't really know.
Belichick didn't rule out Rowe playing in the opener, despite his late arrival to the team. The coach broke down the process of getting the young player up to speed, potentially at multiple spots in the back end of the New England defense.
"We try to get him ready for obviously a smaller role this week. I don't think we can get him ready to do everything. We'll get him ready for a smaller role. Between practice, show team practice for the offense, we do a lot of working guys in at different spots. That gives us an opportunity to look at players in more than one spot when you include practice plays."
Belichick was also asked what he remembered from Rowe in the cornerback's first career start last season, which happened to come in an Eagles win in Foxborough.
"Bad day for us, I remember that," Belichick said. "So he was part of it."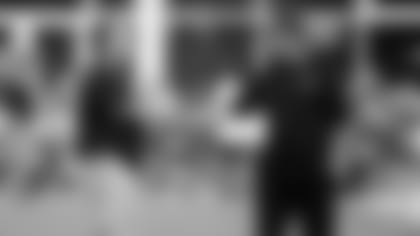 3. Sean Payton's support, "Can't say that about everybody": Saints head coach Sean Payton has had a long, positive working relationship with Belichick over the years. New Orleans and New England frequently held joint practices together, including this summer.
Payton sent out his support this week with a simple photo of the Brady banner on the iconic lighthouse at Gillette Stadium and then explained his message in an interview on ESPN radio.
"Well, if someone's asking, then I don't know if they've paid much attention to it all," Payton said, clearly alluding to his own one-year suspension following the Bountygate scandal. "There aren't a lot of people that can understand what Tom's going through. I'm one of them."
Belichick was asked about the support Payton offered up on Twitter. First the coach joked about his time spent on the social media site.
"None. You can set that bar below the ground," Belichick joked before getting more serious and thankful for Payton's actions.
"It means a lot. I have a good friendship with Sean. We go back quite a ways. We've had a great working relationship, a great professional relationship and a great personal relationship," Belichick said. "So I always appreciate his support. He's had ours. We've had his. Can't say that about everybody. But he's certainly been a good friend and a good supporter."