Not too many people have been around the NFL as long as Bill Belichick.
But the Titans will bring one of those guys to town on Sunday in the form of Hall of Fame former player and coaching legend Dick LeBeau.
The former Steelers defensive coordinator is now running the defense in Tennessee and that's a big part of the challenge the Patriots will face on Sunday against the scrappy Titans. Although, to be fair, Tom Brady and New England have done rather well against LeBeau's schemes more often than not over the years.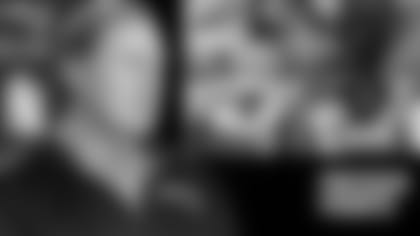 In his midweek press conference in the Gillette Stadium media work room Belichick expressed his immense respect for LeBeau, while also breaking down some of the personnel issues his team will deal with this Sunday - both in terms of working through mounting injuries as well as countering some of the talent the Titans bring to the field.
Those are just some of the issues Belichick touched on Wednesday morning while sidestepping the idea of a celebration late Monday night when the Patriots clinched the AFC East via a Dolphins MNF loss - "Nope. Lot of sleeping," - and also jokingly disembarking the podium as a reporter brought up recent reports that New England is working out former Rams and Falcons running back Steven Jackson - "Let's just end on a high note," Belichick said as he exited stage left with a big smile.
1. The Legend of LeBeau: Titans assistant head coach/defense Dick LeBeau is a Hall of Fame legend. He played in the NFL as a star defensive back and has been one of the most respected defensive coaching minds in football since his time on the sidelines began with the Eagles on special teams in 1973. Belichick also worked with the kicking game early in his career, which began in 1975. So he and LeBeau have been in the same circles of coaching for 40 years and New England's field boss expressed his endless praise for the living football legend.
"Preparation for these guys is going to be really challenging for us, starting with their defense," Belichick said of the Titans to open his Wednesday presser. "Of course Dick LeBeau, I don't think I could just say enough about him. What he's done over his career, not only the length of it but the quality of it, is really remarkable. The man's given so much to this game and one of the real, one of the guys I have as much respect for as really anybody in professional football. Dick's just made great contributions to the game.
Belichick said LeBeau has brought his "Steelers defense" with him to Tennessee, with a few adjustments
2. Titans TE Delanie Walker "good at everything": Another member of the Titans that Belichick gushed about was tight end Delanie Walker. The 10th-year veteran leads Tennessee with a career-high 74 catches totaling 871 yards and four touchdowns. While rookie quarterback Marcus Mariota spreads the ball around to a litany of productive targets - 11 different Titans have a notched a touchdown reception including the quarterback himself - Walker is by far the top of the production pile.
"He's really a hard guy to match up on," Belichick said. "You put the little guys on him and he's too big. You put the big guys on him and his quickness, his route-running ability, his length, they're a problem. So it seems like whoever is covering him, when you look at the tape you are like, 'well, that's a mismatch.' Either he's not quick enough or big enough or whatever. There is nobody that really matches up very well against him. He's an excellent technique player. He sets up his routes well. He's got good patience. It's like [Antonio] Gates, he's not Gates, but it's kind of… there are some elements of that. His length. His ability to get down the field, is impressive. He's good on intermediate routes, run after catch. Again he sets up things well. He knows when to sit down in the hole, when to go across, when to go behind, when to go in front. It seems like he always makes the right decision. And it seems like he's always open. I can see why they throw to him so much. He's pretty much always open. Even when he's covered, he's open because of his length and his ability to go up and timing and jump balls, his hands, catch the ball away from his body. He does a really good job. He's a tough guy to match up on."
3. Brandon Bolden's role could increase: Dion Lewis has been on IR for a while. LeGarrette Blount will reportedly suffer same result this week due to a hip injury suffered last Sunday in Houston. There is a clear lack of depth in the New England backfield with just Brandon Bolden and James White currently on the active roster at running back. The team has added former Bronco Montee Ball to the practice squad and is reportedly interested in the former Rams and Falcons star Steven Jackson.
Regardless of the new faces, Bolden and White could be asked to have increased roles in the weeks ahead. Bolden tied a career high with 16 carries last Sunday against the Texans. As key versatile backup and core special teams player, the fourth-year running back could see his role continue to evolve down the stretch. Could Bolden be a 20-plus carry back for New England if needed?
"He definitely did that in college. So I'd say he's done that," Belichick said. "Look, he's been a four-down player for us. So he's played the role of the big back. He's played the role of the sub back. He's played well for us in the kicking game on fourth down. I mean I think it would be hard to increase each role. It's possible, but I think it would be hard to realistically to do that. But maybe that needs to be done. I don't know, we'll see. Maybe you increase one and decrease another. I think we'll just have to try to figure that out. It might vary from game to game. I'm not sure it will be the same every week, which it's hard to find anybody's role on our team that's the same every week."