Though he didn't say it on this day, Bill Belichick often talks about the fact that the "hay is in the barn" by Friday as his team wraps up preparations for that week's opponent. However, before closing the barn door completely for Week 2 the New England head coach did detail some of the situational work he'll put his players through during the final work getting ready to take on Rex Ryan's upstart Bills Sunday afternoon at Ralph Wilson Stadium.
1. "Comes down to one play" - Belichick preaches about situational football - key plays in specific key areas of the game at key times - to both his team and the media. Not surprisingly, it just so happens that situational football is generally an advantage for the Patriots each week. As each practice week winds down, all those situations that could come up against a given opponent are dealt with in Friday's practice. "Not just the end of games, all through game," Belichick said of the value of situational football. "Absolutely. We kind of start with the basic progression - early downs, first and second down, third down, red area, goal line, short-yardage, end-of-the-game situations. Those situations that come up. Same thing in the kicking game…It's all just part of the progression each week. It's an important part of the game. That's how we handle it. We sort of try to get through all the basic stuff first and move to more situations - whether it be third down, red area, goal line and then some kind of one-play type stations like onside kick or fourth-and-goal and whatever it happens to be."
"Look, you can out out there and play 59-plus minutes and it all comes down to one play, or one situation. And whoever handles that situation better could end up being the victor."
2. Keshawn Martin scouting report - The Patriots added fourth-year receiver Keshawn Martin this week in a trade with the Texans. Belichick broke down what the young receiver and return man brings to New England. "He has some experience. He's played, I'd say, multiple positions in an offense similar to ours. Inside, outside, returning kickoffs. So we'll see how it goes."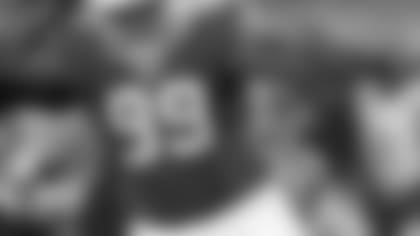 3.Marcell Dareus "one of the best players in the league" - Bills defensive tackle Marcell Dareus will make his season debut this week against New England. And while the dominating big man, nicknamed "Mr. Big Stuff," said earlier this week that "nobody likes the Patriots," Belichick certainly seems to like the way Dareus plays the game. He raved about what the big-bodied, big-money player brings to the Buffalo defense. "He's very athletic. Good quickness. Good playing strength. He's a smart player, too. He's instinctive. He makes a lot of plays on reading blocks, anticipating blocks or anticipating a certain set or that type of thing. He has it all. He's big. He's strong. He's explosive. He's powerful. He runs well. He's athletic. He has good balance. Good quickness and he's a smart player. So, put it all together and that's why he's one of the best players in the league." Belichick noted that the Buffalo defensive line is one of the best in the league and "one of the highest paid, a lot of big contracts" given to the likes of Dareus, Mario Williams, Kyle Williams and Jerry Hughes. One might say the group is money on and off the field! The new-look, young New England offensive line will find out if it's up to the challenge on Sunday.