Bill Belichick kicked off a handful of Patriots press conferences Wednesday morning in front of a special AFC Championship Game backdrop in the media work room at Gillette Stadium.
As is the case each Wednesday, Belichick opened up with remarks about his upcoming opponent. But this is no regular (season) week by any stretch. Sunday's game in Denver is for a spot in Super Bowl 50. It's also the 17th time that Belichick's Tom Brady-led team has faced a Peyton Manning-led foe.
You may have heard something about Brady vs. Manning 17!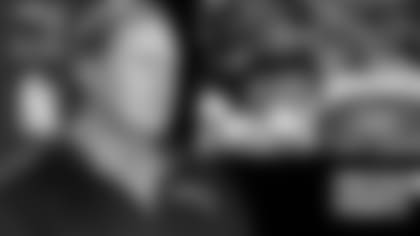 As such, Belichick spent plenty of time praising Manning, the quarterback who was an injured bystander when these two teams met back in November, but also talked a great deal about the rest of impressive talent and attributes the Broncos bring to the biggest game of the year to day.
Make no mistake, Belichick very much respects Manning, the Broncos coaches, the defense and everything Denver has gone through as the No. 1 seed in the AFC to reach the doorstep of the Super Bowl.
1.  Much respect for Manning: Manning hasn't exactly cruised into this latest AFC title game. He threw a ton of interceptions early in the year. He got hurt and lost his job. But, he's returned to the starting role and took care of business enough on Divisional Weekend to beat the Steelers and get to this week's continuation of his career-long rivalry with Belichick, Brady and New England as a team. Manning may not be as good as he ever was or have the ability to throw the football like he once did, but don't expect Belichick to take No. 18 lightly.
"Peyton is a great player," Belichick said. "He's had as, you know, we've had tremendous battles against him through the years. There isn't a playoff off our team that I have any more respect for than Peyton Manning, so his preparation, his consistency, his skills, I would never, ever, ever underestimate him under any circumstances."
2.  Denver's hot air: The Broncos have been getting some chatter going this week in interviews leading up to the battle with New England. Chris Harris got fans and Rob Gronkowski alike worked up by saying he planned on going low on the tight end to tackle him at his knees. Antonio Smith called Brady a crybaby unlike any other quarterback he's seen before, begging for flags. Brandon Marshall said Gronkowski gets away with pushing off 98-percent of the time. Aside from a humorous Gronkowski response on Twitter Tuesday night, the Patriots rarely react or acknowledge such potential bulletin-board material. Belichick certainly wasn't going to address it when asked about Denver's various comments.
"We're focused on the Denver Broncos and the game, so all the rest of that is a bunch of hot air," Belichick said sternly.
3.  On to Denver, in Denver: The Broncos beat the Patriots 30-24 in overtime in late November. They earned the No. 1 seed with a 12-win season in which they actually won three separate overtime games. They overcame injuries, turnovers, a coaching change and a mild quarterback controversy. They also have a long history of home success against the Patriots and Brady. The task at hand for Belichick and his troops is obvious but not necessarily simple.
"Second time around against Denver. It's a team that we've had a great rivalry with, and obviously they're the No. 1 seed," Belichick said. "They're the best team we've played this year. They've had a great year. Number one seed, beat us earlier in the year, so we know we're going to need our best game Sunday. That's what we're working toward. Make sure to do everything in preparation and execution our very best they can be, so I think that's what it's going to take. Excited to be in the game. Great challenge, great opportunity, and I'm looking forward to it. But we know how tough Denver is, and they're a very resilient team. I know they've been through a lot of tough situations this year, a lot of close games, three overtime wins, been down, came back like they did against us a couple of the times, so we know they're physically and mentally tough. And they're led by a lot of great players on both sides of the ball and in the kicking game, so a lot of challenges for us here."
One challenge Belichick wasn't looking to talk about was the challenge of having to travel to Denver, which the Patriots will do a day earlier than usual on Friday. That will allow the team to adjust to the environment for a longer period as well as potentially avoid a major snowstorm set to hit the East Coast.
"We play them wherever they're scheduled, so where we're scheduled to play, we show up and play and compete. That's all we do," Belichick said before a follow-up wondered about the general difficulties of playing on the road. "It is what it is. The game is in Denver, so we're going to show up and play it."